Hyundai India is doing good sales in India with an year on year domestic sales growth of 14.6% in the month of May 2011 which stands at 31,123 cars compared to 27,151 cars sold in May 2010. The sales have been largely boosted by the introduction of all new Hyundai Verna Fluidic 2011 which is creating a lot of buzz in the India auto market. With a high vale for money feature list, high performance and segment leading features, Hyundai Verna is clocking a lot of sales. In just 20 days after the launch, it has clocked over 12,000 bookings !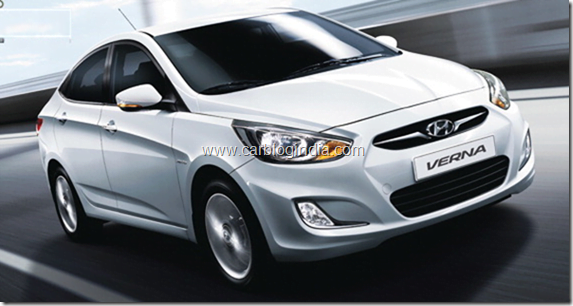 At present, Hyundai Motors India Ltd. is India's second largest car manufacturer and the largest passenger car exporter. HMIL's total sales for May, 2011 stood at 47,766 units as against 46,808 units in May, 2010 registering a cumulative growth of 2%. The domestic sales accounted for 31,123 units as against 27,151 units in May, 2010 while the exports dropped by around 15.3% from 19,657 units in May, 2010 to 16,643 units in May, 2011.
Commenting on May, 2011 sales, Arvind Saxena, Director – Marketing and Sales, HMIL said,
"The market has slowed down considerably after the first quarter of the year because of increasing interest rates and rising fuel prices among other factors.  HMIL riding on the success of it's recently launched Fluidic Verna which has received over 12,000 bookings has maintained its positive growth."
The segment-wise cumulative sales for the month of May, 2011 are as follows: A2 segment (Santro, i10, i20) 40,520 units; A3 Segment (Accent & Verna) 7,110 units; A5 segment (Sonata Transform) 14 units; Santa Fe (SUV) 122 units.
check out more-
More Related News