We come across weird car videos every day and this one certainly qualifies as one.
This man using a Hyundai Verna to plough his field is quite weird and frankly, stupid. Verna is a mid-size sedan that is meant for highway driving. Its great ride quality is why people buy it. In addition to that, the cabin provides the utmost creature comforts to pamper its passengers. Needless to say, it is certainly not meant to be taken to even the mild off-roading tracks. However, the man in this video uses it in his field and even sits atop the moving vehicle.
You may also like: 2023 Hyundai Verna Reveals Its Longer Wheelbase – Spied!
You may also like: 5 Features of Hyundai Verna Not Found on Skoda Slavia
Hyundai Verna Used To Plough Field
This video clip has been posted on Instagram by bharat__baisla. The visuals show a black Verna with custom alloy wheels being driven on a dirt track. In fact, the lack of moisture on the surface makes it feel like the area is a part of a desert. One man is seen sitting on the roof of the moving vehicle. Even worse, there is a rope tied to the rear end of the Verna pulling a device used to plough the land. Generally, a pair of oxen is seen doing this work. The land is ploughed to put the seeds inside for crops to grow.
You may also like: Little Kid Driving The Huge MG Gloster on Public Road is as Stupid as it's Scary
However, we can safely say that we have never seen a Hyundai Verna ploughing the land. This is stupid on multiple counts. Firstly, a sedan is not meant to undertake such tasks at all. It could even cause mechanical damage to the car. The combination of pulling the device and driving on such a dry patch of land can be detrimental to the health of the car. Secondly, the safety of the passenger is compromised by sitting on the roof of a moving car. If the driver had to apply brakes suddenly, the man will definitely fall leading to injuries.
You may also like: STUPID Maruti Baleno Drivers Trying to 'Drift' Crash Into Each Other!
We would like to warn our readers about performing such stupid stunts for social media followers. Jeopardizing safety is not the way to go if you are trying to create viral content. Moreover, clips like these encourage others to undertake such stunts in order to imitate. That will invariably cause damage to someone. Make sure to be responsible in the way you portray things on social media. What are your thoughts on the matter?
You may also like: Mahindra XUV300 Hits a Biker, Drags Him for 1 km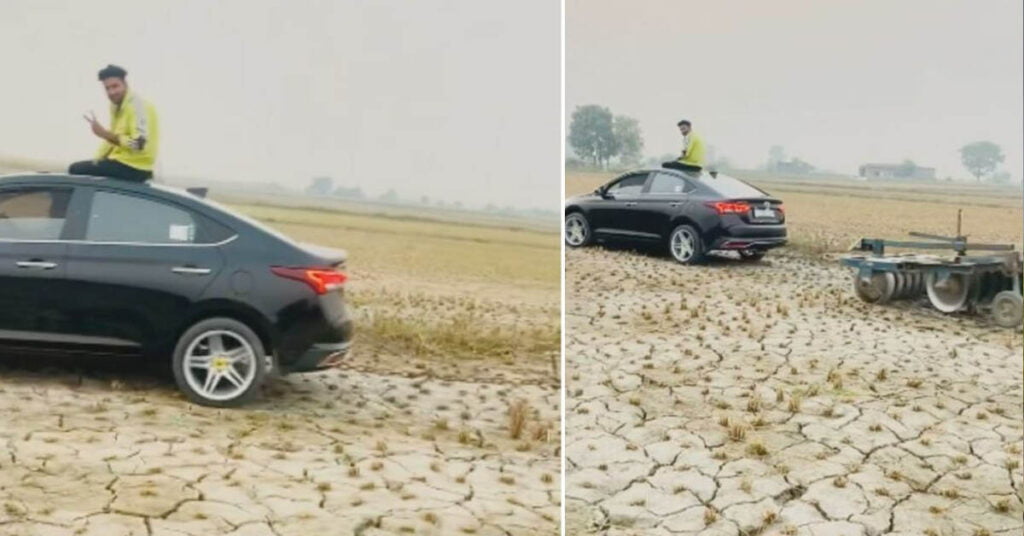 Disclaimer- The embedded videos/ external content is/are being used as a convenience and for informational purposes only; they do not constitute an endorsement or approval by Car Blog India of any of the products, services, and /or opinions of the corporation or organization or individual. Car Blog India bears no responsibility for the accuracy, legality, and/or content of the external site or for that of subsequent external videos/ external content. Contact the external publisher for answers to questions regarding its content.
Join our official telegram channel for free latest updates and follow us on Google News here.