An Indian boy has created a new race car that just costs Rs 1.25 Lakh. The impressive vehicle showcases Indian talent.
There is no dearth of talent in India. We often see car enthusiasts coming up with their own versions of their favorite models. This includes modifications on all kinds of cars and bikes. Automobile designers are now using various modern techniques to improve the final results. However, the lack of resources and technology can't stop ambitious citizens. Many Indians have created the cars of their dreams with very few resources. Now, a young Indian boy has created an F1 car model that just costs Rs 1.25 Lakh. Let's take a closer look!
Yo May Also See- How About a Rally-Spec Maruti Alto 800 in Castrol Livery
The new racing car has been created by Swapnil Chopkar. It features a 5-liter fuel tank and is said to have a fuel efficiency of 16km per liter. The new car has been created from the used parts of Maruti 800. It took just over a year to build it up from scratch. Swapnil has borrowed money from friends and family to complete this project. The parts were purchased from scrap dealers and garages. Swapnil's experience of part-time work at garages helps him in the process. He also took the help of YouTube tutorials and his friends.
You May Also See- Khiladi Akshay Kumar's gorgeous car and bike collection
The new F1 car model once again showcases Indian talent. It also highlights the results of determination and hard work. The 22-years-old boy hails from Nagpur and wants to build his own garage one day. Since he was unable to buy the F1 car for himself, he built one. Apart from borrowing money from his family and friends, he also utilized some savings which he kept for his wedding. Swapnil claims that the car is a pure passion project with no other motive. Overall, creating such a cheap racing car is an impressive feat and Swapnil continues creating more such models once he achieves dreams of starting a garage.
You May Also See- This Lovely Ferrari F430 Spider Was a Humble Hyundai Accent in Past Life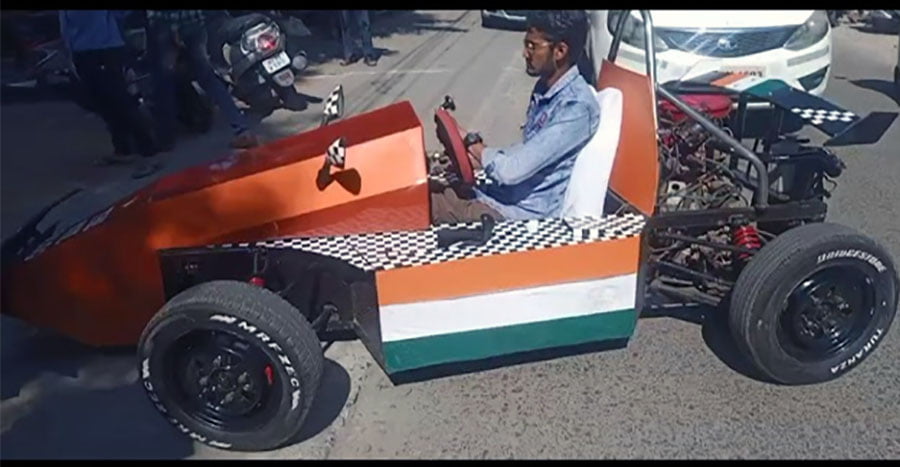 Speaking on his achievement, Chopkar said – "A few years ago, I started doing odd jobs at garages purely out of interest in automobiles, so I never cared for the extremely low wages. The deficit I covered up by doing other temporary jobs. Working at garages, including one of Nagpur's biggest, gave me a fantastic opportunity to learn and understand how cars worked. Formula-1 type of design was my first choice as I love the beast machines which glide on race tracks. Nikhil Umbarkar and Pranay Mahajan are two such people, without whom this project could never have been completed."
Join us for FREE NEWS Updates on our Whatsapp Community or our official telegram channel.