After a long time, Akshay Kumar is seen as a villain in the upcoming 'Robot 2.0'. Check out the gorgeous car and bike collection of our very own 'Khiladi'.
Akshay Kumar started his career in 1991 with action films. For the first few years, he was literally fighting in every movie. With those films, he rose to success and got the nickname of 'Khiladi'. He became the first Bollywood Actor whose movies have crossed Rs 2,000 crore in 2013 and Rs 3,000 crore in 2016 in the domestic net lifetime collection. There are hardly any movies in which he is a villain, like Ajnabee in 2002. Now, with riding success, he is again going to be a villain in the upcoming film Robot 2.0. The best part is that Akshay Kumar stars against Rajnikanth. While we talk about him, he has a great car and bike collection. Not everyone in the Tinsel Town as a Rolls Royce and he is a proud owner of one. Check out the list ahead.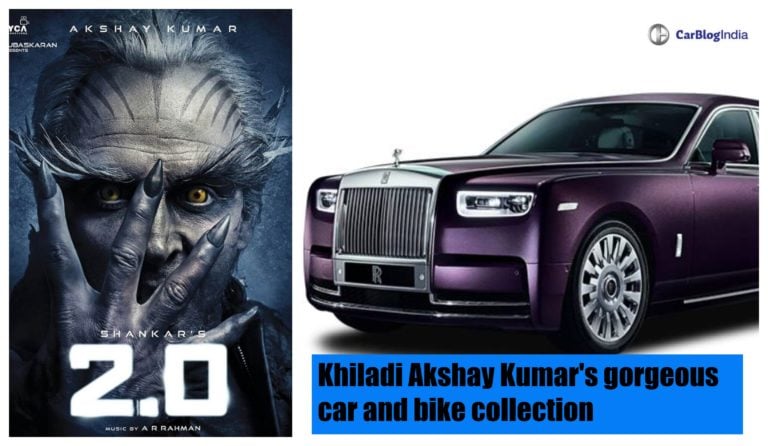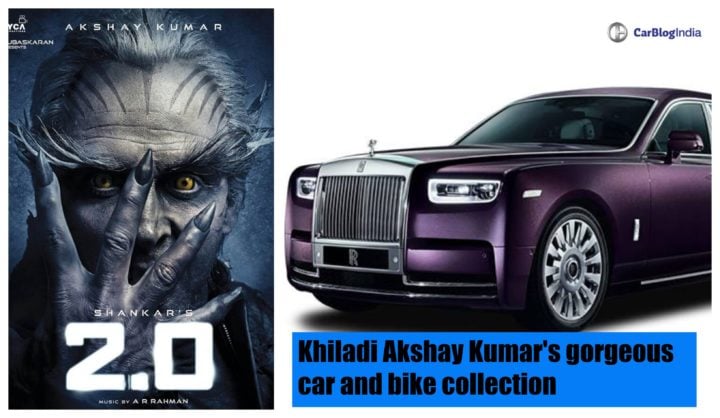 Car Collection of Akshay Kumar
1. Rolls Royce Phantom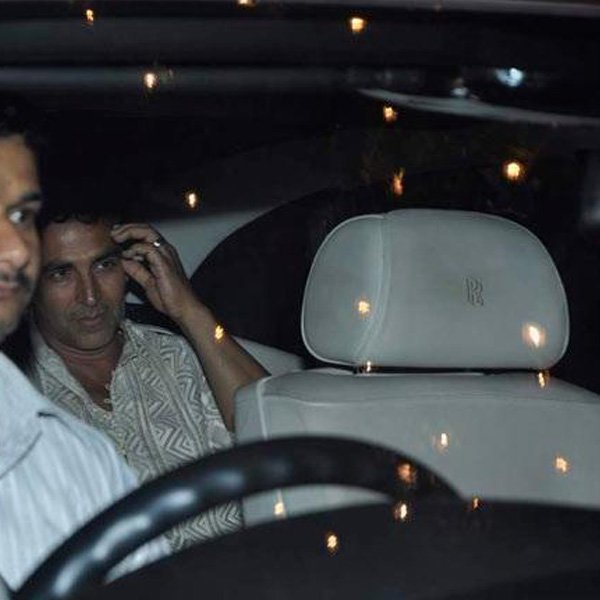 Among the very few Bollywood people, Akshay Kumar is the proud owner of the Phantom. A lot of people own RR cars, but Phantom is the most expensive RR. The prices start from Rs 9.5 crores and go up to Rs 11.5 crore for the extended wheelbase. It gets a 6.8 Litre V12 engine that produces around 453 BHP of power and 720 Nm of torque. For transmission, it uses a 6-speed automatic gearbox.
Also Read: Modified classic Indian cars- Contessa, Ambassador, Padmini and 118 NE
2. Bentley Continental Flying Spur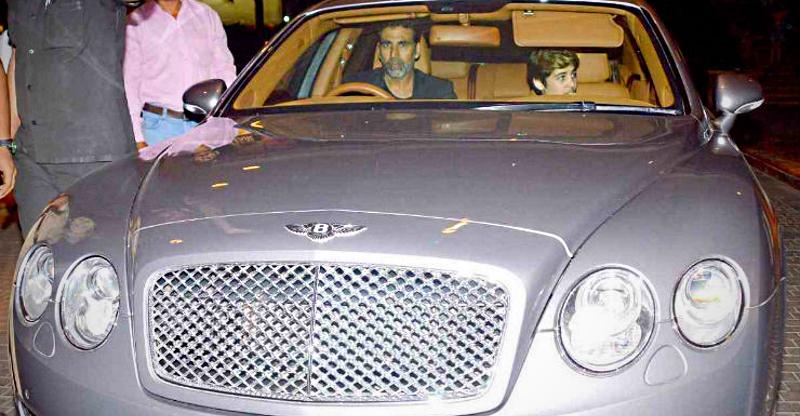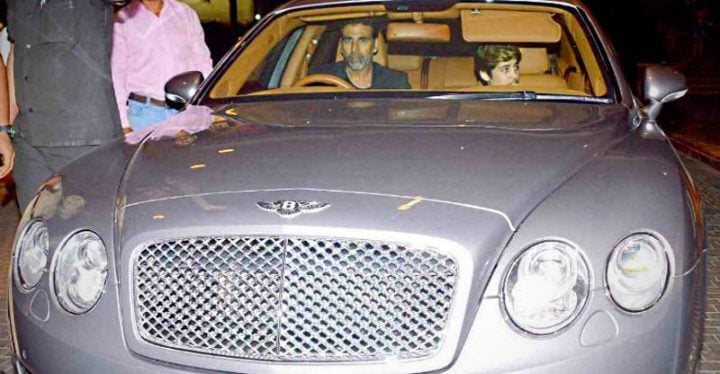 Another pure luxury car in his garage is the Continental Flying Spur. Actually, Flying Spur is Sport combined with luxury. Most of the times, he himself has been spotted driving it. The Flying Spur retails at a price of Rs 3.2 crore in India. It comes with a 6-litre V12 engine that produces around 616 BHP of power and 800 Nm of torque.
Also Read: Indian Cricket Stars and Their Cars – Hummers, Audis, Ferraris and more
3. Range Rover Vogue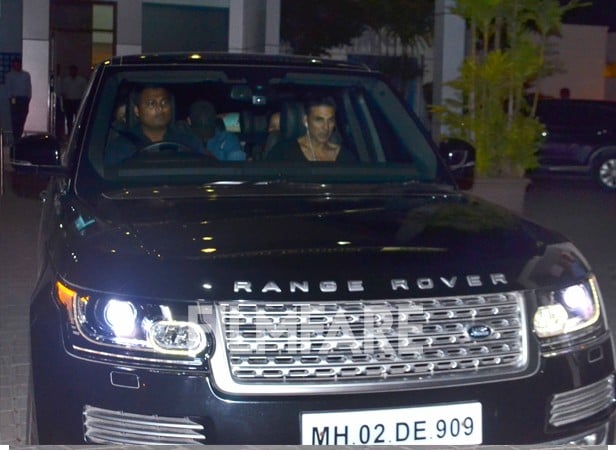 The Vogue is a common choice for the Tinsel town stars. A lot of people have one. The Vogue is the most expensive Range Rover in India. Now, this SUV is known for its immense luxury as well as off-roading capabilities. The SUV comes equipped with a 5-litre supercharged V8 engine that produces around 503 BHP of power and 635 Nm. The Vogue starts at Rs 1.74 crores and goes up to Rs 2.18 crores.
4. Porsche Cayenne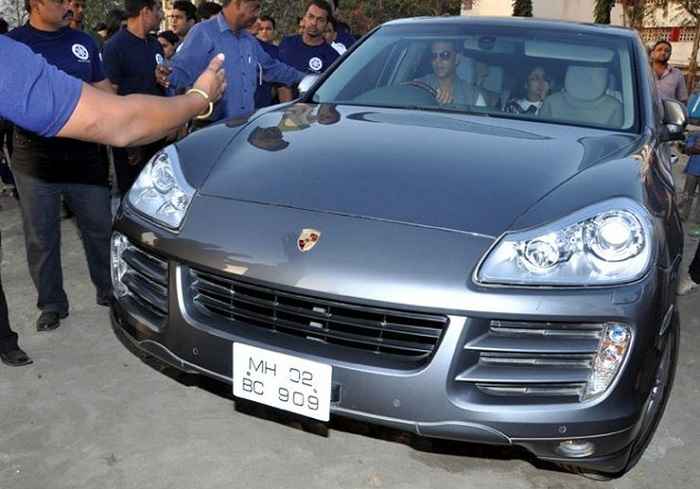 Well, Cayenne is the perfect competitor to the Vogue and Akshay Kumar has both of them. The Robot 2.0 actor has a previous generation Cayenne, which is still one of the fastest SUVs in the world. Like the Vogue and Bentley, this car is also sport combined with luxury. It starts off at Rs 1.04 crores and goes up to Rs 1.78 crore. The Porsche SUV comes with a 4.8-liter V8 engine that produces a whopping 500 BHP and 700 Nm of torque.
Image Source
Also Read: Check Out Cars Of Virat Kohli – Price, Images, Specs And Features
5. Mercedes Benz GLS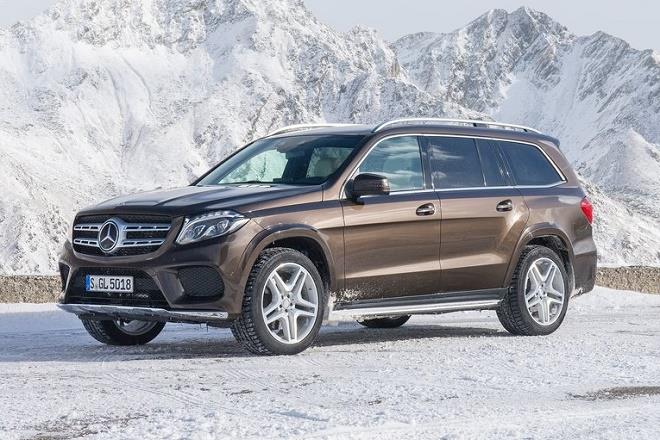 Another common car of the rich is this Mercedes SUV. He is very often seen in this SUV commuting for his Mumbai shoots. The GLS is priced at Rs 82.89 Lakhs and goes up to Rs 1.7 crore. It comes with a 3 Liter V6 diesel engine that outputs 255 BHP of power and 620 Nm of torque. It also comes with an AMG variant, which gets a 6.8 Litre V8 engine.
6. Mercedes Benz GL 350 CDI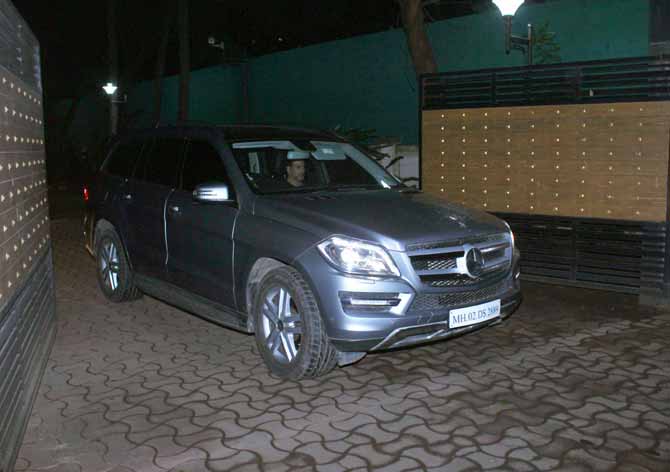 While he owns the latest GLS, he also has a GL Class SUV. It is not very different from the GLS, as it the predecessor. It comes with the same 3-litre V6 diesel engine, producing 250 BHP of power and 620 Nm of torque. However, the GL 350 CDI gets lesser modern features, when compared to GLS. This model is no longer available for sale.
Also Read: 7 Cars that were spotted in India but might Never launch here
7. Honda CR-V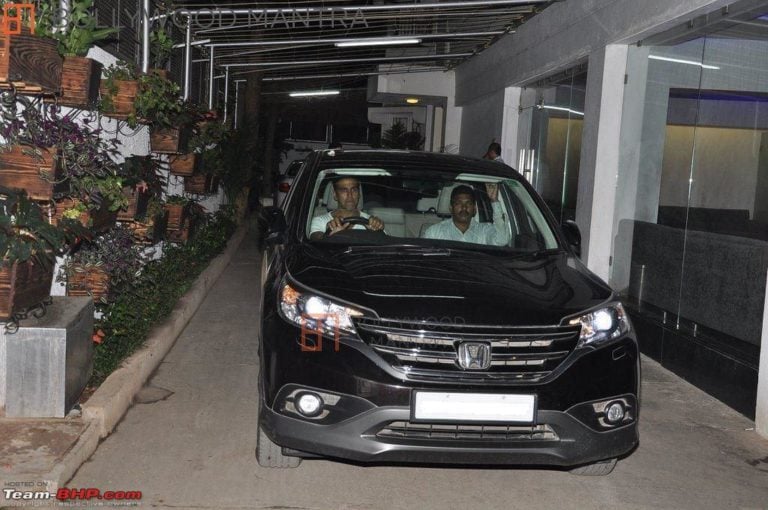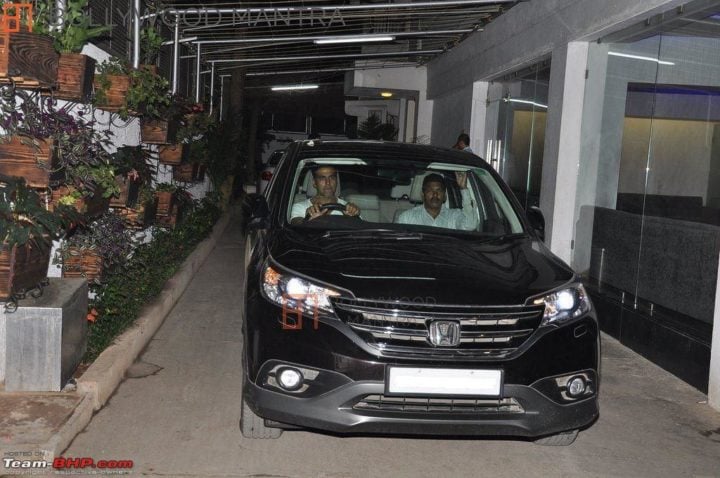 Amongst all this rich and popular cars, he also has the modest Honda CR-V. The previous-generation model is used by Akshay Kumar when he wants to avoid the paparazzi. He is spotted in this SUV most often. The Honda SUV is priced at Rs 28 Lakhs and comes with a 2.4 Liter petrol engine. This petrol engine produces 187 BHP of power and 226 Nm of torque.
8. Maruti Suzuki Zen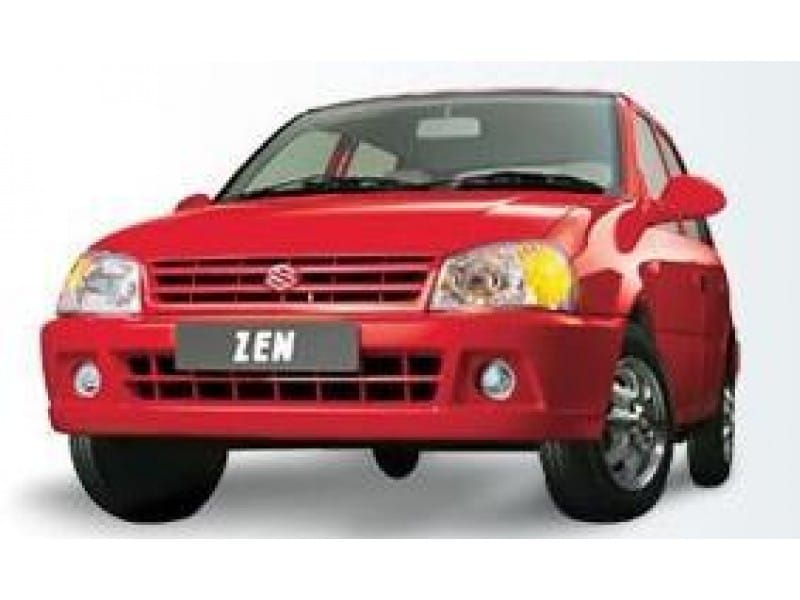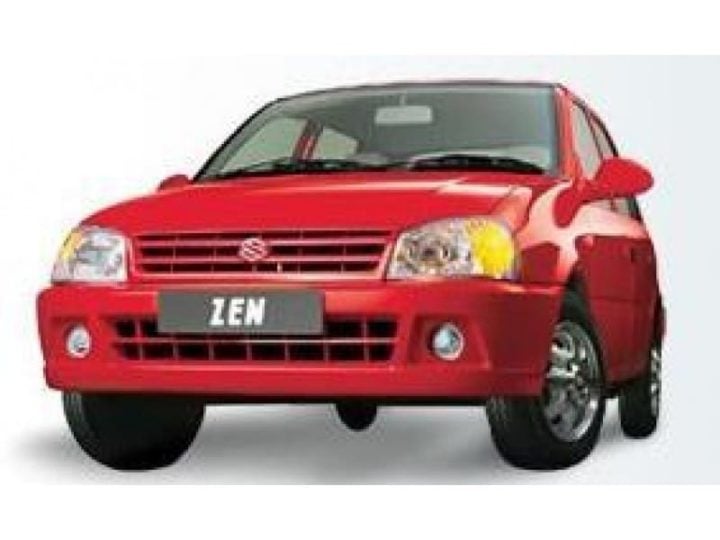 When his first son was born, Khiladi Kumar used a Zen to avoid the paparazzi. He used the fun-to-ride hatchback while travelling with his son. To top it, there was a 'Baby On Board' sticker on his rear mirror. Now, we do not know if he still has preserved that car or not.
Also Read: 10 Cars from the 2000s which have now become extinct in India
Bike collection of Akshay Kumar
1. Honda XRV 750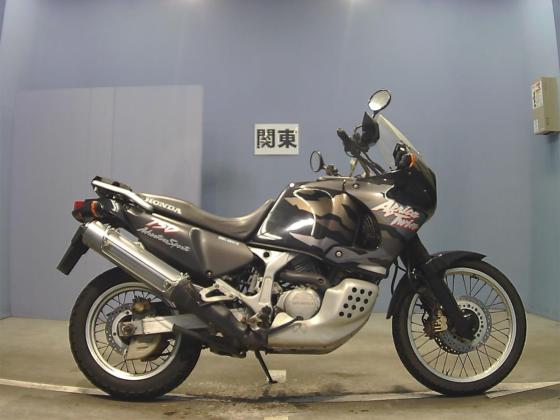 You might not have heard of the XRV 750. It is basically an older-generation of the Honda Africa Twin. The ADV bike was used by Akshay Kumar sometimes while going for a shoot. It ran on the roads from 1996 to 2003.
Also Read: Check Out MS Dhoni's Bike and Car Collections!
2. Custom Royal Enfield Thunderbird 350 By Vardenchi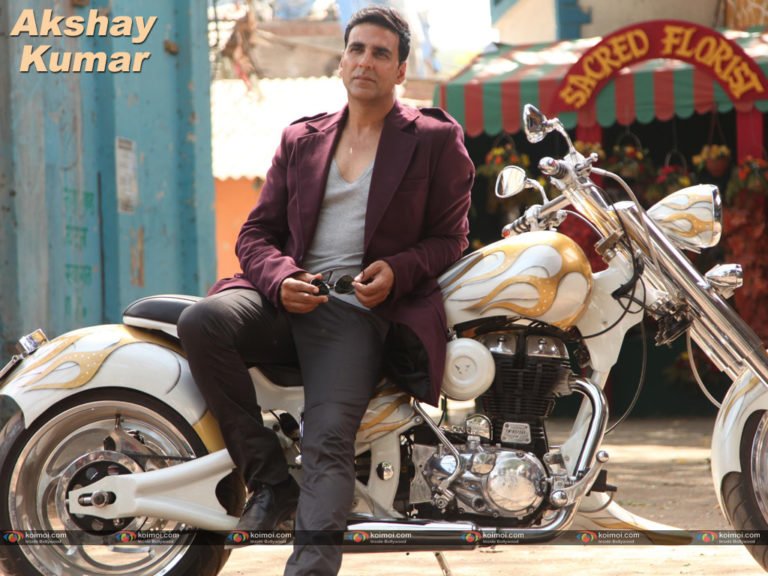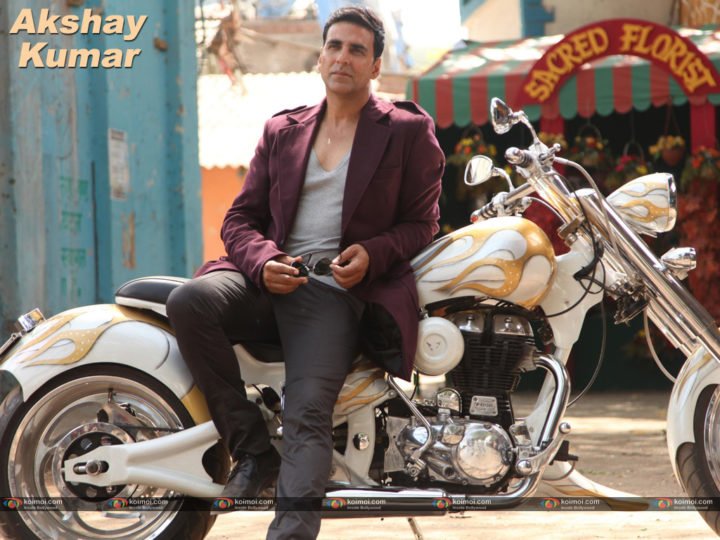 Remember the bike used in Oh My God? A chopper with all the flame decals above it. It was basically a heavily modified Thunderbird 350. Designer Vardenchi did the special bog on the Thunderbird for the film. Akshay Kumar has been spotted often trying this modified bike.
Also Read: Check out the Best Cars of the Ambani Family
3. Yamaha VMax

It looks like Akshay Kumar takes the cars and bikes which he uses in his films. He used the Yamaha cruiser in Desi Boyz. The VMax came with a 1.7-liter engine that produced around 197.3 BHP of power and 166.8 Nm of torque. The top-speed achievable on this cruiser is around 220 km/hr. The bike was priced at Rs 27 Lakhs at that time.
4. Harley Davidson V-Rod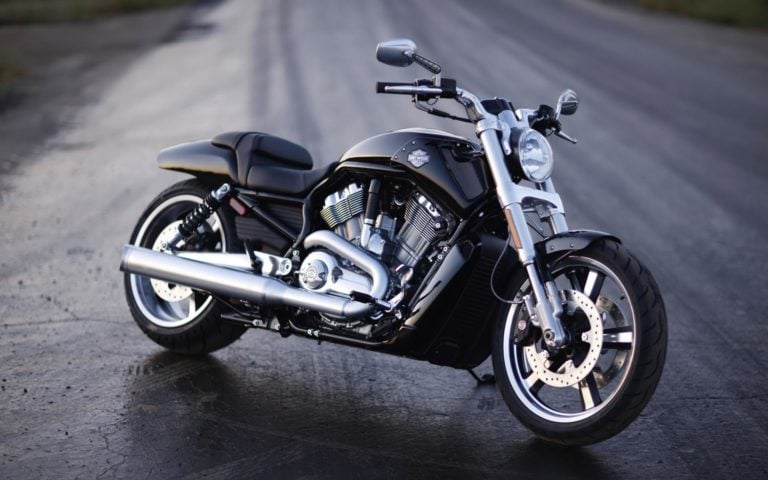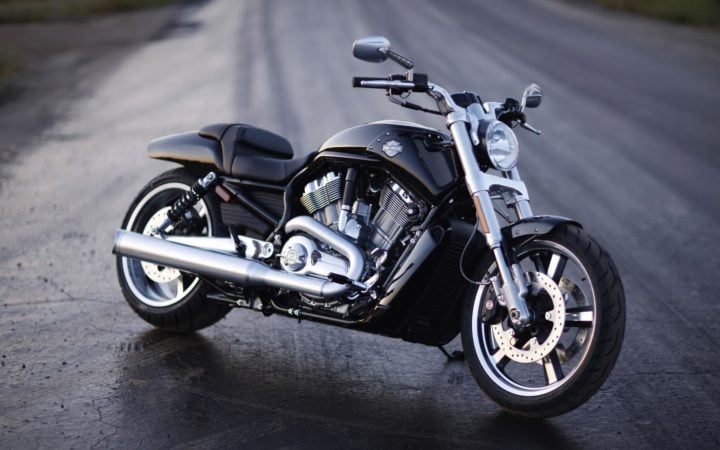 The last bike on this list is the Harley Davidson V-Rod. John Abraham had gifted this bike to Akshay Kumar, after the success of their movie, Garam Masala. It was launched in 2009 and is not available now. At that time, it costed around Rs 10 Lakhs.