These guys tried making an Indianized version of Ghost Rider by putting the tyres of a Bajaj Pulsar 220F on fire. See how ugly it turns out!
Growing up, we all have fancied the Ghost Rider movie. A regular hog that turns into a fire-spitting motorcycle by the night and ridden by a glowing ghost was hell lot of exciting. We always have wondered if this could actually happen on a bike. Here's an example of how it works in real-world conditions on a Bajaj Pulsar but is highly dangerous.
First of all, do not try this at all! Not even at home or not even in controlled conditions! Now to explain the video, these guys thought of using their old Bajaj Pulsar 220F for this stunt. In the start itself, the Youtuber says that the bike might actually be damaged beyond repair. Worse, it could blast off injuring everyone involved in the video.
Also Read: Bajaj Discover Modified Into A Cafe Racer Like Royal Enfield Continental!
What the Youtuber does it that he covers both the wheels of the Pulsar with a black cloth and then puts petrol on it. After that he lights the bike on fire and starts running it. In just a couple of seconds, you can see that the intensity of the fire increases. The passengers on the bike are forced to leave it and take a jump on the road.
They then try to extinguish it now that the bike is on fire for a good minute or so. While they are able to dose out the fire, you can see many spots on the exhaust, tyres and engine casing as well. Luckily the bike starts again after a couple of times and you can see one of the guys riding it away.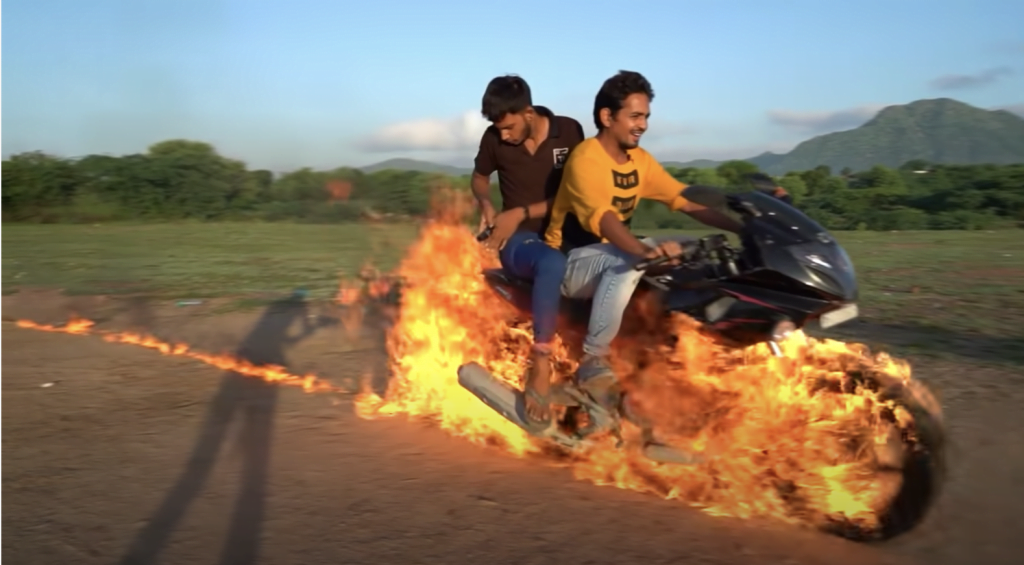 This is definitely very dangerous as many incidents could have happened if something went wrong. If and if the fire had reached deep into the exhaust or engine, both could have blasted the bike. To clarify, the movie Ghost Rider had a hog running on fire which is purely graphical and fictional. You can't do that in real life!
Join us for FREE NEWS Updates on our Whatsapp Community or our official telegram channel.