During the last week of December 2011 we had reported that Jaguar and Land Rover a.k.a JLR will be showcasing their respective concept products at the 2012 Auto Expo. Keeping their promise they have done so and to start with we will talk about Jaguar C-X16. The C-X16 is Jaguar's latest concept sports car and carries the company's traditional front-engined, rear wheel drive formula.
The same formula has been reiterated for this concept car and the end result is a performance oriented hybrid drivetrain with 50:50 weight distribution. The car is propelled by a combination of two powertrains: an all-alloy V6 engine and an electric motor inspired by Formula One KERS system.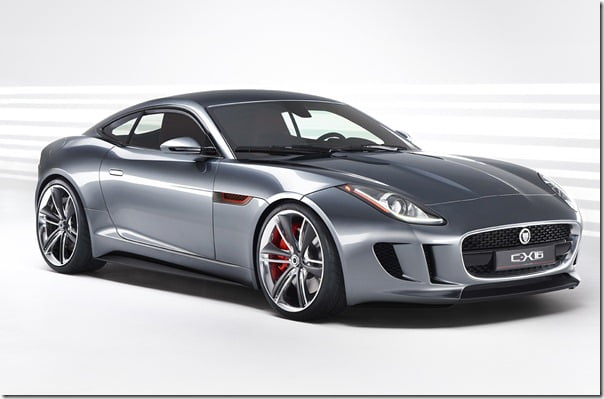 image – Jaguar C-X16 Concept
The hybrid powertrain plays a very important role as it supplements the V6 engine's power thereby reducing the fuel consumption. Interestingly at speeds of up to 50 mph the car performs as a zero tailpipe-emissions electric vehicle. Besides the brilliant powertrain it is also bestowed with intelligent systems like the Start Stop System and Kinetic Energy Recovery System.
image – Jaguar C-X16 Concept
Talking about the V6 engine specifically, it is a supercharged all-alloy V6 engine that churns out 380 BHP of max power and 450 Nm of torque from its 3.0 litres of volume. The electric motor that supplements the engine provides an additional 95 BHP of power and 235 Nm of torque and all that extra power is available at the push of a button provided on the steering wheel.
The massive power output is complemented by an 8-speed automatic transmission that helps the car accelerate from 0-100 km/h in 4.4 seconds and reach top speeds of 298 km/h.
image – Jaguar C-X16 Concept Interiors
Jaguar C-X16 Key Features Are As Follows:
A concept 'One plus One' sports car that explores future performance hybrid options.
Seductive looks indicate the next evolution of Jaguar's bold design direction.
Sensual shape is defined by three distinctive 'heartlines'; front wing crease, rear haunches and sweeping roofline.
Driver-focused two-seater cabin trimmed in dramatic red leather.
Powered by an innovative supercharged 3.0-litre V6 producing 380PS (280kW) and 332lb ft (450Nm) of torque.
Specific power per litre is an impressive 126PS.
High-performance hybrid system boosts output by 70kW and 235Nm.
Top speed of 186mph, 0-62mph in 4.4 seconds and 50-75mph acceleration in 2.1 seconds.
CO2 emissions of 165g/km and an electric-only top speed of 50mph.
Steering wheel-mounted 'Push to Pass' button controls the hybrid boost function.
Performance hybrid is inspired by the Limo-Green research project and C-X75 supercar concept.
Aluminium construction maximises torsional rigidity for sharper responses.
Eight-speed ZF gearbox with Quickshift changes.
Intelligent Start/Stop for improved fuel economy.
Switchgear incorporates OLED displays into dual-function rotary controls.
New generation Jaguar Touch-Screen with short-cut keys.
Advanced Climate Control employs an Intelligent Venting System.
Composite seats stiffened with a carbon-fibre central spine.
Jaguar C-X16 Concept Sports Car Exclusive Shots From 2012 Auto Expo
image – Jaguar C-X16 Concept
image – Jaguar C-X16 Concept
image – Jaguar C-X16 Concept
Jaguar C-X75 Hybrid Concept
Along with the C-X16 Jaguar also showcased the C-X75 concept car which again is a brilliant innovation in itself and features a number of technologies.
image – Jaguar C-X75 Concept
image – Jaguar C-X75 Concept
image – Jaguar C-X75 Concept
check out more-