Here is the final list of Jawa Motorcycles dealerships in India. The first set of showrooms have come up in Pune and Bengaluru.
Jawa Motorcycles has launched 3 new motorcycles in India. While the original Jawa has come back, it bought Jawa 42 and Jawa Perak along with it. However, Perak will be available in the market after some months.
While the new Jawa is an identical revival of the original Jawa, Jawa 42 is a modern classic roadster, based on the new Jawa. Perak is a Bobber motorcycle, made through factory customs.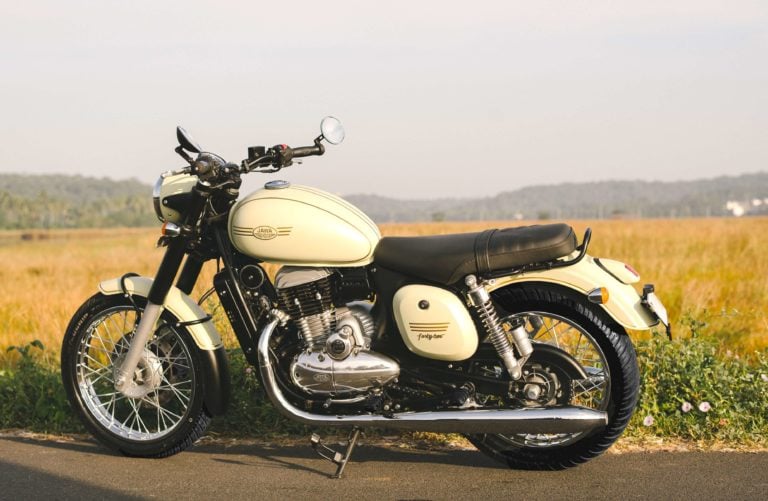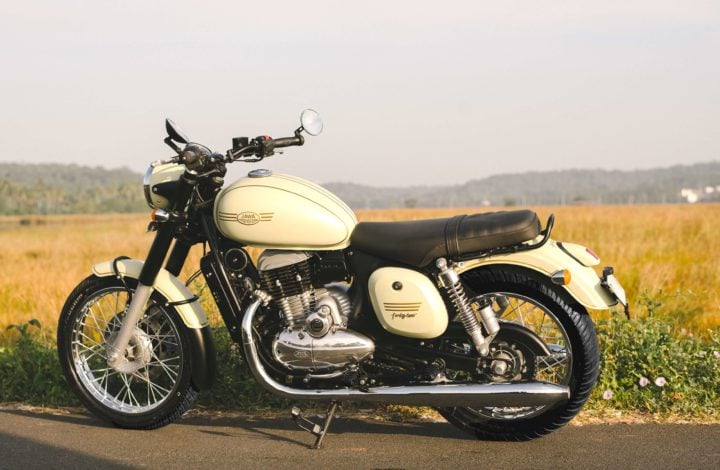 The bookings for both the bikes have begun at a token of Rs 5,000. At the launch event, Jawa Motorcycles confirmed that 105 dealers are set across the country. 64 dealerships have already commenced the process and development of showrooms.
Also Read: Jawa 42 Prices, Specifications, Mileage, Design and Images
The first Jawa Motorcycles dealership has opened up in Chinchwad PCMC. The second one in Pune has opened up in Baner. In Bengaluru, the dealerships are opening up in Rajajinagar, Koramangala and Basavanagudi.


These Jawa Motorcycles dealerships will come in the first phase. In the second phase, dealerships would come up in other metro cities. 5 dealerships for Bengaluru, 4 dealerships for Chennai and one for Kolkata are reported to be appointed. 1 dealership for East and North Eastern cities, seems a bit bad.
Also Read: Jawa 300 Vs Competiton – Everything you need to know
Jawa is based on the first Jawa that came to India and it resembles the original one. The new motorcycle gets round headlamps, bulbous fuel tank with Jawa Inscription, the maroon colour, twin-pea shooter exhausts and single mono-pod instrument cluster. All these traits are carried over from the original Jawa.
On the other hand, Jawa 42 is a modern version of this. It gets modern matte finish colours, modern touches, a revised instrument cluster and different style of rearview mirrors.
Both the bikes use the same 293cc liquid cooled engine. The engine produces 27 BHP and 28 Nm of peak torque. Both the bikes pair up with a 6-speed transmission. The engine comes with a flat torque curve, which offers generous amounts of torque in the mid-range.
Also Read: Jawa 300 – Five Important Things To Know About This Bike
The Jawa comes at a price of Rs 1.64 Lakhs and Type 42 goes out for Rs 1.55 Lakhs.
Perak gets a bigger 334cc engine that puts out 31 BHP and 31 Nm of torque. Since it is a factory custom motorcycle, it will be launched later. Perak is priced at Rs 1.89 Lakhs (all prices ex-showroom) and is the cheapest Bobber in town.
Here is the detailed list of the 104 dealerships of Jawa Motorcycles with their opening dates:
Andhra Pradesh

Vishakapatnam
December 2018
Madhya Pradesh
Indore
December 2018
Vijayawada
December 2018

Maharashtra

Nashik
December 2018
Guntur
December 2018
Thane
December 2018
Anantapur
December 2018
Andheri
December 2018
Tirupati
December 2018
Chembur
December 2018
Rajahmundry
March 2019
Vashi
December 2018
Kurnool
March 2019
Chinchwad Pune
December 2018
Assam
Tinsukia
December 2018
Koregaon Park Pune
December 2018
Bihar
Patna
December 2018
Baner Pune
December 2018
Chattisgarh
Raipur
December 2018
Ahmednagar
December 2018

Delhi (State)`

Jhandewalan
December 2018
Nagpur
December 2018
Tilak Nagar
December 2018
Satara
December 2018
Gujranwala Town
December 2018
Meghalaya
Shillong
March 2019
Krishna Nagar
December 2018
Manipur
Imphal
March 2019
Saket
December 2018
Mizoram
Aizawl
March 2019
Goa
Panaji
December 2018

Odisha

Rourkela
March 2019

Gujarat

Rajkot
December 2018
Behrampur
March 2019
Ahmedabad
December 2018
Pondicherry
White Town
December 2018
Anand
December 2018

Punjab

Ludhiana
December 2018
Vadodara
December 2018
Jalandhar
December 2018
Surat
December 2018
Bathinda
March 2019
Vapi
December 2018

Rajasthan

Jaipur
December 2018

Haryana

Pinjore
December 2018
Jodhpur
December 2018
Ambala
December 2018
Kota
December 2018
Faridabad
December 2018
Udaipur
December 2018
Karnal
December 2018
Ajmer
March 2019
Hisar
December 2018

Tamil Nadu

Salem
December 2018
Gurugram
December 2018
Tirupur
December 2018

Himachal Pradesh

Mandi
December 2018
Trichy
December 2018
Kangra
March 2019
Madurai
December 2018

Jharkhand

Ranchi
December 2018
Nagercoil
December 2018
Jamshedpur
December 2018
Tirunelveli
December 2018

Jammu and Kashmir

Narwal Bypass
December 2018
Vellore
March 2019
Srinagar
March 2019
Tripura
Agartala
March 2019

Karnataka

Hubli
December 2018

Telangana

Kukatpully Hyderabad
December 2018
Davangere
December 2018
Ranigunj Hyderabad
December 2018
Mangalore
December 2018
Hitech Hyderabad
December 2018
Hassan
December 2018
Banjara Hills Hyderabad
December 2018
Mysore
December 2018

Uttar Pradesh

Allahabad
December 2018
Bengaluru
December 2018
Meerut
December 2018
Belgaum
March 2019
Ghaziabad
December 2018
Bijapur
March 2019
Lucknow
December 2018
Gulbarga
March 2019
Agra
December 2018
Raichur
March 2019
Noida
December 2018
Bellary
March 2019
Varanasi
December 2018
Shimoga
March 2019
Gorakhpur
December 2018

Kerala

Kannur
December 2018

Uttarakhand

Dehradun
December 2018
Thrissur
December 2018
Haldwani
December 2018
Alleppey
December 2018

West Bengal

Kolkata
December 2018
Kollam
December 2018
Siliguri
December 2018
Trivandrum
December 2018
Asansol
March 2019
Madhya Pradesh
Jabalpur
December 2018
Durgapur
March 2019