Jeep Compass has become material for memes as the latest post by the owner shows.
A Jeep Compass owner jokes about the mileage of the SUV in this latest Facebook post. Compass has been in our market for years now and is known for its great driving characteristics. People buy it for that. However, there have been several instances where the SUV has been troubling the owners with various issues as a result of which it is needed to be taken to the service centre a lot. This is one such case. Here are the details of it.
You may also like: Jeep Compass Hits 5 Electricity Poles After Brake & Steering Failure, Keeps All Safe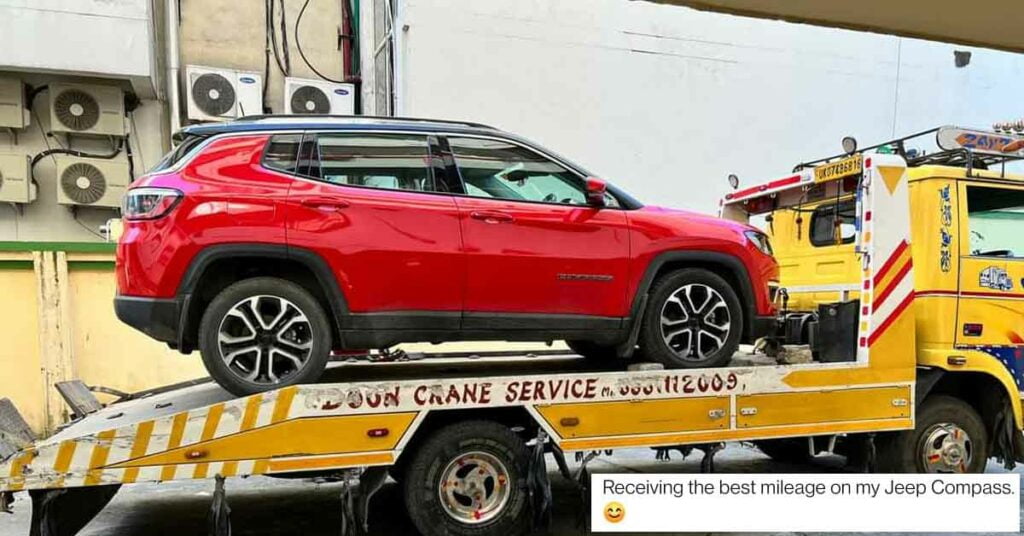 You may also like: Jeep Compass Owner Reviews Mahindra Scorpio N – Not Impressed?
Jeep Compass Mileage Jokes
The post has been shared by a certain Samanvya Sharma. His post reads, "Receiving the best mileage on my Jeep Compass". He wrote this next to the image of the SUV being towed away on a flatbed truck. Reportedly, he is experiencing numerous issues with the SUV because of which it has to stay at the service centre more often than not. Another FB user asks him how exactly is he getting the best mileage to which is replies, "Stays mostly in service centre".
You may also like: Lady Driving Jeep Compass Acts Too Smart, Regrets!
This is yet another owner who is visibly upset with the SUV. In the past, there have been instances where the electronics of the SUV had problems. When taken to the service dealership, at times the mechanics are not able to figure out a solution which is shocking. Owners are left with no option but to remain frustrated with the SUV. Many owners have complained about this. We can only hope that Jeep hears these comments and fixes these issues as soon as possible.
You may also like: Jeep Compass Owner Recounts Terrifying Service Experience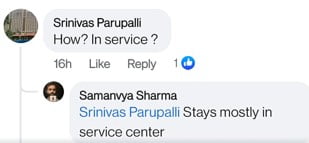 Many Similar Incidents Reported in Past
Jeep has been trying hard to provide solutions to the issues. However, the truth is that there are scarce dealerships for the American carmaker in India. Resultantly, there is a monopoly in every region and the customers are at the mercy of these officials. When they don't provide a solution, there is almost nothing that the customers are able to do. That continues to be the reality in most cases. The SUV owners have to struggle to find proper solutions to their problems by involving the top-level management via social media. Let us see how Jeep fixes these issues.
Disclaimer- The embedded videos/ external content is/are being used as a convenience and for informational purposes only; they do not constitute an endorsement or approval by Car Blog India of any of the products, services, and /or opinions of the corporation or organization or individual. Car Blog India bears no responsibility for the accuracy, legality, and/or content of the external site or for that of subsequent external videos/ external content. Contact the external publisher for answers to questions regarding its content.
Join our official telegram channel for free latest updates and follow us on Google News here.