Equipped with 4×4 drivetrain, Jeep Compass is quite capable off the road but no amount of off-road capability can make up for lack of good judgement
While the Jeep Compass hasn't been a huge sales success in our country, it still qualifies to be termed a global success with a good demand in most other markets it's sold in. In fact, even in India, many off-roading as well as driving enthusiasts swear by this SUV's capabilities. However, as is the case with every vehicle, even the Compass has its limitations, especially in hands of a driver that lacks good judgement. What you'll see in the video we have below is exactly what we're talking about here –
You may also like- Tata Safari Owner REVIEWS Jeep Compass 4×4- VIDEO
You may also like: VW Vento vs Jeep Compass Drag Race Makes Us Miss The Polo Sedan
Mishap Took Place in South America
This video seems to have been shot in a South American location. As you can see, a bus driving down a hilly road blocks most of the pathway and makes it impossible for oncoming traffic to drive by. However, an over-enthusiastic lady driving a Jeep Compass decided to play smart and make use of her SUV's off-roading capabilities. She decides to squeeze into the narrow gap between the bus and the hill by driving perpendicular to the road!
At first, it looks like the Jeep Compass would safely make it through but as soon as it passes by the bus, it topples over as the lady tries bringing the SUV back on road. We're not sure if even a trained driver would have pulled off this stunt successfully but the lady behind the wheel of this Compass clearly over-estimated her capabilities. The full version of this video that you can see below shows some bystanders keenly watching the antics. Some even rush to help the occupants of the vehicle get out once it toppled. But, in a nutshell, this little adventure by the lady ends up being an epic failure.
You may also like: Jeep CEO Unhappy with Meagre 0.3% Market Share in India – Report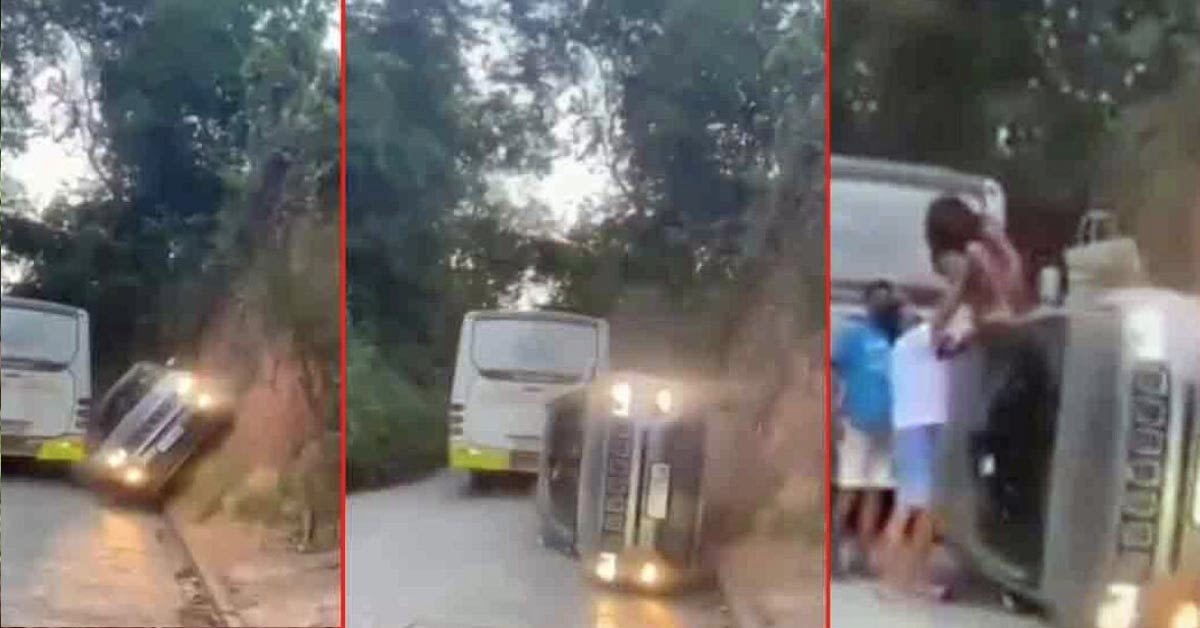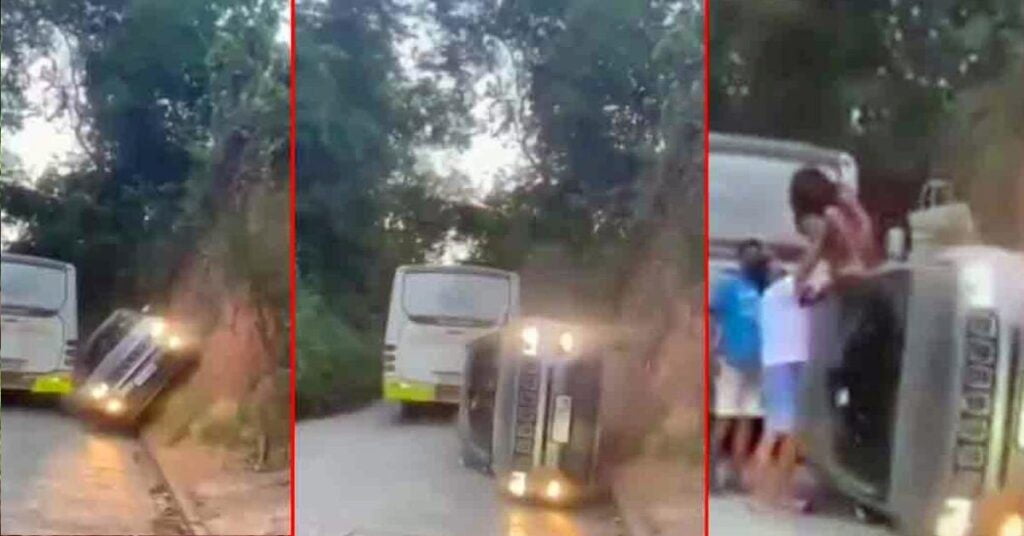 You may also like: Jeep Compass Annihilates Kia Seltos Totally in Tug of War – VIDEO
Jeep Meridian Launched in India
Meanwhile, back in India, Jeep has launched the Meridian – a three-row SUV based on the Compass. The Jeep Meridian shares aplenty with the Compass but enjoys a slightly different visual identity due to the bigger dimensions and several Commander-like styling elements. Quite naturally, it even offers a more spacious cabin while it shares the 2.0-litre oil-burner with the donor SUV.
Disclaimer- The embedded videos/ external content is/are being used as a convenience and for informational purposes only; they do not constitute an endorsement or approval by Car Blog India of any of the products, services, and /or opinions of the corporation or organization or individual. Car Blog India bears no responsibility for the accuracy, legality, and/or content of the external site or for that of subsequent external videos/ external content. Contact the external publisher for answers to questions regarding its content.