Tata Safari and Jeep Compass are comparable in terms of the powertrain options and price, but these are quite different SUVs in terms of its characteristics.
Check out what a Tata Safari owner thinks about Jeep Compass in this detailed video as he drives it around the city. Compass is a premium mid-size SUV that has quite a few ardent fans in our market. However, the sales numbers for Compass are not all that impressive. On the other hand, the Safari is an iconic moniker in India and the sales figures back it up. It becomes interesting to witness what the owner of Safari notices in a Compass.
You may also like: HUGE Pillar Weighing Tonnes Falls on Tata Safari; All Occupants Safe
You may also like: Tata Safari Gold Edition Looks Newer Than New After Ceramic Treatment
Tata Safari Owner Drives Jeep Compass
The Safari owner sits inside the Compass and there are quite a few striking features that he notices straight away. The all-black interior gives a feeling of lack of space but the usage of premium materials like chrome strip and aluminium at various places brightens up the outlook a bit. He mentions that the infotainment touchscreen and digital instrument cluster display and user interface is quite sleek and responsive. In this aspect, the Safari seems to be lacking a bit. The sense of space inside the cabin is a bit less due to the sheer size of the SUV and the black interior theme. The boot compartment is a bit smaller too.
Drive Comparison
When the Safari owner drives the Compass, he feels a similar behaviour in terms of the powertrain as both these SUVs come powered by a Fiat-sourced diesel engine. However, he notices that the steering of the Compass is much lighter which is ideal for city usage. The Compass owner mentions that it gets a bit heavier as one picks up speed. The turning radius of the Compass is lesser compared to the Safari and the 360-degree camera eases the parking and reversing aspects significantly. The city mode in the Compass is a bit more sporty and responsive, whereas the Sport mode in the Safari lends an enthusiastic vibe.
You may also like: VW Vento vs Jeep Compass Drag Race Makes Us Miss The Polo Sedan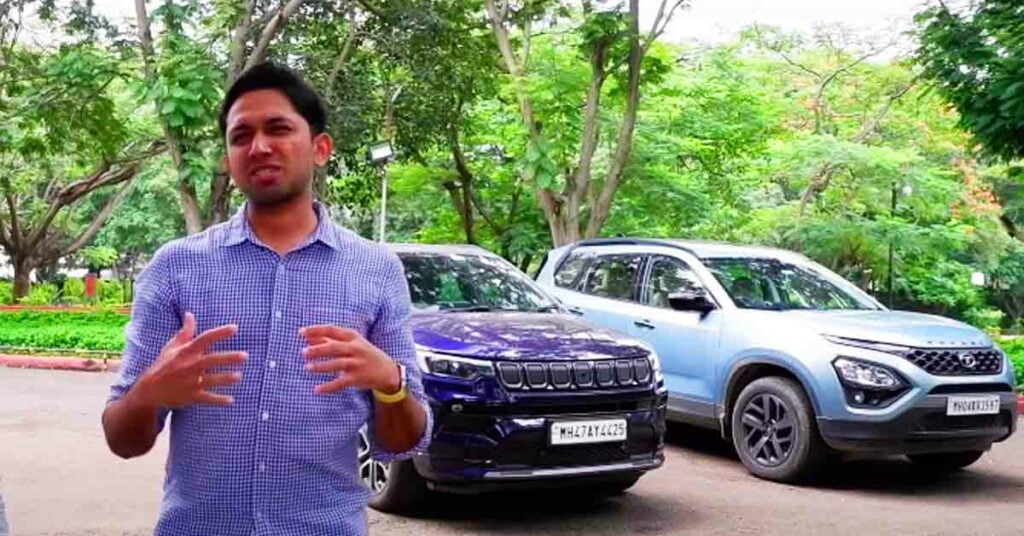 You may also like: Jeep Compass 7-seater (Toyota Fortuner-rival) to be Called Meridian
We need to mention here that this is the first part of the comparison where the Safari owner drives a Compass. In the next part of the video, the Compass owner will try his hands on the Safari as well. Such switching allows viewers to glance through the key differences between cars that people are confused about.
Join our official telegram channel for free latest updates and follow us on Google News here.