Patented design sketches of a new Kawasaki electric bike has been leaked. The sketches were first leaked in 2016, as the bike is expected to be launched by 2021.
Proper sketches of an upcoming electric bike from Kawasaki reveal details about its engine and other details. Earlier revealed patents showcased the presence of electric motor on the bike.
Patents reveal that Kawasaki gets an oil-cooling setup for the engine. The powerplant gets an air-intake passage, which will be supplied to the interior of the battery case. Along with this air, the inbuilt radiator generated air will cool the oil further.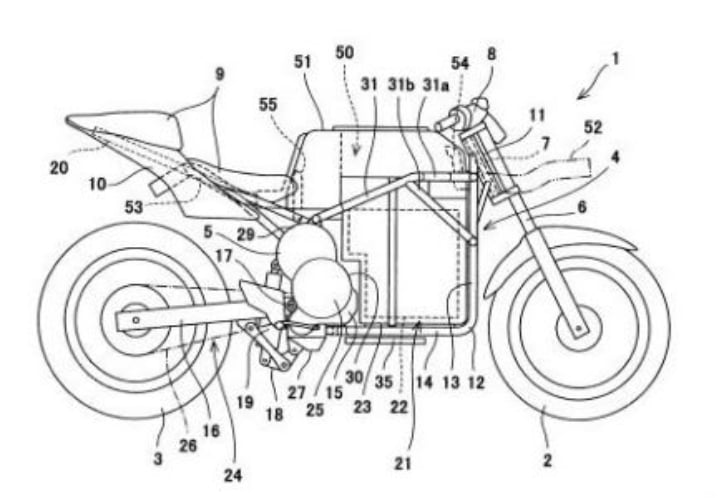 This oil also acts as a coolant for the electric motor. This process will further prevent the heating of the powerplant. The setup looks like it is placed on a conventionally powered motorcycle.
Also Read: Zero SR/F electric bike unveiled; gets a range of 322 kms
Further details reveal that the Kawasaki electric bike might also get a transmission, just like the petrol-powered bikes. Usually, electric vehicles get single speed transmission and not even Automatic Transmission options.
The electric motor is placed just below the clutch-type thing, which indicates towards the transmission. Inclusion of the clutch will give the rider the same feeling that he gets from a petrol-powered bike.
Although, there is no speculation of whether it will be a manual clutch or an automatic one. Possibly, the dotted paterns might be later removed, which will further erase the question of a gearbox.
Also Read: Harley Davidson Livewire electric bike might cost Rs 21 Lakhs in India!
As of now, there is no further information. The sketches indicate that the research and development would be in the final stages. It is still long before we can see the production version of the Kawasaki electric bike.
The original patent was filed back in 2012 and after 7 years, a different looking patent has come up. Looks like Kawasaki has been working on its electric bike seriously.
Reports say that this electric bike could be showcased as a concept at the 2019 EICMA or probably the 2020 one.
Also Read: By 2021, you will see an electric Ducati bike on the roads!
With Kawasaki, other premium motorcycle brands like Ducati, BMW and Suzuki are also working on their electric counterparts for the future lineup.