TVS-backed Ultraviolette F77 electric bike is going to debut the Indian market this year. The power on the E-bike will be equivalent to a 200cc motorcycle.
Earlier, we reported that Ultraviolette Automotive is developing a new electric bike in India. Currently, it is under development and a prototype of the bike is being tested on the roads.
Their new website reveals some important details of the bike, about its launch and electric motor specifications. The E-bike has been scheduled to launch by the end of 2019, only in Bangalore. By 2020, it will be soon spread out to other cities as well.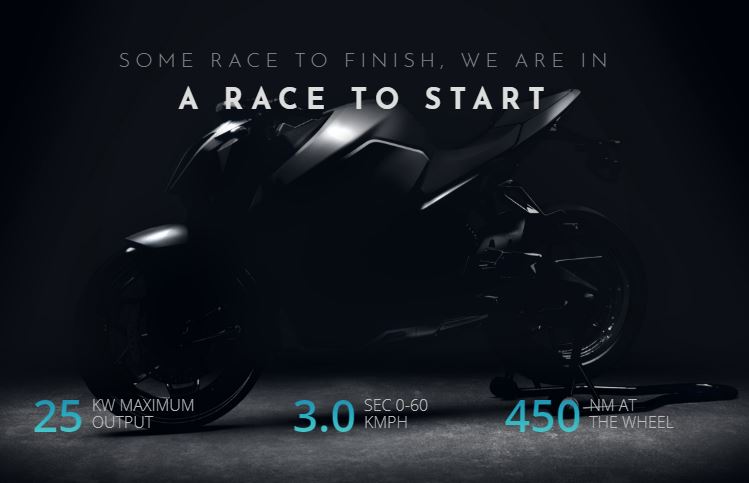 The Ultraviolette F77 E-bike will be a performance oriented bike. The company claims that it offers power equivalent to a 200-250cc motorcycle, which is the very first in India.
Also Read: Tork T6X Electric Bike spotted testing for the first time in Pune
The Ultraviolette F77 gets an in-house developed battery pack. The battery uses a premium cooling technology and fail-safe protocols. The expected riding range of the bike is 120-150 kms.
The video on the website shows the E-bike drag racing against the fastest 250cc bike. As you can see, the F77 gets an early headstart. It achieves 0-60 kmph in just 3 SECONDS flat!
The power figures on the Ultraviolette F77 are 25 kW and 450 Nm of peak torque at the rear wheel. The power is equivalent to nearly 33 BHP of power, that is equal to that of TVS Apache RR310.
Also Read:TVS working towards the development of hybrid two-wheelers- Report
The F77 will be equipped with a TFT display speedometer with smartphone connectivity. The display will offer information such as battery status, riding range, riding data and the motorcycle status.
Ultraviolette F77 will also be equipped with 3 Riding modes – Eco, Sport and Insane. The Insane mode offers top-level of acceleration and performance. The levels of regenerative braking can also be adjusted.
Meanwhile, the company is working up on setting charging stations for the bike. The bike will be first launched in Bengaluru, just like Ather. Slowly, it will be available across major cities.
Also Read: Bajaj to launch an electric bike in India by 2020
Speculations say that the Ultraviolette F77 will be priced around Rs 2-2.5 Lakhs on-road, which actually sounds a done deal for a performance electric motorcycle. It will go on against Tork T6X electric bike, which is also being tested.