A public forum records the interaction of a VW Taigun owner (switched from Kia Seltos) expressing his dissatisfaction regarding some aspects of the ownership.
A VW Taigun owner switched from Kia Seltos but remains dissatisfied with the issues related to the former. Taigun is a symbol of enthusiast driving with world-class turbo petrol engines and great handling characteristics. That is the reason why people flock toward VW products. However, there are a few pertinent issues with the Taigun, as experienced by several owners. This interaction between Taigun owners discussing the traits of their SUVs on the Team BHP Forum has all the details.
You may also like: Kia Seltos Spied in New Blue-White Dual-Tone Paint
You may also like: Skoda Kushaq Engine Cylinder Deactivation System Explained
VW Taigun Owner Switched From Kia Seltos, Remains Dissatisfied
The Taigun owner mentions that his dad wanted a car with a great driving character which was missing in the Kia Seltos. They decided to switch to the driver's car, the VW Taigun. While there are not a whole bunch of serious issues, some things still bother the owner. This includes things like the working of the AC. In most cities in India, peak summers are quite harsh and having an effective AC in the car is mandatory. But the AC of the Taigun has been reported by many owners to be average, at best. The car is just 10 days old and the first service is due.
You may also like: VW Taigun First Ownership Review is Out!
The other areas that the service workshop executive noted on the job card while inspecting the car before the service include a gear knob cracking sound that is not too pronounced with this owner, the car is pulling towards the left quite a lot which might be an issue of wheel alignment, AC not working adequately, especially in bumper-to-bumper traffic, rubber coming out from the driver's side footstep which is also minor.
You may also like: Kia Seltos (3 Star NCAP) Rams Into Buffalo at 90 kmph, Results Shared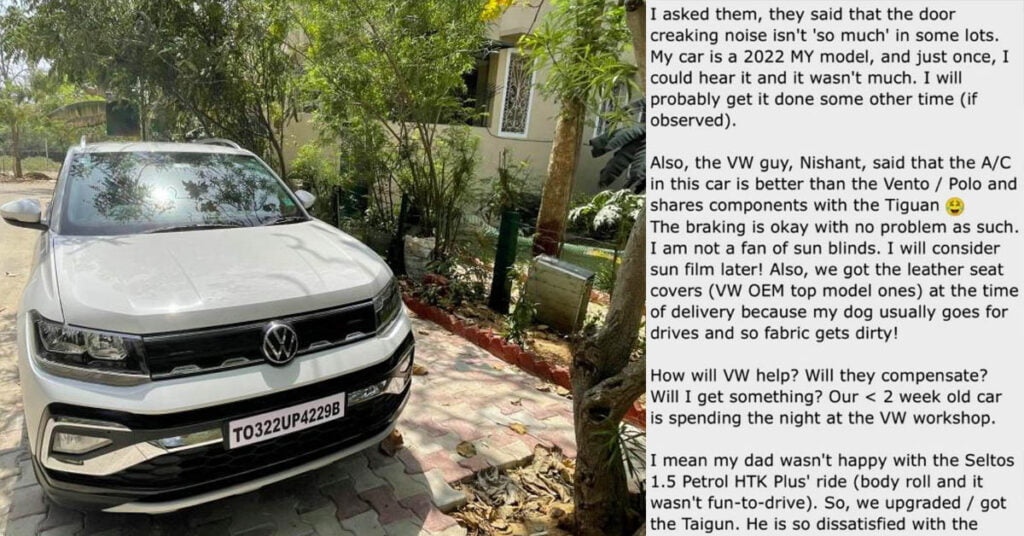 However, the question remains about the quality that VW prides itself on. It is not ideal to have a 10 days-old car experiencing such issues in the first place. That is precisely the reason why this Taigun owner is dissatisfied despite switching from Seltos. The other members in the forum also share their ownership experience and such minor issues seem to be the case with almost everyone.
Join our official telegram channel for free latest updates and follow us on Google News here.