Car owners often come up with rather weird but effective ways to protect their vehicles from to protect their vehicles from rodents, cats or dogs
A Kia Seltos owner from Bangalore has come up with a rather unique way to save his mid-size SUV from rodents. It's natural for not all car owners to have indoor parking spaces for their vehicles due to the space constraints. Hence, a majority of car owners out there have no option but to park in the open. This leaves their prized possessions vulnerable to natural elements such as harsh weather and rodents. Earlier, we saw a Maruti Baleno owner installing spikes on bonnet and roof to prevent dogs from resting on his vehicle. Now, here's a Seltos owner who wraps his car in a steel frame to keep rodents at bay.
You may also like: Maruti Baleno Owner Uses Polythene Sheet on Bumper to Stop Cats from Entering Car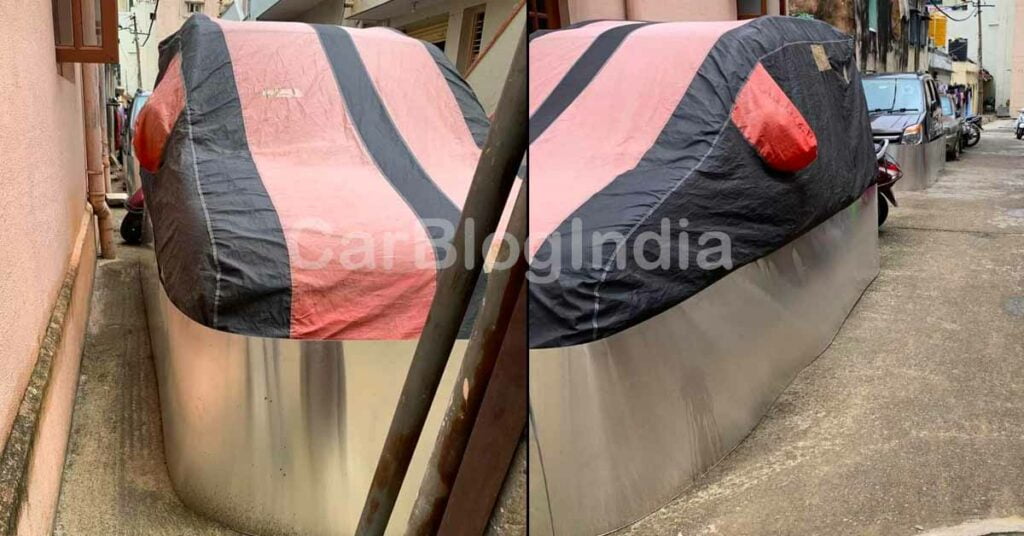 You may also like: Here's How To Keep Rats Away From Engine of Your Car
Effective but Unpractical
Like many, the owner of this vehicle parks his vehicle out on the street. This leaves his vehicle exposed to rodents. Now, these little creatures can enter the vehicle from the air-dam and cause a lot of damage. There are already many tutorials available online to help one with ways to protect a vehicle from rodents. However, what this Kia Seltos owner has done is something that we've never seen before. After parking his vehicle, he uses a car cover for protection against weather. Next, he wraps the lower portion of his SUV in steel! Through this, he saves his vehicle from rodents entering the internals of his Kia.
The Kia Seltos owner not only saves his SUV from damage by rodents but even saves lives of these animals. Naturally, a driver would start driving not knowing about the presence of rodents in the engine bay or in some orifice. Therefore, chances of the rodents losing their lives is pretty high. To make matters worse, the car users suffer from the stench of their carcass enters the cabin. Hence, it does make a lot of sense to take precautions to keep them away. Unfortunately, though, this is not a very practical solution. We're sure it would be quite a task to put that huge frame around the SUV every time it's parked.
You may also like: Maruti Baleno Owner Does a 'Jugaad' to Stop Dogs From Resting on Roof
You may also like: Maruti Grand Vitara VS Kia Seltos Comparison
Kia Seltos Specs
The Kia Seltos has been on sale with three engine options – 1.5-litre naturally-aspirated petrol, 1.5-litre turbocharged diesel and 1.4-litre turbocharged petrol. The 1.5-litre engines produce 115 PS each. On the other hand, the turbocharged petrol engine produces 140 PS. All motors come mated to a 6-speed manual transmission as standard. That said, the 1.5-litre petrol engine is optionally available with a CVT. The diesel and turbo-petrol engines are available with a 6-speed torque-converter and 7-speed DCT option, respectively. Prices of the MY2022 Seltos currently range from Rs 10.49-18.65 lakh (ex-showroom).
Join our official telegram channel for free latest updates and follow us on Google News here.