Kia Seltos is available in three engine options and comes with four transmissions to choose from onboard. It comes with HT and GT Line.
Kia Motors launched the Seltos with an amazing price tag of Rs 9.69 lakh (ex-showroom, Delhi) and it instantly became a hit in the Indian market. We are saying this because Kia Seltos beat the popular Hyundai Creta in August sales.
Yes, the Kia Seltos garnered about 6,236 units where the Hyundai Creta saw only 6,001 units in sales. It's not much but for an entry segment mid-size SUV, it definitely makes a mark.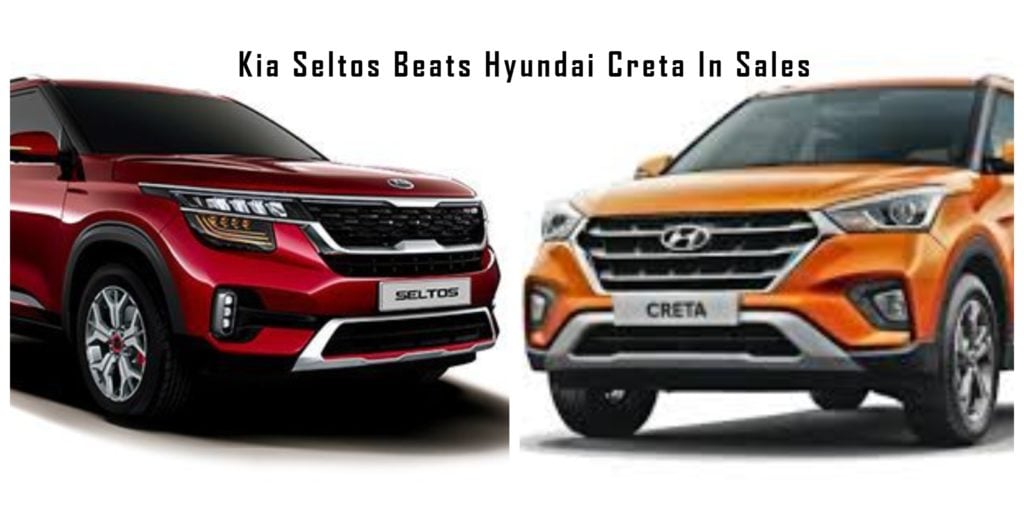 Following the sales with Hyundai Creta, we also have the new trendsetter MG Hector and Tata Harrier, both of which falls in the mid-size SUV segment. And both the cars give fair competition to the Kia Seltos.
Also Read: Kia Seltos GT Line vs HT Tech Line – What's The Difference?
MG Hector saw a total sale of 2,018 units while Tata Harrier saw 635 units being sold. Mind you, the Harrier sales has been dropping down quite steeply because of the tough competition. And in order to fairly compete in the market, Tata has also launched the 'Dark Edition' of the SUV to sustain its position.
| | | | |
| --- | --- | --- | --- |
| Model | Aug'19 | Aug'18 | Difference |
| Kia Seltos | 6,236 | – | – |
| Hyundai Creta | 6,001 | 10,394 | -42% |
| MG Hector | 2,018 | – | – |
| Tata Harrier | 635 | | – |
| Nissan Kicks | 172 | – | – |
MG Hector sales stood at 1,508 units for July'19 and now it is up by 510 units which gives a sign of its presence in India shores. Mind you, the booking of the MG Hector has been temporarily closed and is expected to open in October this year.
Tata made its entry with the Harrier and in the starting, it really built a strong presence in Indian masses as it hardly got any competition. But few months down the line, Harrier sales dipped and now it stands at 635 units for Aug'19 compared to 740 in July'19.
Also Read: 2020 Hyundai Creta Features Might Get 360 View Camera & Drive Modes
The sales of Nissan kicks has been overall down for past months and to push the same, they also launched an affordable diesel trim, XE, which starts at Rs 9.89 lakh (ex-showroom, Delhi).
Now, talking about the Kia Seltos, the popular mid-size SUV it lures its customer with top-of-the-line features. Starting off, it gets a Blind spot monitoring system, Heads up display, Smart air purifier, a large 10.25-inch touchscreen infotainment system, UVO Connect and much more to the list.
Safety onboard includes six-airbags, ABS with EBD, Electronic stability control, Vehicle stability management, hill start assist, front and rear parking sensors are some of the features which come onboard.