Here is a braking comparison video of a Kia Sorento and Toyota Fortuner. Now, the Sorento is the flagship SUV from Kia in the international market. It has won a ton of laurels for design and is quite accomplished in what it offers. Kia has not been vocal about bringing it to India. But if it does, it will sit in the segment of the Toyota Fortuner, MG Gloster and VW Tiguan in our market. The Fortuner, on the other hand, is the most popular premium 7-seat off-roading SUV in the country. With the departure of Ford Endeavour from our market, Fortuner enjoys an unopposed monopoly in the segment. The Gloster has not been able to challenge it and that is evident from the monthly sales numbers. But this short video gives us a glimpse of what the Kia Sorento is capable of and how well it stacks up against the mighty Fortuner in this braking comparison.
Also read: Toyota Fortuner Now Costs Over Half a CRORE Rupees!
Kia Sorento & Toyota Fortuner Braking Comparison
The video shows the two SUVs in black paint shade. They are accelerating side by side in the form of a drag race. Then both the SUVs apply brakes at the same time. The result will clearly disappoint the Fortuner fans. The stopping distance of the Sorento is substantially shorter than the SUV from Toyota. This signifies the great mechanical capabilities of the Sorento compared to the Toyota. Although, it must be mentioned that we don't generally associate the Fortuner with high-speed drag race kind of environments. It is more off-road focused and has the necessary equipment to tackle the rough roads and dirt tracks. The Sorento is more geared towards comfort and luxury on tarmac roads. Hence, it makes sense to equip it with better braking capabilities.
Also read: Toyota Fortuner vs Kia Seltos Drag Race – Who Will Come Out On Top?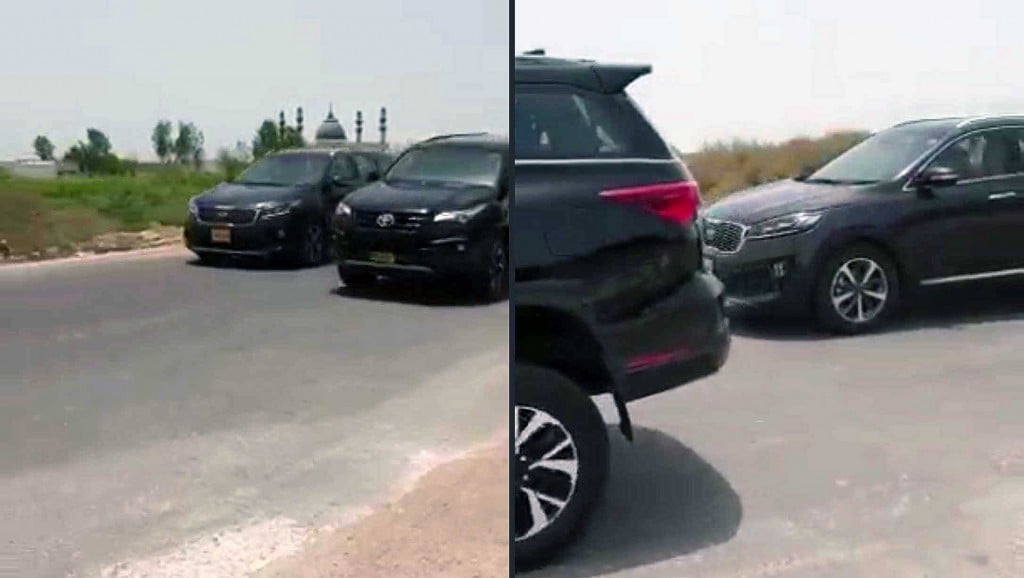 Specs
The Fortuner comes with a 2.8-litre diesel engine making 202 hp and 420 Nm and a 2.7-litre petrol engine making 163 hp and 245 Nm of peak power and torque respectively. The transmission options include 5-speed manual, 6-speed manual or automatic gearbox options. The Kia Sorento, on the other hand, comes with a 2.5-litre naturally-aspirated petrol engine making 191 hp and 245 Nm and a more powerful 2.5-litre turbo petrol making 281 hp and 421 Nm of peak power and torque respectively. There are options of either an 8-speed automatic or 8-speed DCT transmissions. Both these SUVs come with 4×4 options in higher trims. If the Sorento makes its way to our shores, the segment will certainly get more heated up.
Also read: Toyota Fortuner vs MG Gloster – Prices, Features, Safety, Specs, Engines Comparison!
Join our official telegram channel for free latest updates and follow us on Google News here.