KTM has been attracting good amount of bookings for KTM Duke 200 which has been recently launched. There have been no official numbers released since there has not been even one full month since the bookings started. There are waiting periods for the Duke 200 between 1 to 3 months depending on various factors. Also the booking amount has been slashed from Rs. 30,000 to Rs. 20,000 with a cancellation charge of Rs. 3000. The cancellation charge is to prevent bogus bookings or preventing touts to sell bookings for a premium. The Duke 200 is receiving a warm response and more details will be available once the sales numbers are released next month.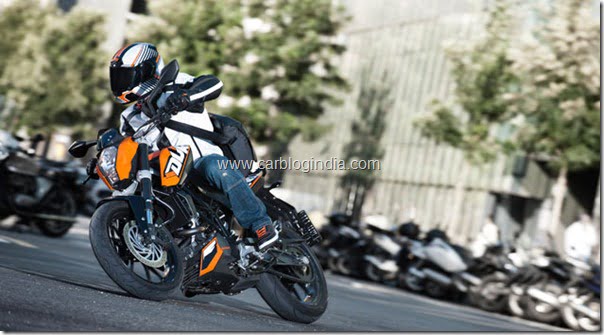 image- KTM Duke 200 Official Picture
With a lucrative Introductory price tag, sporty build and performance numbers, Duke 200 is a high value for money in its segment and is quite well established in markets like Europe. The fit and finish of the Duke 200 is quite high quality and is expected to attract many buyers since the performance bikes segment is growing quite rapidly in India year on year.
via – Motoroids
For complete details on the KTM Duke 200 in India, check out our special coverage at the link below :
Also check out –