Updated on 29th July 2014
The KTM RC 200 and KTM RC 390 could be launched by September 2014. According to reports, KTM will conduct a preview of the bikes for dealers in Pune in August 2014. The technicians at the dealerships will also start receiving training from the last week of August, which points to the fact that the bikes will be launched by September 2014.
Stay tuned for more information.
 Source: KTM RC390 – India on Facebook via IndianAutosBlog.com
Updated on 11th December 2013
Less than a fortnight ago, we had been talking about the KTM RC 125, KTM RC 200 and KTM RC 390 coming to India. Now the company has listed the RC 200 and the RC 390 on its website with "coming soon to India" tags. The bikes are expected to hit India roads in the first half of 2014 and will make the total number of bikes in the line up of the Austrian company on sale in India go to 4. If we are lucky enough, we might just get the adventure series ('Travel' in KTM lingo) as well in the next couple of years. There is no word if the KTM RC 125 will be launched in India though, and from present indications there is a possibility that KTM has dropped plans to introduce the bike in India.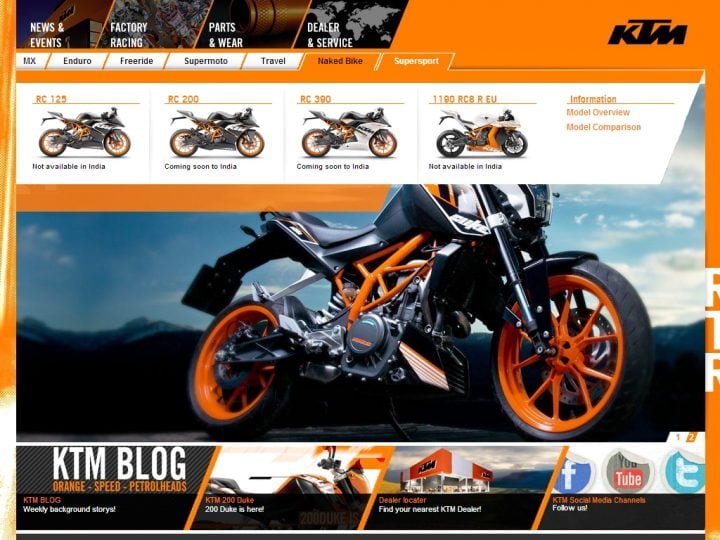 These fully faired versions are called RC 200 and RC 390 respectively. These bikes are not extremely distinctive from each other as far as their looks are concerned. In all probabilities, you will see the same engine, chassis, suspension and swing-arm as you had in the conventional Duke. For a change, there will be differently styled stickers and distinctive paint jobs. However, the intrinsic machinery creates all the difference.
These machines are for 'race freaks'. Talking about individual bikes, The KTM RC 390 runs on a gigantic 373.2cc, single-cylinder engine that can churn out 43 HP of power and 35 Nm of maximum torque., which is connected to a 6-speed gearbox. The bike weighs. 147 kgs dry.  On the other hand, KTM RC 200 is a single cylinder, 199.5 cc engines can generate maximum power of 25 HP and maximum torque of 19.2 Nm. With this engine, you can expect maximum speed of 200 km/hr.
As said earlier, Bajaj's Chakan facility will be used to produce these bikes and the company may sell these alongside their 200 and 390 Duke counterparts. We have already seen the glimpse of these two bikes at 2013 EICMA Milan Motorcycle Show which concluded on November 5. The company has still not revealed the launch date for these bikes in India but we believe that at best, you should be able to register for pre-bookings by the end of January 2014. KTM plans to grow its sales network across the country in the coming years, and these bikes may see a better sales response as and when they are launched.