It was back in 2008 when Austrian motorcycle manufacturer, KTM launched its first sports car- KTM X-Bow. Now, KTM has collaborated with Reiter Engineering to bring the racer variant of the same. KTM recently released this teaser image of its upcoming KTM X-Bow GT4 racer car that will target the hardcore racing enthusiasts. On the technical front, it gets a 2.0-Litre turbo petrol engine that churns out a maximum power of 320 HP and comes paired to a 6-speed sequential gearbox. It also comes equipped with racing ABS system and full racing-spec crash protection.
This car has been designed to compete in the Pirelli World Challenge GT-S and GT4 European series races. As per the teaser image, this racer looks aggressive and comes with a newly designed front-end, a larger wing at the rear and a closed cockpit. There has been a high usage of carbon-fibre to give this car a lower kerb weight than the existing X-Bow version.
Key Features of KTM X-Bow GT4 Racer
2.0 Liter Turbo petrol engine
320 HP of maximum power
6-speed sequential gearbox
ABS system
Full racing-spec crash protection
Carbon-fibre monocoque
The ongoing version of KTM X-Bow GT too is powered by  four-cylinder 2.0 litre engine. It produces 285 PS of maximum power at 6,400 rpm and 420 Nm of peak torque at 3,200 rpm. It accelerates from 0-100 km/h in 3.9 seconds with a top speed of 217 km/h.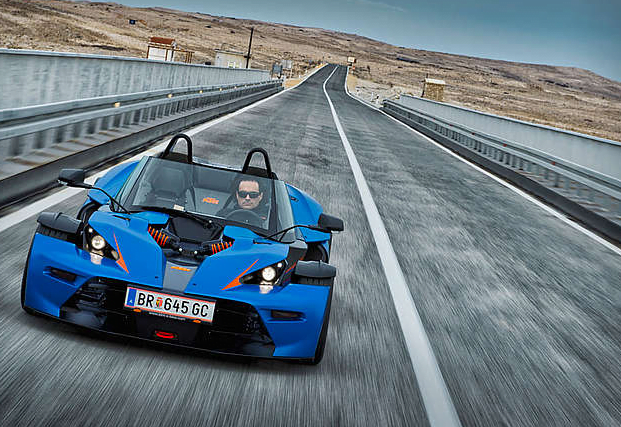 Hans  Reiter, Owner of Hans Engineering said, "Since the new car is based on the KTM X-Bow, the customer is going to get a racing car that has now been tested on the world's racing circuits for six years,"
"When you reflect on what the customer is being offered here in terms of the most modern racing technology, together with a very impressive safety concept, then you can really speak about it being exceptionally good value for money," he added.
The KTM X-Bow GT4 Racer Release should  happen in early 2015. Remaining details on the upcoming KTM X-Bow based racer remain sketchy, but expect us to update you with more dope as soon as more info is made available.
Also Read- KTM RC 200 Launched In India
Stay tuned with us.