A head on collision recently took place between a Skoda Kushaq and a Toyota Fortuner Legender in a village in Karnataka
We've been closely following reports of accidents wherein the occupants walk out of the mangled remains of the vehicles without any serious injuries to speak of. However, the mishap in focus today is quite interesting. In fact, it's something we generally see in Bollywood movies. Actually, an accident recently took place between a Toyota Fortuner Legender and a Skoda Kushaq in a remote area in Karnataka. Thankfully, no one was seriously hurt in this collision but what happened next is surely something that's quite heart-warming.
You may also like: 67 Year Old Makes Electric Car that Costs Rs 5 to Run 60 km
You may also like: Guess Who Wins Toyota Fortuner vs Mahindra Bolero 4×4 Tug of War
As per the video above, the mishap took place between the Skoda Kushaq and the Toyota Fortuner Legender on a single-lane road in a village in Karnataka. Going by the condition of the two SUVs, the impact would have taken place at a pretty high speed as the front-end of both the vehicles has been damaged beyond recognition. That said, the impact could penetrated into the cabin and the A-pillars of both the SUVs are not damaged. Also, there has been no loss of life but unfortunately, the occupants of one of these vehicles suffered some injuries. It's not known if the injured were seated in the Fortuner or the Kushaq. However, what happened next is what that has actually left us impressed.
As the mishap took place in a pretty remote area, there was no way an ambulance would have reached the spot quickly. Luckily, though, a BJP MPL who was passing by noticed the damaged Kushaq and Fortuner and stopped to inquire about the well being of the occupants. On seeing that a few people need immediate medical aid, the minister was kind enough to offer her government-issued Toyota Innova Crysta for transporting the injured people to a nearby hospital. Meanwhile, the kind lady hitched a ride with a motorcyclist to continue towards her destination.
You may also like: Climate Control Removed From Skoda Kushaq Ambition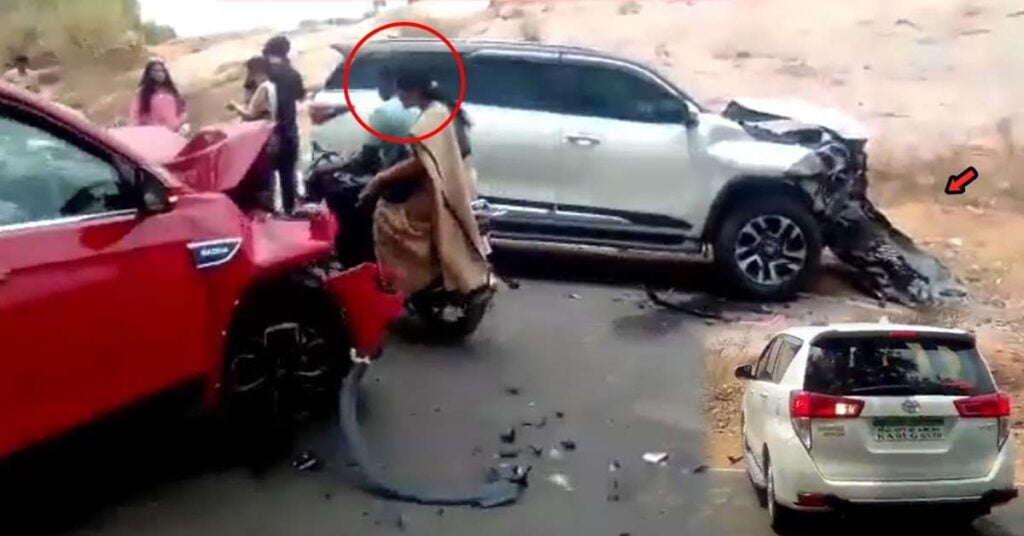 You may also like: WATCH Cute Kid 'Review' His Dad's Skoda Kushaq Style
Usually, we see such incidents only in Bollywood movies. In fact, there have been numerous incidents of road users facing enough inconvenience owing to a convoy of vehicles of some minister sharing the road space. Hence, the good act of the BJP MLA reported in the video that we have puts a smile on our face.
Join our official telegram channel for free latest updates and follow us on Google News here.