Believe it or not, people are beginning to sell their premium and expensive luxury cars in order to buy flagship vehicles from Indian carmakers.
In a bizarre incident, a Land Rover Discovery owner sells off his luxury SUV in favour of the Tata Safari Adventure Persona edition. Yes, you heard that right! What is even more interesting is the fact that it is becoming quite common. People are beginning to appreciate what Indian carmakers are doing with regard to the latest features and enhanced safety. That is pulling a lot of people from luxury cars to these vehicles that offer the same features (even more sometimes) at almost half the price.
You may also like: WATCH Tata Harrier Roll Forward Automatically on Magnetic Hill in Ladakh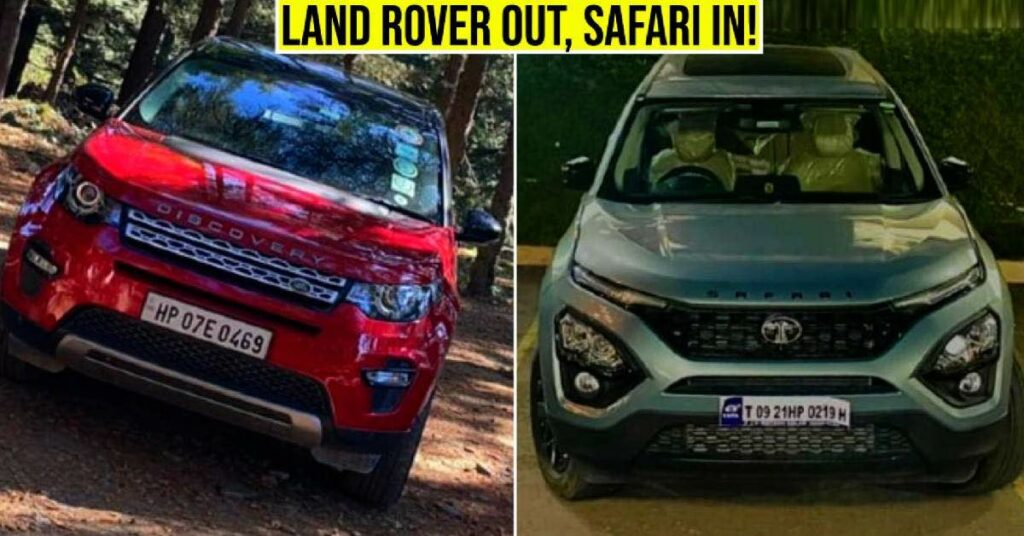 You may also like: WATCH FWD Tata Harrier Glide On Snow Like a BOSS
Man Sells His Land Rover For Safari
A certain Deepak Gupta decided to sell his Land Rover Discovery after 2 years of ownership. He wanted to get his hands on the Tata Harrier Adventure Persona. He mentions that Tata Motors has improved the quality of its products a lot over the last few years. Also, Harrier now comes with a ton more features that are not even present in the Land Rover. He finds the space inside the cabin and boot larger, options of colours, features, cabin feel, suspension, engine and price to be much more attractive than Land Rover. Needless to say, the ease of finding a service centre and service costs will be much better too.
You may also like: Tata Harrier Facelift Looks Snazzier in Latest Illustration
Note that the Tata Safari is underpinned by the Omega-Arc platform that is derived from the D8 platform of Land Rover. Tata Motors owns Land Rover and has borrowed the architecture. Making the necessary changes to it, the Safari is based on that platform. Therefore, a lot of driving dynamics are quite sophisticated which is why people took an instant liking to the Safari when it was launched. There was another instance where a BMW 5-Series owner decided to buy a Mahindra XUV700 due to the same reasons. Hence, this is becoming quite a trend these days.
You may also like: Mahindra Scorpio N vs Tata Harrier Comparison
Sharing his experience in a Tata Safari Group on social media, Deepak Gupta, wrote: "Bought Safari Adventure Persona after selling my Discovery Sport, after using it for two years. must say that TATA has really upgraded its standard in every possible manner and has given functions better than discovery( space inside, boot space, sunroof, interiors, colour, suspension, engine, mileage, looks and everything safari is giving in its top variant is up to the mark and well crafted) must say that now we can really think of using "make in India "Suvs rather than running behind the other non-Indian brands."
Specs
The regular Tata Safari Adventure Persona comes with a 2.0-litre diesel engine that belts out 170 PS and 350 Nm of peak power and torque respectively. The transmission duties are carried out by either a 6-speed manual or an automatic gearbox. The prices of the Safari range between Rs 15.35 lakh and Rs 23.56 lakh, ex-showroom. The SUV is due for a facelift for quite a while now. We might finally witness an updated Safari soon, especially after stiff competition from the rivals making the segment very exciting and competitive.
Join our official telegram channel for free latest updates and follow us on Google News here.