Here is a brutal accident that involves a heavily loaded truck and a Tata Nexon, as the latter is completely crushed under it.
Tata Nexon is among the safest cars of India securing a 5-star safety rating. We have seen numerous examples of it being involved in heavy accidents but most of the times, saving the lives of their passengers. Here is another example where you can see that it is crushed under a heavily loaded truck. See the video:
https://www.facebook.com/motorheaddeepak/videos/221011426033215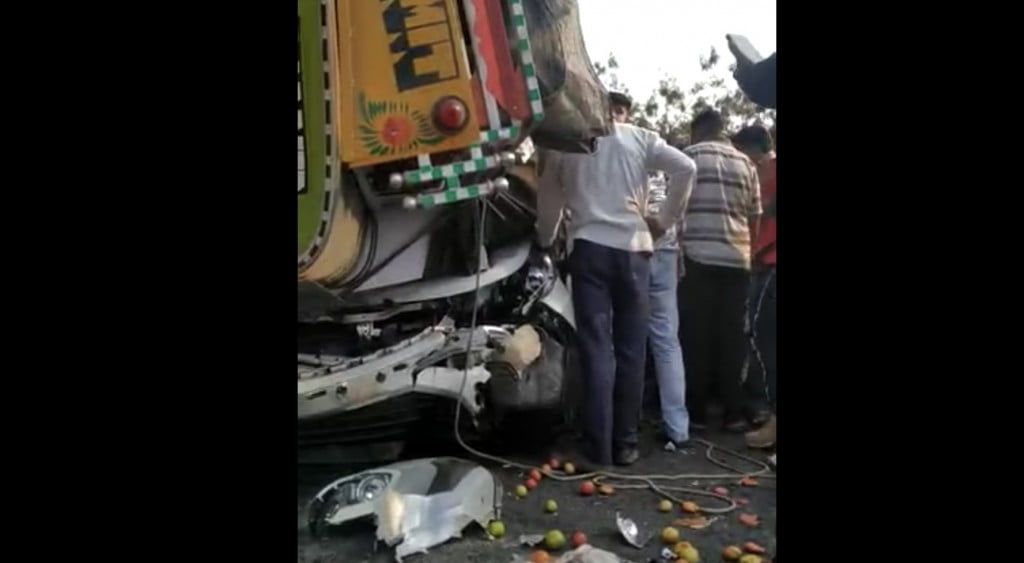 Tata Nexon was speeding when suddenly it swerved in the lane of the truck. Due to the sudden entry, the truck driver lost control and the truck toppled over Nexon. The truck had heavy sacks filled which added more to the weight of the truck. You can see that Nexon is completely under the truck with the left side door still not heavily crushed.
Also Read: 2017 Tata Nexon Transformed Into The Latest 2020 Nexon – Not So Costly
Two people were seated inside the car, one on the driver seat and one at the back. The back passenger can be seen pulled out of the Nexon in a proper condition. The driver sustained some injuries but he also has survived the accident. The complete roof has been crushed and pillars destroyed beyond repair.
This car is completely damaged and will go as a total loss. The strong build quality of Nexon managed to save lives of both the passengers in such a brutal accident. It gets 4 stars for adult occupancy and 3 stars for child safety, which makes it the third safest car of India after Altroz and XUV300.
Prices of Nexon start at Rs 6.71 Lakhs going up to Rs 12.70 Lakhs (ex-showroom). It gets a 1.2 Litre turbo-petrol engine and a 1.5 Litre turbo diesel engine, both paired with a 6-speed manual stick and a 6-speed AMT. Features include dual airbags, rear parking camera, 7-inch infotainment system by Harmon Kardon, cruise control and electric sunroof.