Mahindra is known for making cars with rugged build quality and high safety ratings which are tested in real-life situations.
In the latest incident, a brand new Mahindra Bolero Neo crashes after driving just 10-15 km after the delivery. We have seen a ton of crashes of vehicles immediately after delivery. This is attributed to the fact that people are often excited about the new car. However, more often than not, they are either upgrading from relatively smaller cars or are first-time car buyers. Therefore, they don't spend enough time to get accustomed to the mechanicals and characteristics of the new car.
You may also like: Mahindra Bolero Neo (NCAP – NA) Rolls 4 Times, Driver Safe
You may also like: Maruti Ertiga Topples After Hitting Mahindra Bolero Neo, ALL SAFE
Mahindra Bolero Neo Crashes After Delivery
This video clip has been uploaded by Nikhil Rana on his YouTube channel. He posts such content in order to make people aware of the importance of buying cars with high safety ratings. As per the information in the video, this crash has been reported from Bundelkhand in Uttar Pradesh. There were 4 people in the SUV including the driver. After taking the delivery, the SUV was being driven above the speed limit on the road.
You may also like: Mahindra Bolero Neo Becomes Cop Car in Coimbatore
Suddenly, a cow appeared in front of the Bolero Neo. Being at high speed, the driver was not able to control the SUV. As a result, the SUV toppled over and the roof, side pillars and door panels are clearly visible in a damaged condition. Because there was no head-on collision, the front end is completely safe and normal. Also, that is the reason why airbags didn't get deployed. Out of 4 persons, 3 suffered minor injuries but the co-driver sustained serious injuries due to the side pillar almost collapsing completely.
You may also like: Mahindra Bolero Neo Tests Build Quality of Electricity Pole!
Prevent Overspeeding
Finally, we would like to draw the attention of our readers to the fact that most road accidents in India happen because of overspeeding. Thousands of lives are lost each year due to this reason. Therefore, we would like to caution our readers to ensure that you never violate the speed limit regulations. Also, make sure to adhere to all the traffic rules to maximize your safety. Do share your thoughts on this.
You may also like: First-Ever Mahindra Bolero Neo With 17-Inch Alloys- This is IT!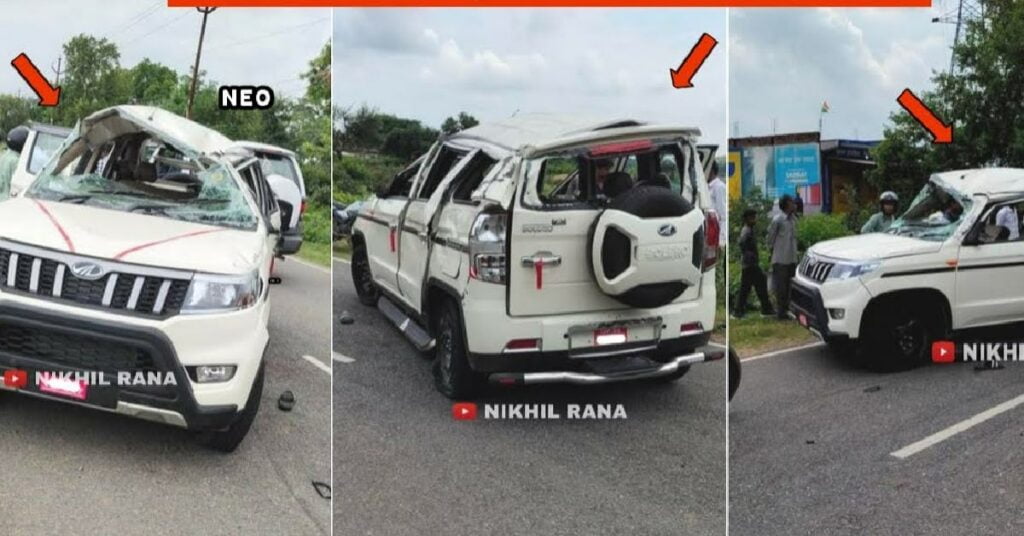 Disclaimer- The embedded videos/ external content is/are being used as a convenience and for informational purposes only; they do not constitute an endorsement or approval by Car Blog India of any of the products, services, and /or opinions of the corporation or organization or individual. Car Blog India bears no responsibility for the accuracy, legality, and/or content of the external site or for that of subsequent external videos/ external content. Contact the external publisher for answers to questions regarding its content.
Join our official telegram channel for free latest updates and follow us on Google News here.