Mahindra is amping up for its grand entry into the electrification realm with its range of Born-electric products slated for launch starting this year.
Taking design cues from the teaser of the future of Mahindra, Gen-x Designs has curated a born electric EV in the digital format. Mahindra might be late to the party, but it is coming with all guns blazing. Its range of born electric EVs represents the electric SUVs that would be built from the scratch on a dedicated platform. However, the first product might actually be a conversion from the IC engine-powered XUV300.
You may also like: Mahindra XUV900 (Production Born Electric SUV) Conceptualised Digitally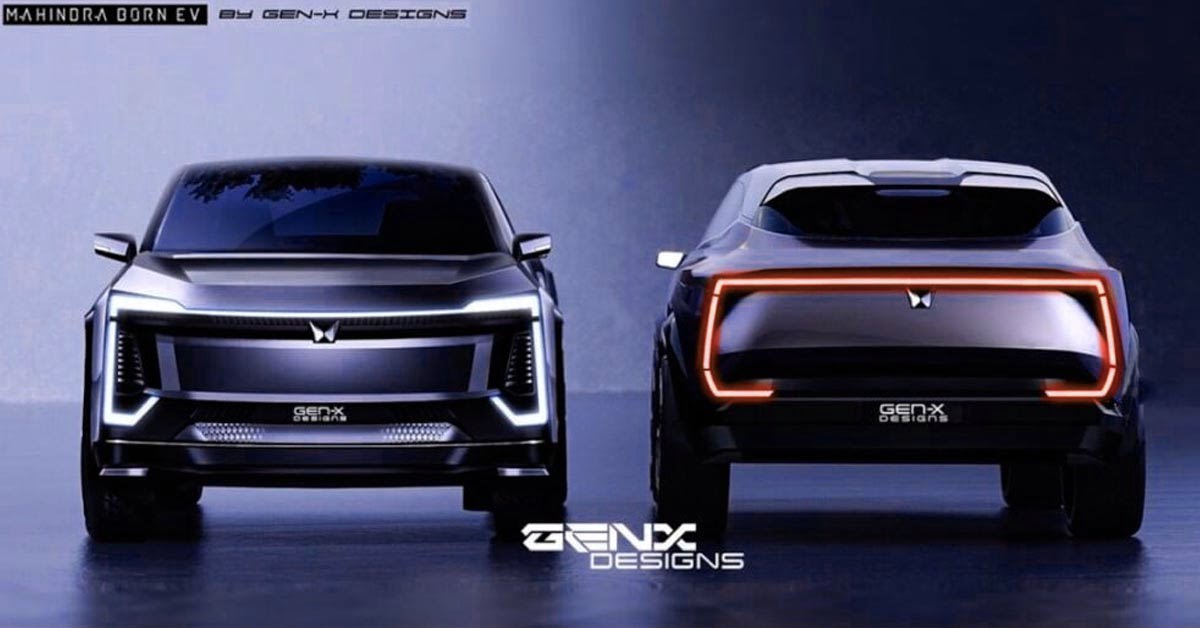 You may also like: 5 Upcoming Electric Cars from Tata and Mahindra in 2022
Mahindra Born Electric EV
Mahindra had officially released a teaser a while ago where a handful of distinct elements were shown to some extent. Taking inspiration from that, this digital artist has rendered a full-fledged electric SUV with front and rear profiles. At the front, the broad face looks futuristic with a long and sleek LED strip running across the width of the EV above the bonnet flanked by large C-shaped LED DRLs reaching the bumper below. There is an illuminated Mahindra logo and the area above the skid place where one would typically find a grille in traditional vehicles. There is a horizontal fog lamp unit on the edges of the bumper.
You may also like: Mahindra Scorpio N EV Concept is a Peek Into Future
As far as the tail section is concerned, the digital renderer has borrowed the pattern from the official teaser where the LED stop light strip again forms almost a complete rectangle covering the boot section entirely. The roof-mounted spoiler and aerodynamic finish are the highlights of this EV. Such a silhouette is designed in order to keep the aerodynamic drag low which affects the range of electric vehicles significantly.
You may also like: Mahindra XUV700 EV Digital Concept Looks Production-Ready
It would be interesting to see what the actual products from Mahindra would like because the trailer does feature some of these elements like the use of LED light strips at both front and rear sections. For more details, we will just need to wait a bit longer. At least, the electric version of the XUV300 is supposed to enter our market in the second half of this year with the next lot of born-electric SUVs to follow.