Mahindra & Mahindra is leaving no stone unturned to strengthen its International image. Recently it started selling the Mahindra XUV500 SUV in Europe and also announced that soon it will bring the newly launched Quanto to the European market too. While there is still some time left before Quanto officially arrives in Europe, one of the fellow automobile blogs Noticiasautomotivas has interesting pictures of the Quanto. The Quanto was caught testing not in Europe but Brazil, by Noticiasautomotivas. This was quite surprising as we were not expecting the car to turn up that soon in Brazil.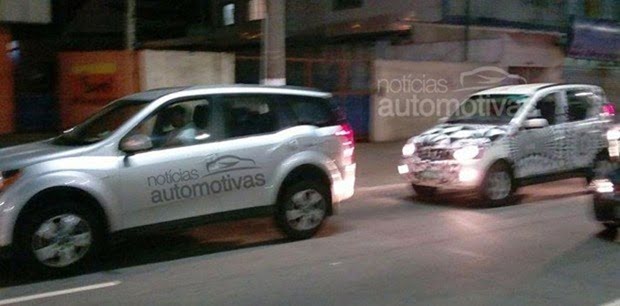 Mahindra Quanto was caught testing in Praia Grande near São Paulo coast in Brazil. Here it was not the Quanto only, but a bunch of Mahindra products such as the XUV500, Scorpio Getaway and Scorpio. The XUV has been spotted numerous times in Brazil and the blogs have become so habitual of spotting the XUV, that Mahindra runs the XUV without any camouflage now. However, the Quanto which you can seen in the middle, was covered in a chequered camouflage. The obvious conclusion of these images is that Mahindra wants to expand its International portfolio and plans to launch the Quanto in South American markets.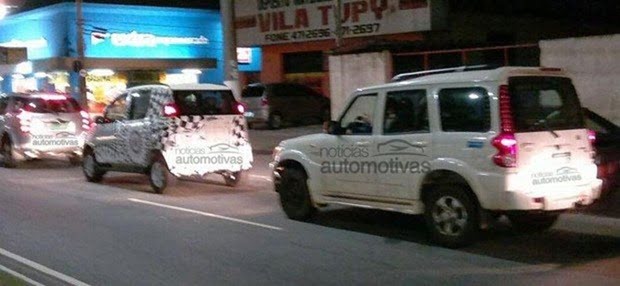 The sole purpose of launching the Quanto in Brazil, would be to become able to compete with Ford which recently launched the EcoSport there. With the Quanto's expected pricing, it is surely going to turn some heads. But one of the major concerns for Mahindra would a small petrol engine for the Quanto, as Brazil is a petrol dominated market. The engine should be adequately powerful to pull the heavy Quanto easily and moreover it should be compatible with ethanol because Brazil has a flex-fuel policy.
Coming to the XUV now, the company will launch it in Brazil at the Sao Paulo Auto Show scheduled for next month. It will not be locally assembled there and instead will be imported directly from India. Initially it will be launched with a diesel engine, while a petrol engine is under development for the car.
Source – NoticiasAutomotivas