Mahindra Quanto is the new kid on the block and I must say Mahindra has done a fantastic job, as far as the pricing is concerned. The car is already creating a stir and which is why we found it relevant to compare it with Maruti Ertiga in our last comparison post – Mahindra Quanto Vs Renault Duster. Now the next tough competitor to the Quanto is the Renault Duster, so we will be comparing these two Compact SUVs in this article, so lets start the battle of Mahindra Quanto Vs Renault Duster.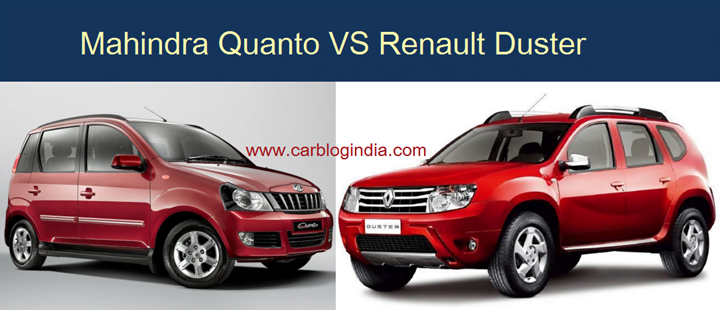 Exterior Comparison
Starting with the looks of Quanto first, it is similar to Xylo in all sense, except for a a couple of changed made to the grille and rear. The overall appeal is satisfactory but the relatively smaller wheels, do make it look a little awkward. Overall the design looks much familiar.
The Duster on the other hand is much superior in terms of design. It is an all new model for our market and surely Renault has impressed us. Although it does not have a tail gate mounted spare wheel like Quanto, it does look good.
Mahindra Quanto Dimensions
Length: 3985 mm
Width: 1850 mm
Height: 1880 mm
Wheelbase: 2760 mm
Renault Duster Dimensions
Length: 4315mm
Width: 1822mm
Height: 1695mm
Wheel base: 2673mm
The Duster is longer than the Quanto, but the latter is wider and taller. Even the wheelbase of the Quanto is significantly longer than Duster's wheelbase.
Interior Comparison
image – Mahindra Quanto Interiors
Mahindra Quanto looks familiar from inside too, as the components have been derived from Xylo. The fit, finish and design is fine. Features list include blackened pillars, flexible 5+2 seating , granite theme dashboard, armrest for driver and passenger, foldable snack trays at rear seats, digital driver assistance system as seen on Xylo, ABS and EBD, Dual airbags at front, reverse parking assist features, rear defogger, power steering and air conditioning, etc. The strongest points of the Xylo are the massive cabin space (more than Duster) and a highly commanding driving position.
The Duster is comfortable and quiet on the inside. The fit and finish may not be the top notch but it is certainly better than the Quanto. Features list include Dual Airbags at front (RXZ Only), ABS and EBD (Diesel Only), Engine Immobilizer, Fog Lamps, Rear de-fogger, Seat Belt reminder , Central locking , Under guard for engine for off-road protection, Beige Interiors for RXL and RXZ, Leather wrapped steering wheel on top end model, Keyless entry, All doors power windows, Manual Air conditioning, Rear AC Vents on top end model , Tilt adjust steering wheel, Electrically adjustable outside rear view mirrors, Reverse Parking Sensors, Integrated 2 Din audio system with CD/ MP3/Radio, USB, AUX Input, Bluetooth and 4 Speakers, Steering mounted phone and audio controls etc.
Engine Comparison
Mahindra Quanto Engine Specifications
1.5 litre twin turbocharged mCR100 diesel engine
Max power of 100 BHP @ 3750 RPM
Max torque of 240 Nm @ 1600 to 2300 RPM
ARAI certified mileage of 17.21 KMPL
5 speed manual transmission
Kerb weight of 1640 kg
Power to weight ratio of 60.9 BHP per 1000 kg
Renault Duster Engine Options
Diesel Engine 85 PS
Displacement: 1461 cc
Power: 84 BHP @ 4750 RPM
Torque: 200 Nm @ 1900 RPM
Transmission: 5 speed manual transmission
Fuel Efficiency: 20.46 KMPL
Kerb Weight of about 1335 Kg
Power to weight ratio of 64 BHP per 1000 Kg
Diesel Engine  110 PS
Displacement: 1461 cc
Power: 108 BHP @ 3900 RPM
Torque: 228 Nm @ 2250 RPM
Transmission: 6 speed manual transmission
Fuel Efficiency: 19.01 KMPL
Kerb Weight of about 1355 Kg
Power to weight ratio of 81 BHP per 1000 Kg
The Quanto is available with one engine option only, which is a 1.5 litre twin turbocharged unit delivering 100 BHP of max power and 240 Nm of peak torque. The Duster comes with two engine options: 84 BHP and 108 BHP and since the latter one is closer to the Quanto, we will compare these two only.
Renault has retuned the same engine to deliver a better power of 108 BHP and torque of 228 Nm. The ARAI certified mileage is 19.01 KMPL which is better than Quanto's 17.21 KMPL.
Performance & Handling
We recently tested the duster and it is one of the best cars we have ever driven. The suspension is great for soaking bumps and high speed stability. There is negligible body roll and it feels great while going around sharp bends.
The Quanto has a more powerful engine but there is too much body roll. Though comfortable, it is certainly not meant for enjoying the road. Here Duster is miles ahead of the Quanto as it has a better suspension, better pickup and better handling.
Price And Value For Money
Mahindra Quanto Price Ex-Showroom Delhi
Mahindra Quanto C2 is priced at Rs. 5.99 Lakhs
Mahindra Quanto C4 is priced at Rs. 6.53 Lakhs
Mahindra Quanto C6 is priced at Rs. 7.03 Lakhs
Mahindra Quanto C8 is priced at Rs. 7.57 Lakhs
Renault Duster Diesel Price (Ex-showroom Delhi)
Renault Duster RXE 1.5 Diesel 85 PS is priced at Rs. 7.99 Lakhs
Renault Duster RXL 1.5 Diesel 85 PS is priced at Rs. 8.99 Lakhs
Renault Duster RXL 1.5 Diesel Option Pack 85 PS is priced at Rs. 9.99 Lakhs
Renault Duster RXL 1.5 Diesel 110 PS is priced at Rs. 9.99 Lakhs
Renault Duster RXZ 1.5 Diesel 110 PS is priced at Rs. 10.99 Lakhs
Renault Duster RXZ 1.5 Diesel Leather Pack 110 PS is priced at Rs. 11.29 Lakhs
Pricing wise, there is no competition at all. The base variants of the two cars differ by Rs.2 lakh which is a big difference. Talking in general, both the cars offer almost similar features but the Duster has an upper hand. The main reason for the killer pricing of Quanto is its sub-4 meter body which has attracted significant excise benefits.
Car Blog India Verdict  – Mahindra Quanto Vs Renault Duster
The base and mid variants of Quanto are specifically meant for price conscious buyers are they are completely stripped down both on the exterior and interior, in terms of features. The top end is priced aggressively at 7.57 lakhs but despite that it lacks many things. It feels underpowered, is less stable and has not-so-good plastics, however the cabin space is better than the Duster.
Talking about the Duster now, it is priced at 7.99 lakhs onward and it is a good buy. The suspension, fuel economy, list of features is much better and it does feel more premium on the inside. Very obviously, if you are not willing to pay more and want a budget SUV, Quanto is a good choice. But if you are not on a budget, then Duster is the winner.