Its been a long time since we are hearing about Reva. The last thing we heard was Mahindra & Mahindra acquiring the brand and now after an appreciably long time we are seeing spy shots of the awaited Reva NXR.
In Mysore, recently the NXR model has been caught while doing test rounds. The car had no camouflage and we believe that it is in the final stage of testing and the model in almost production ready. Reva NXR is the company's second electric car which will be launched next year.
image – Mahindra Reva NXR 2 Door Electric Car India
The Reva NXR is a 3 door electric hatchback that can accommodate 4 persons at a time. The car will be available with both lithium-ion and lead acid battery options and will be available in three different variants depending on the range varying between 80 – 160 km/h. The base variant will offer a top speed of 80 km while the top variant with a more powerful battery will offer a top speed of 104 km/h and full charge range of 160 km.
image – Mahindra Reva NXR 2 Door Electric Car India
Some of the important and innovative features of the Reva include:
Time-to-full-change display
Pre-heat or pre-cool the car
A system that sends e-mail to the you in context with your driving habits
REVive, a technology which enables the driver to use a certain amount of backup charge in case the primary battery has discharged completely
As far as the price is concerned, the car will be priced between Rs. 4.5 and Rs. 6 Lakhs(ex-showroom). The car will also be showcased at the upcoming 2012 Auto Expo so if you are really interested, do go and check it out.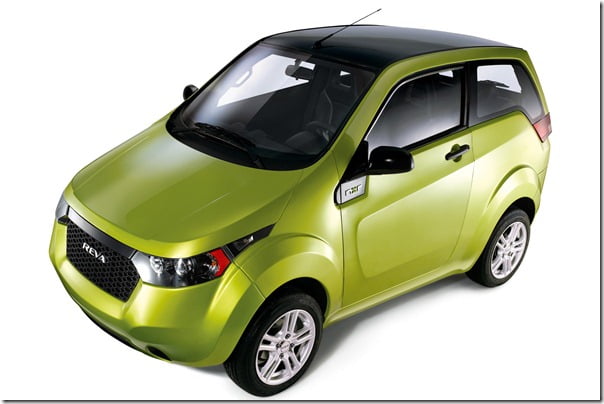 Image Source-ACI
check out more-