Mahindra Reva Electric Vehicles Private Limited has signed a research and development MoU (Memorandum of Understanding) with the Government of Victoria, Australia, which is commissioning a feasibility study to explore the potential for research, supply chain development, and manufacturing of clean technology vehicles in Victoria. Mahindra Reva also signed three MoUs with leading Australian research institutions to collaborate on development of advanced vehicle and energy management technologies.  The MoUs are with Swinburne University, LaTrobe University, and Australia's national automotive research body, the AutoCRC.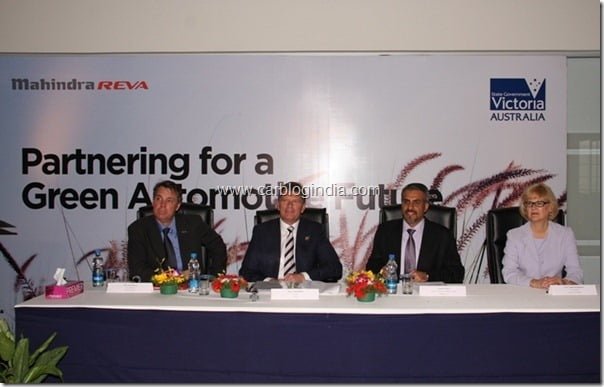 image – L-R: Prof. John Dewar (Vice Chancellor, LaTrobe University), Hon. Ted Baillieu (Premier of Victoria, Australia), Chetan Maini (Founder, Chief of Strategy & Technology, Mahindra Reva Electric Vehicles), Prof. Linda Kristjanson (Vice Chancellor, Swinburne University)
Speaking on the occasion, Mr. Chetan Maini, Founder and Chief of Strategy & Technology, Mahindra Reva Electric Vehicles, said, "We firmly believe that electric vehicles are the future of personal mobility, and our partnerships with the Government of Victoria and Victorian research institutions will help create the next generation of zero-emissions mobility solutions for the world."
Mr. Ted Baillieu, the Premier of the State of Victoria, was present for the signing of the MoU and further added, "The Victorian Government is committed to maintaining a strong, dynamic automotive industry in Victoria, and welcomes this interest from one of the world's most exciting and innovative electric vehicle manufacturers."
Mahindra Reva's new facility in Bengaluru, India is one of the world's most energy-efficient automotive assembly plants, featuring technologies like energy recovery systems and solar power. The plant will serve as a test bed for technologies developed by the joint research program.
Mahindra Reva is part of the multinational Mahindra Group, which also owns a controlling stake in Victorian-based aerospace companies, Gippsland Aeronautics (GippsAero) and Aerostaff Australia.
check out more-
Join us for FREE NEWS Updates on our Whatsapp Community or our official telegram channel.