Mahindra & Mahindra has revealed it's ambitious plans to develop a brand new line-up of engines to power future Mahindra and Ssangyong products. This new line-up of engines will be based on a common platform and will include 7 new diesel as well as petrol motors of varying capacities and configurations. This will Mahindra's first petrol engine built from the ground up.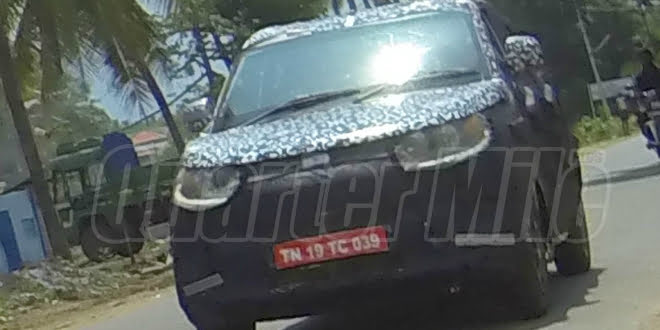 Speaking to Autocar India Pawan Goenka, President of Mahindra's automobile division said, "Let me first say that I am very happy by the way our engines are going. We have developed a new family of engines, which will have a 1.2-litre and a 1.6-litre diesel and petrol, and a 1.5-litre diesel. We also have the option of doing a 1.5-litre petrol and a 1.0-litre petrol. So, seven possible engines coming out of a platform which is brand new and developed grounds up" which also indicates that the company is most likely in the final stages of development and started testing the engines with the Mahindra S101 compact SUV.
Speaking of the Mahindra S101, which has recently been spied testing again, will be launching next year with a 1.2 litre petrol and 1.2 litre diesel engine derived from the bigger 1.6 litre motors. The 1.6 litre petrol and diesel engines will power the Ssangyong X100 compact SUV which is slated for launch internationally and will not be sold in India. The 1.2 litre motors are essentially 3 cylinder versions of the 4 cylinder 1.6 litre motors downsized to under 1200 cc to reap benefits of the lower excise duty for vehicles under 4 meters. The 1.2 litre petrol will not feature turbocharging so power output will be around 80 bhp. However, the 1.5 litre diesel will not be available for the Mahindra S101 at the time of launch and will not come out until late 2016 or early 2017.
Mahindra is betting big on petrol engines as Pawan Goenka feels the future will be driven by direct injection, turbocharged petrol engines and the company doesn't want to get left behind. The Mahindra S101 will be Mahindra's first petrol powered car since the discontinuation of the Renault-derived petrol powered Mahindra Scoprio many years ago and will be the company's first petrol unit completely built from scratch.