The Mahindra Scorpio has been one of the most successful nameplates in the world of Indian SUVs. It was first introduced in 2002 and has received several upgrades over all these years. While a new generation model is on the anvil and will be drastically more modern than the current version, even the MY2021 Scorpio is a significant update over the iterations sold earlier. Today, we have a Scorpio from 2008 that has been thoroughly modified to look like the latest MY2021 version. Other than updating the exterior, the customiser have even worked on the interior of the vehicle to make it look like what the latest version offers.
Also read: Mahindra Bolero Neo Launched – Shares Chassis With Thar and Scorpio!
As per the video, the base car used for this project is a 2008 Mahindra Scorpio that was manufactured in 2007. The video starts with giving us glimpses of the old SUV. Next, the video even shows many boxes of parts arriving from Mahindra. In the next few frames, the host of the video takes us to the interior of the ageing SUV. Next, the video shows the transformed model and at first look, it looks like a completely new vehicle. The customisers have replaced the headlights, front bumper, bonnet and grille with the panels from the latest version. Moreover, the headlights have been given HID lights for low beam and LED units for the high beam. Even the fog lamps have been changed with LED units and work in tandem with the high beam.
In the side profile, the biggest update is the addition of 22-inch alloy wheels shod with 35 section low-profile tires. While this is sure to have ruined the ride quality, it has been done on owner's demand. The door handles have also been changed and even the plastic cladding is new. The rear-end gets a new tailgate from the latest version and even the tail lights and the bumper have been updated. The SUV has also been given a fresh coat of paint. Inside, the original dashboard and instrument cluster has made way for the units seen on the latest Scorpio. The dashboard also gets a large-screen Android-powered infotainment unit while the audio system now includes JBL and Focal components along with Sony Xplod sub-woofers and amplifier. The video host also tells how the car has been given new dampening for improved NVH.
Also read: Mahindra Thar Petrol Reviewed By Isuzu V-Cross Owner In Thar Desert!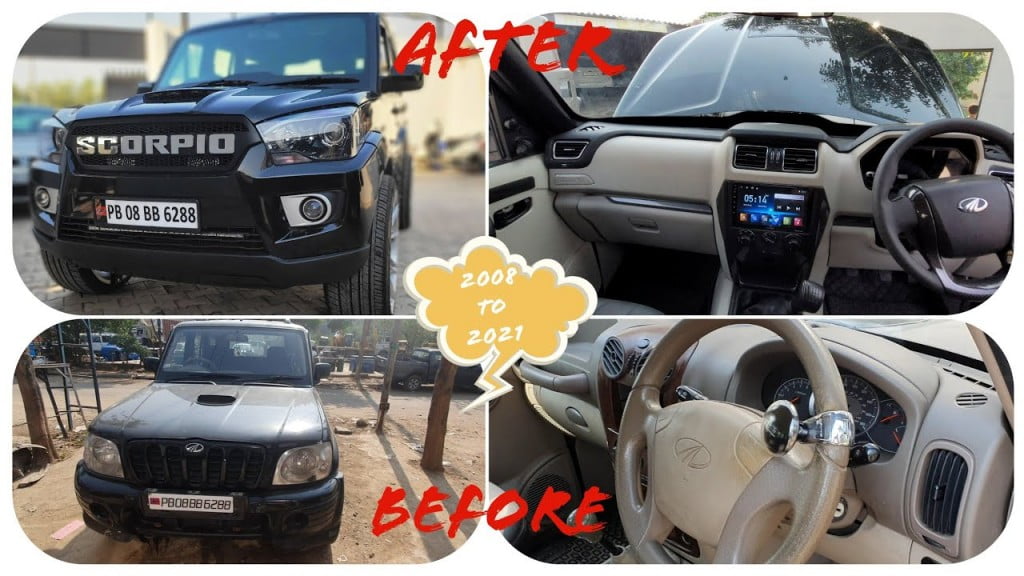 Finally, the customiser tells us the cost of the modifications – the exterior has been done up for Rs 2 lakh, while the interior modifications have cost Rs 1.5 lakh. The cost of new wheels and tires adds another Rs 1.6 lakh to the equation. While the upgrade hasn't been cheap, it certainly gives a new lease of life to the ageing SUV.
Also read: Mahindra XUV700 to get Smart Door Handles like Range Rover Velar!