Mahindra has announced a custom accessories package for the recently launched Scorpio facelift in order to increase the SUV's appeal. Buyers can choose from a long list of accessories designed specifically for the Scorpio at an additional cost depending on the accessory selected. The Mahindra Scorpio facelift accessories package also saves the customer the trouble of running around to aftermarket accessory dealers to pimp out their vehicle.
Exterior
Chrome accents for front grille, bonnet scoop, door handles, fog lamps, ORVMs, rear airflow vents, rear numberplate applique, rear bumper refelctors.
Rear spoiler with integrated light
Choice of 15 inch or 17 inch rims or wheel covers
Ski rack
Rain visor
Rally fog lamps
Front and rear bumper guards
Roof carrier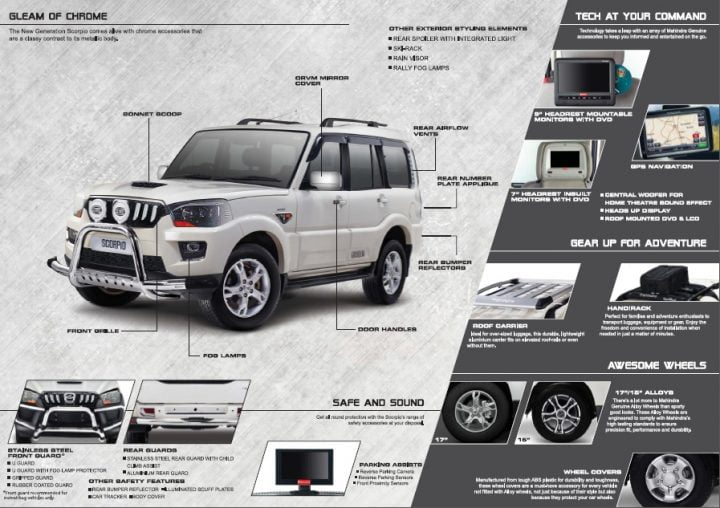 Interior
Parking assist- rear parking sensors, front proximity sensors and reversing camera
Multiple seat cover options
Multiple floormat options
Car inverter
Roof mounted A/C vents
In-car cooler
7 inch or 9 inch headrest mounted monitors
Touch screen GPS
Roof mounted DVD and LCD
Heads up display
Central woofer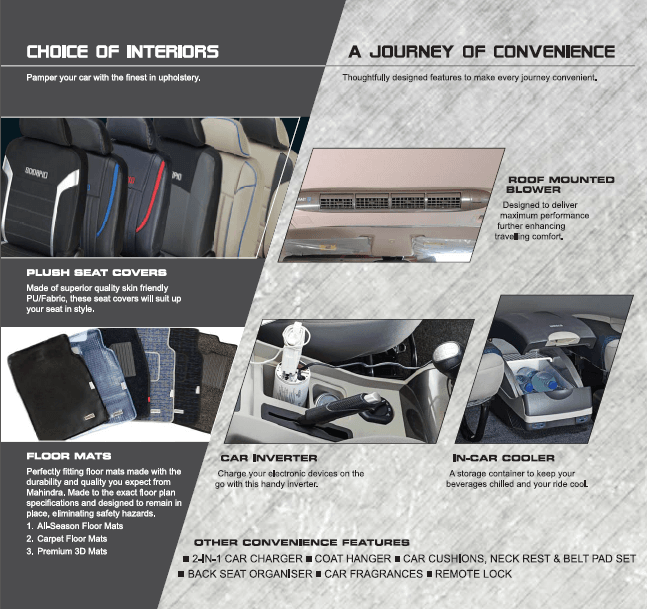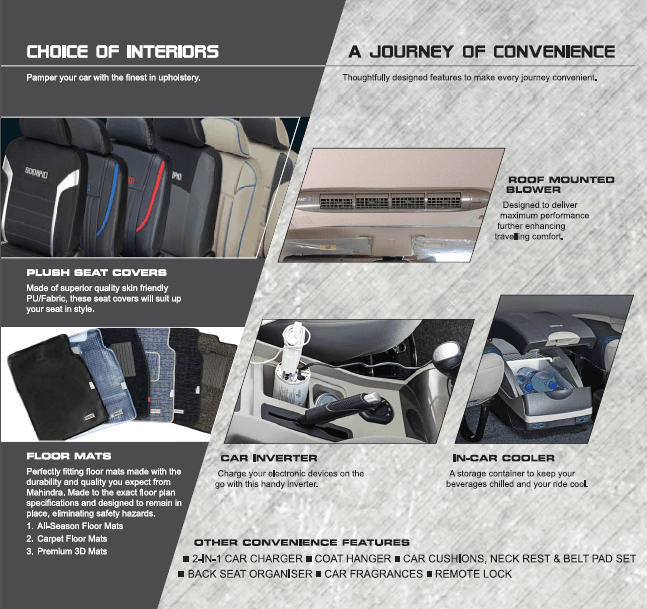 The Mahindra Scorpio accessories package seems like a smart move by the company and will definitely add to the appeal of the vehicle. Also, buying genuine Mahindra accessories rather than opting for dodgy aftermarket goods will give the customer some peace of mind.
Check out the brochure here.
What do you think? Let us know in the comments section below.
Stay tuned for more news and features on Car Blog India.