The demand for Mahindra Scorpio N caused quite an uproar in the market after the first 25,000 bookings were complete within 60 secs and the first 1,00,000 bookings in just 25 minutes.
The Mahindra Scorpio N is already available on the black market. People were so excited about the SUV that the first 1 lakh bookings took less than 30 minutes to complete. Needless to say, this will invariably lead to exorbitantly long waiting periods. Scorpio N is essentially a premium version of the barebones and hardcore Scorpio Classic which also received an update making it a bit more modern. Both these will be sold simultaneously. Scorpio nameplate has had fans for decades which is why the new model received such a grand welcome.
You may also like: Mahindra Scorpio N Getaway Has MASSIVE Street Cred
You may also like: Mahindra Scorpio Classic Makes Debut With Lots of Updates
Mahindra Scorpio Available on Black Market
According to this video, there are posts on Facebook where people are offering the Scorpio N to people who don't want to wait for months. The first 20,000 deliveries are planned to complete in the September-December timeframe. Therefore, a few people who are supposed to receive the SUV in this window are already offering to sell it to others at a certain premium. It is a way of making some quick money. Reportedly, these people are demanding around Rs 1 lakh above the original introductory prices. This is quite strange but people need to understand that they will end up being the second owners.
You may also like: South African Expert Uses Mahindra Scorpio To Teach Off-Roading
Now, we are not here to argue whether or not it is fair. If these people are being transparent that they will charge a slight premium and the potential buyers are okay with that as compensation for waiting long periods, then it is not a bad thing. Some persons might need the vehicles sooner and might not mind paying a slight premium in order to get their hand on the SUV early. For them it makes sense. Nevertheless, caution must be practised and the documentation should be done diligently to prevent any fraud.
You may also like: Pratap Bose Shares Early Design Sketches of Mahindra Scorpio N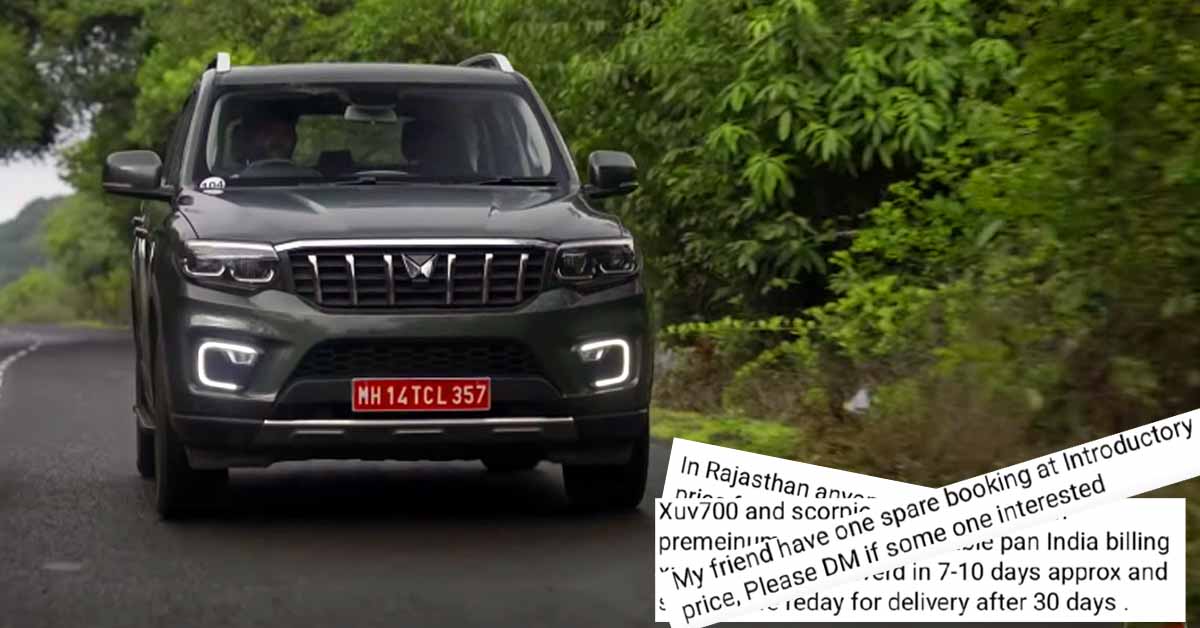 Specs
The Mahindra Scorpio N comes with a 2.0-litre mStallion direct-injection turbo petrol engine that produces 200 PS and 380 Nm, a 2.2-litre mHawk diesel engine that produces 132 PS / 300 Nm in lower variant, and a massive 175 PS / 400 Nm of peak power and torque on higher variants. There are manual and automatic transmission options to choose from along with the 4×4 drivetrain. The prices of the Mahindra Scorpio N range between Rs 11.99 lakh and Rs 23.90 lakh, ex-showroom.
Disclaimer- The embedded videos/ external content is/are being used as a convenience and for informational purposes only; they do not constitute an endorsement or approval by Car Blog India of any of the products, services, and /or opinions of the corporation or organization or individual. Car Blog India bears no responsibility for the accuracy, legality, and/or content of the external site or for that of subsequent external videos/ external content. Contact the external publisher for answers to questions regarding its content.