In a bizarre piece of news, Mahindra Thar owners continue to suffer as they fail to understand the correct way to close the bonnet of the SUV. Yes, you read that right. In their defence, however, the SUV doesn't have the traditional way of opening the bonnet. Instead, in fact, it has a traditional way for the age-old Jeeps that were around quite a few decades ago. The Thar has been extremely popular among customers looking for a 4×4 lifestyle off-roader. The waiting periods on Thar continue to be around the 1-year mark in many parts of the country. The Force Gurkha is the only other direct competitor to the Thar in our market. For now, let us take a look at the details of this unique incident.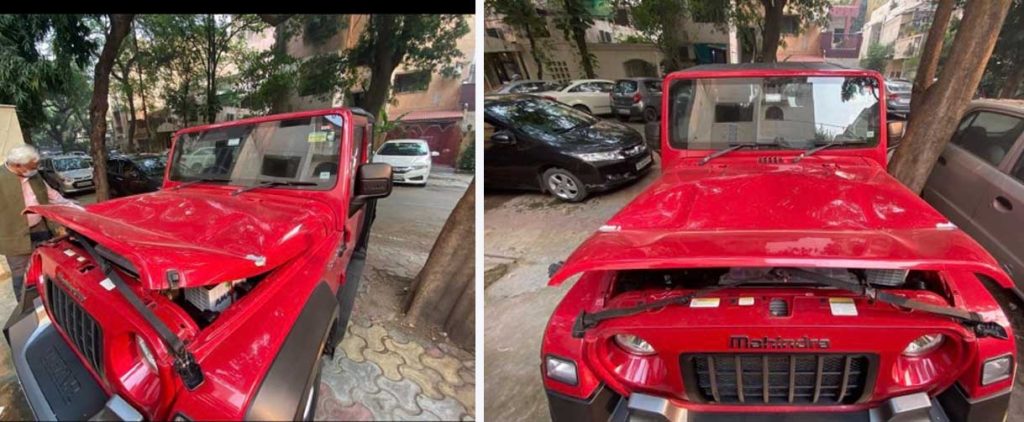 Also read: We Bet You'll Choose This Mahindra Thar Over a Jeep Wrangler!
Mahindra Thar Owners Suffer Bonnet Problem
This post shared on social media describes the plight of a Thar owner. He wasn't able to figure out the best way to open the hood of the SUV. According to this, there was a bump on the road and that might have caused a jerk to the SUV. As a result of that, the bonnet of the vehicle blew over and slammed onto the windshield of the Thar. This seems quite bizarre but we don't know the exact details apart from the ones mentioned by the owner himself. The owner is also struggling with the insurance aspect of it. The status of this hasn't been uploaded on the insurance servers either which will make it difficult for the owner to claim a cover. He is also aware that the fixing of this would be time-consuming and perhaps expensive as well. But he will have to get it fixed in some form. As a hilarious reply to this post, there has been a video on YouTube explaining the correct way of opening the bonnet of a Thar.
Also read: First-Ever Mahindra Thar With Off-Road-Spec 17-inch Rims and Tires!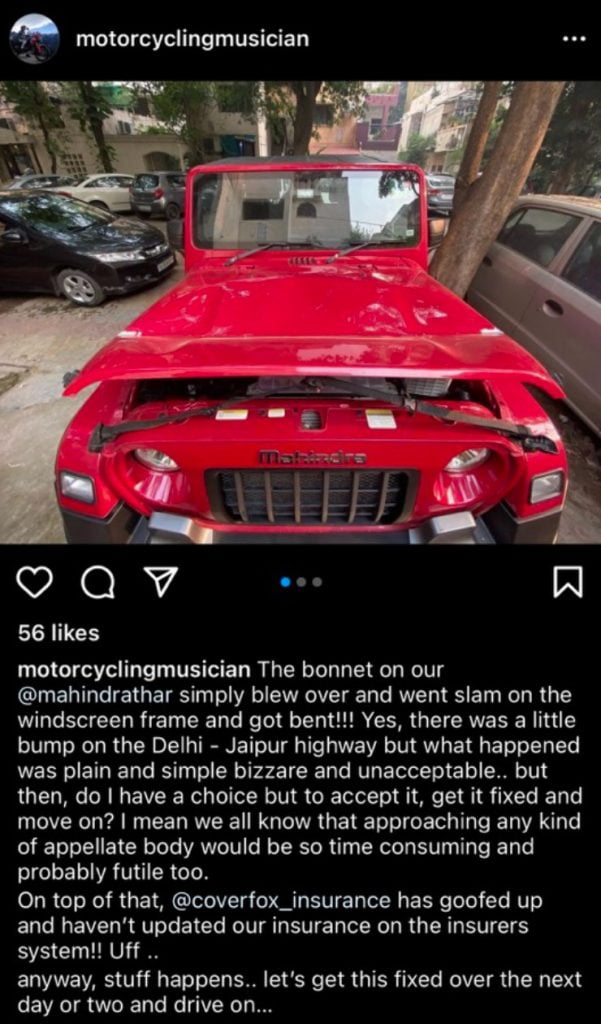 Specs
The Thar comes with 2 engine options, a 2.2-litre turbo-diesel, and a 2-litre turbo-petrol. The oil-burner makes 130 PS/320 Nm of peak figures while the petrol makes 150 PS/320 Nm of max figures. Transmission options for both the powertrains are a 6-speed manual and a 6-speed automatic with a low range box. You also get a transfer case and a mechanically locking centre differential. The prices of the Thar range between Rs 12.78 lakh and Rs 15.08 lakh, ex-showroom.
Also read: DC Design's Hulk Is UGLIEST Modified Mahindra Thar Ever!