Here is arguably the ugliest DC modified Mahindra Thar in the Hulk version ever. Mahindra Thar has been the most common popular choice for modifications by the owners. The overall design and application of the Thar lend themselves well to get crazy modifications done. DC is one of the most reputed brands for automobile modification in the country. They have come up with a plethora of legendary and unique modifications for all sorts of cars. Let us take a look at the details of this modified Hulk version of the DC Mahindra Thar.
Also read: New Force Gurkha vs Mahindra Thar Comparison – Specs, Features & Design!
DC Modified Mahindra Thar – Hulk Version
It is not always the case that the modification from DC designers is not spot on. However, on this occasion, the Thar may not be the best version of the list of modified vehicles from DC. The front end has been changed completely from the original design. The vertically slatted grille still has a resemblance to the regular Thar but everything else has been revamped. The headlamps are completely new and feature LED function will horizontal design pattern. The front bumper, fender and wheel arch cladding are absolutely mammoth. This is the design element that will divide opinions. The fender area is so far out of the body that it makes it look like a truck. The red LED lights have been installed on the roof as well to keep the off-roading aspect of the SUV alive.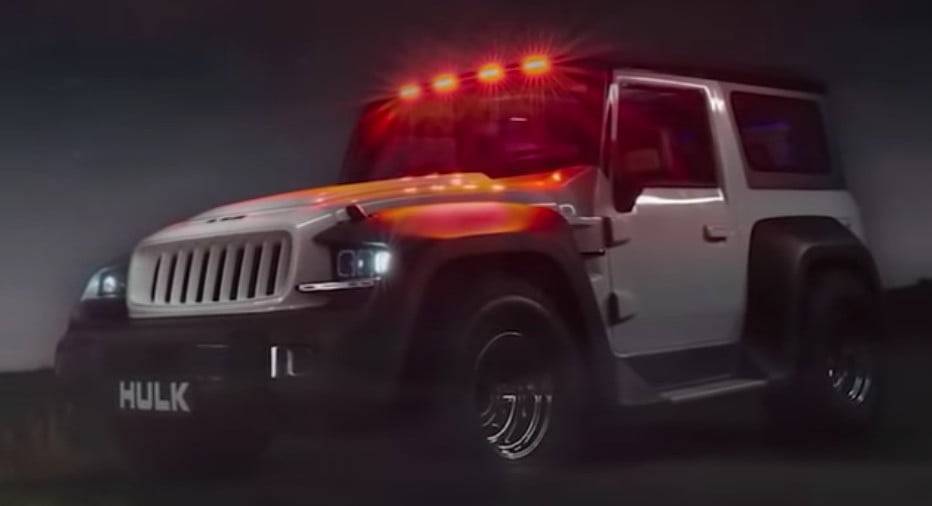 Also read: Here's The Best Mahindra Thar Interior Modification You'll Ever See!
The design of the alloy wheels is completely unique and the tyres are high profile. This is done in order to facilitate great ride quality during off-road applications. The side profile also features chunky side steps for eased ingress and egress. The roof design is a soft-top where the roof could be taken off completely as preferred by off-roading enthusiasts. The interiors have also been completely redone and finished in red for a sporty and unique feel. There are plenty of ambient lighting features at various places inside the cabin. There are chrome elements on the front bumper as well. All in all, the design of the DC Thar looks like a sideways stretched-out version of the regular Thar. It is not the most pleasing modification on a Thar.
Also read: Bizarre-Looking DC-Modified Mahindra Thar For Sale at Rs 10 Lakh!
Join our official telegram channel for free latest updates and follow us on Google News here.