All those who've been regularly visitors to CarblogIndia would probably know that we keep a keen eye on notable cars and bikes modifications happening across the country. Most of the modifications that we have featured here are tastefully crafted specimens that go on to enhance the visual appeal of their donor vehicle, but the vehicle you seen in the images on this page is so good that it stands out amongst all other modifications we've ever featured here. No, this isn't a Jeep Wrangler that you see on this page. It's actually a Mahindra Thar that has been modified to look like Jeep Wrangler. This rather neat modification job is the work of Coimbatore-based Jeep Studio. This modification job was commissioned by a customer and Jeep Studio took a time of four months to complete this project. Read on to know about the price of the modification and other details of this Mahindra Thar to Jeep Wrangler conversion. 
Also See- Tastefully Modified Cars in India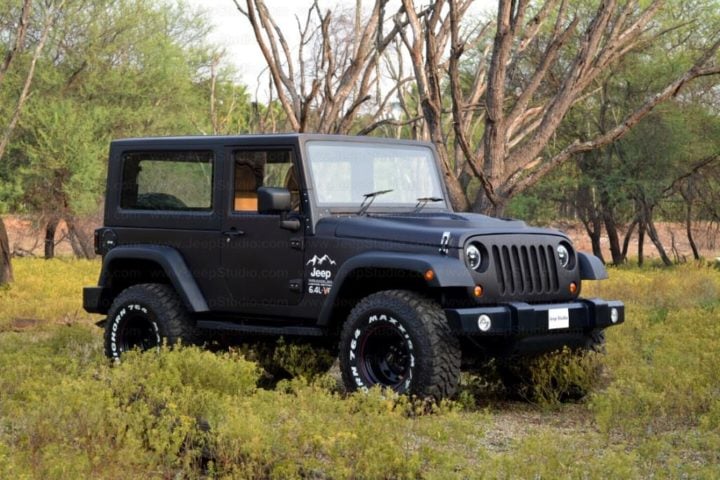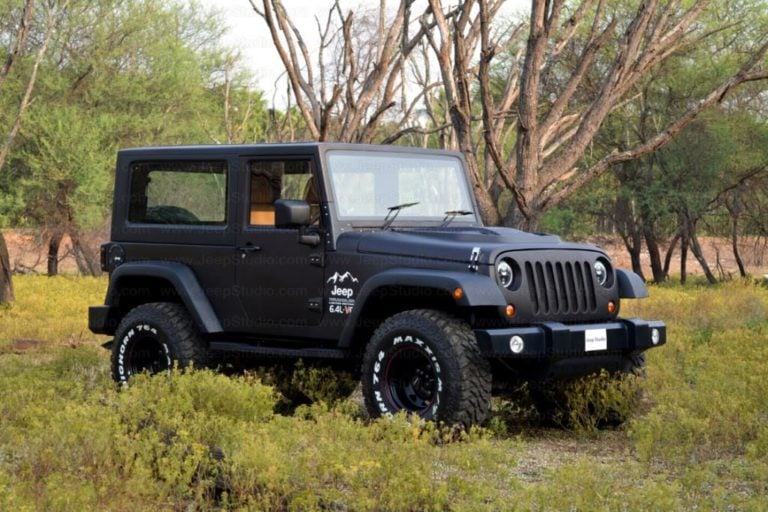 Also See – Mahindra Thar Daybreak Edition is a Factory-modified Beast 
Mahindra Thar to Jeep Wrangler Conversion – Price of Modification
The total cost (cost of Thar + cost of modification) of this modified Mahindra Thar comes out to be Rs 15.42 Lakh. Out this, Rs 6.75 Lakh is for the modification alone. The other Rs 8.67 Lakh is the ex-showroom price of a Mahindra Thar. In India, the Jeep Wrangler range starts at Rs 56 Lakh. The Wrangler on sale in India is the five-door model that comes with a 2799cc Diesel engine mated to an Automatic Transmission. There's also a Petrol variant that comes with a 3604cc motor, again mated to an Automatic Transmission. On the other hand, the Mahidnra Thar comes with a 2498cc CRDe Diesel engine that outputs a max. power of 105 BHP and a peak torque of 247 Nm.
Also See- DC Gives Mahindra Thar a Makeover
Mahindra Thar to Jeep Wrangler Conversion – List of Modifications
New Body Panels
Hard Top
New Front Bumper
Fog Lamps
New Rear Bumper
New Footrest
LED Headlamps
LED Taillamps
New ORVMs
Wrangler Hood Latches
Reinforced tail gate
Toughened Glasses
Maxxis Tyres
Black-painted Steel Wheels
Matte Black Paint
Jeep Decals
Seen above is the full list of modifications for this Mahindra Thar to Jeep Wranger conversion.
Also See- Modified Ford EcoSport | Modified Mahindra XUV500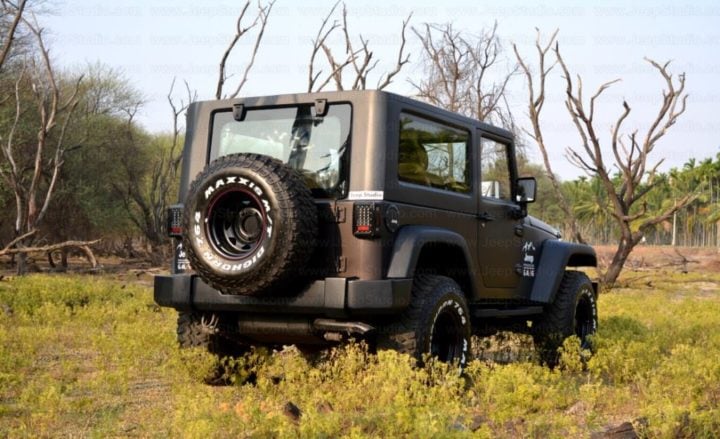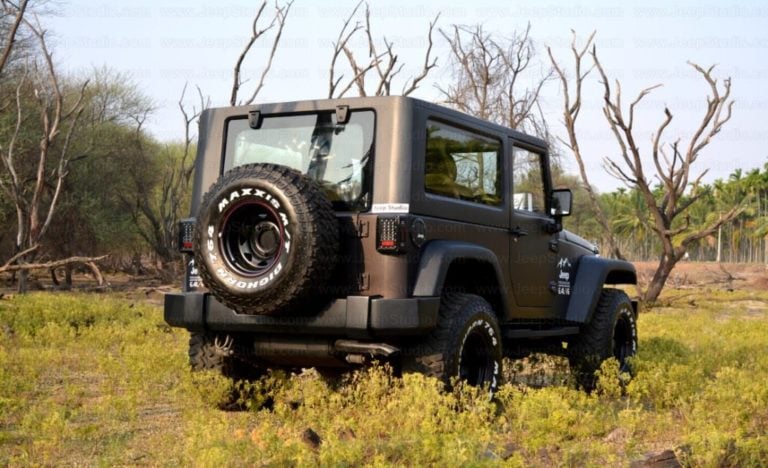 Mahindra Thar to Jeep Wrangler Conversion – Other Details
The first step that the good chaps at Jeep Studio undertook was to compare the  dimensions of the Thar and the Wrangler using dimensional blue prints. Next, they bought a Thar and stripped it down right to the chassis. The custom body panels were then hand crafted to mate the aesthetics of the 3-door Wrangler with the underpinnings of the Thar. Jeep Studio asserts that the engine compartment has been left untouched to enable ease of servicing and maintenance. Speaking on this, Mr. Naveen K, CEO, Jeep Studio, said,"While designing the engine room layout, we challenged ourselves on better design for serviceability. As the result, we have retained exactly same engine room, such that all the spares, hoses, clips, fasteners are all exactly same as OE Thar," said Naveen K, the CEO of Jeep Studio.
Also See- Modified Hyundai Creta | Modified Toyota Fortuner
Mahindra Thar to Jeep Wrangler Conversion – Images
What do you think of this Mahindra Thar to Jeep Wrangler conversion? Isn't this one of the coolest Mahindra Thar modifications ever? Do share your views by penning them down in the comments section below. Stay tuned to CarBlogIndia to read about more such modifications.
Editor Rating

Rated 5 stars

Spectacular
---
Mahindra Thar to Jeep Wrangler Conversion

Reviewed by:

Published on:

Last modified:
---