Aftermarket car modification houses have become so competent that car owners are not afraid to get anything done from them.
In this one-of-a-kind modification, a Mahindra Thar owner got a triple sunroof setup installed on his SUV. Thar is the most popular lifestyle off-roader in the country. Its latest version was launched last year but the waiting period is still long despite Mahindra ramping up its production. This is a testament to the demand that the SUV garners. Thar is the preferred choice among the off-roading community. Let us check out how this unique customized Thar looks in real life.
You may also like: India's First Mahindra Thar with 26-inch Alloys and Low Profile Tyres Worth Rs 4 Lakh
You may also like: WATCH Mahindra Thar Drifting With 8 People Topple Over
Mahindra Thar with Three Sunroofs
In the video we have above, a Mahindra Thar is shown with as many as three sunroofs. As a result, three distinct sections of the glass area have been created. The front section imitates a regular sunroof, while the two glass areas at the rear are created using two sunroofs installed at a right angle to the unit at the front. This has surely improved the lighting inside the cabin a lot. Thar comes with black interiors and natural light from the outside could help a lot in lending that sense of space to the cabin. Add to that the large rear glass area and the entire cabin feel much airier.
You may also like: 5-Door Mahindra Thar Spied, Looks Really Long
It doesn't look like there are any other changes to this SUV. Nevertheless, this one change is quite comprehensive and changes the entire outlook of the interior. However, you must be aware of the fact that glass roofs are heavy and increase the weight of any vehicle a lot. This could directly influence the mileage of a vehicle. So, if you are looking for something like this, make sure to be informed about all the effects that it could have.
You may also like: India's First Dancing Mahindra Thar, Applauded by Media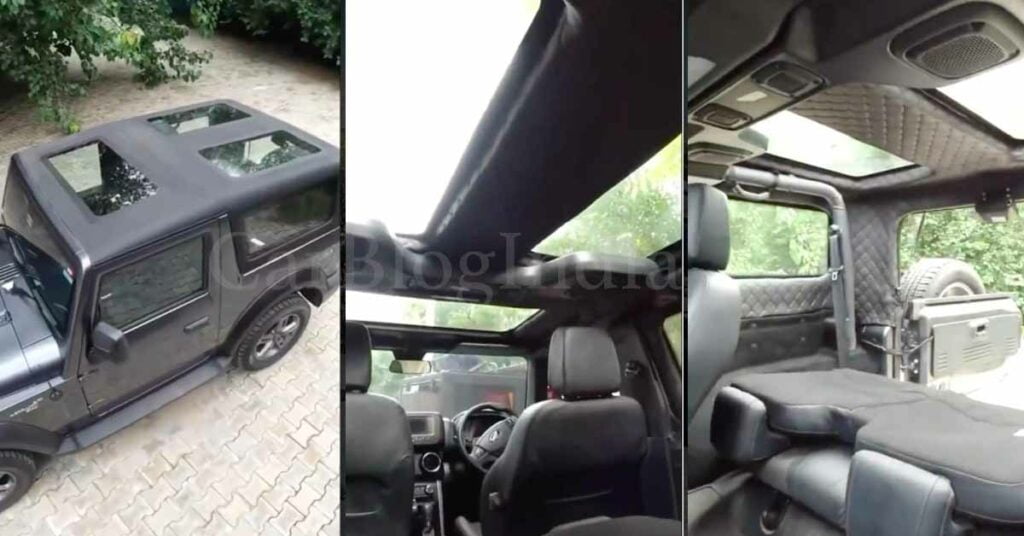 Specs
Mahindra Thar comes with 2 engine options, a 2.2-litre turbo-diesel, and a 2-litre turbo-petrol. In the current-gen model, the oil-burner makes 130 PS/320 Nm of peak figures while the petrol makes 150 PS/320 Nm of max figures. Transmission options for both the powertrains are a 6-speed manual and a 6-speed automatic with a low-range box. You also get a transfer case and a mechanically locking centre differential. The prices range from Rs 13.53 lakh and Rs 16.03 lakh, ex-showroom. The 5-door version of the Thar has been spotted testing multiple times and the launch seems imminent in the coming months.
Join our official telegram channel for free latest updates and follow us on Google News here.