We are all aware of the incredible feats that the Mahindra Thar is capable of pulling off but towing a giant JCB backhoe loader seems far-fetched, or does it?
A video has emerged on the internet where a Mahindra Thar is seen trying to tow and JCB and then perform a tug of war with it. Mahindra Thar is the most popular lifestyle off-roader in the country. It is a relatively much cheaper option compared to the likes of the Isuzu V-Cross, Toyota Hilux or the Jeep Wrangler. That is precisely the reason why it is in so much demand and is posting consistently impressive sales figures. But this video puts its limits to the test by showing it competes against a JCB backhoe loader.
You may also like: Mahindra Thar Catches Fire While On the Move – VIDEO
You may also like: Mahindra Thar Saves Foreigner's Life in High-Speed Crash
Mahindra Thar Tows JCB Backhoe Loader?
The video has been posted by a YouTuber who takes his Thar and a JCB to a remote location for safety purposes. Initially, the Thar is tied to the front of the JCB backhoe loader with a solid rope. Once the connection is secure, the Thar begins to tow away the 8,000 kg JCB. Thar is able to pull it for a considerable distance while the operator is made to sit inside the JCB for steering and ensuring that he applies brakes once the stunt is finished. This was simply impressively. The Thar owner repeated this method a couple of times by pulling the JCB multiple times to prove his Thar's abilities.
You may also like: Isn't This Among the Best Modified Mahindra Thar SUVs Ever?
Then, the tail ends of both the vehicles were tied together for a tug of war competition. This would prove the actual strength of both of these. However, to everyone's surprise, Thar managed to hold the JCB backhoe loader for a long before the JCB pulled it toward it ever so slightly. But the Thar managed to hold its own yet again This went on for quite some time and the JCB was not able to pull the Thar away completely as most of us would have anticipated. This has to be counted as a victory for the SUV.
You may also like: Watch Mahindra Thar Drift on Snow Like PRO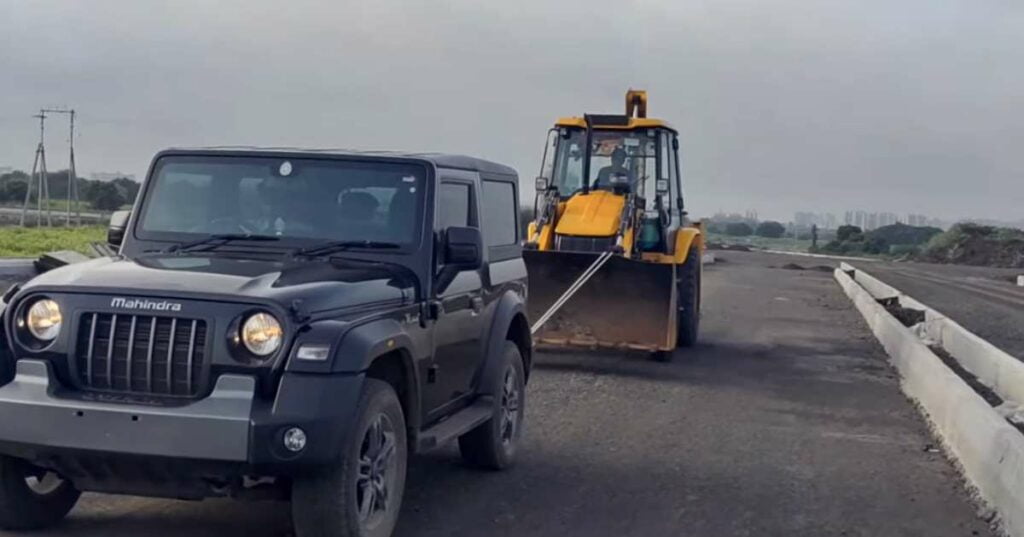 In inference, we would like to urge our readers to not try such stunts with their own vehicles. Cars are not supposed to be doing this and such activities could have a long-term impact on the mechanical components and engine parts of the vehicle. The YouTubers do it for content and are prepared to take the damage. But you would not want to destroy your personal car for such a brief stint.
Disclaimer- The embedded videos/ external content is/are being used as a convenience and for informational purposes only; they do not constitute an endorsement or approval by Car Blog India of any of the products, services, and /or opinions of the corporation or organization or individual. Car Blog India bears no responsibility for the accuracy, legality, and/or content of the external site or for that of subsequent external videos/ external content. Contact the external publisher for answers to questions regarding its content.
Join our official telegram channel for free latest updates and follow us on Google News here.