While tug of war may not be the ideal way to test the capabilities of two cars, it is certainly among the most popular ways on YouTube.
In this video, the vlogger conducts a tug of war competition between the Mahindra Thar and Scorpio N. Both these Mahindra SUVs come with a diesel engine and 4×4 drivetrain. The waiting periods on both these SUVs are quite long which is a testament to the popularity that these command. For people looking for rugged and capable SUVs, both these present a great case. However, after looking at this video, you will be left in a state of shock.
You may also like: Mahindra Thar Petrol vs Diesel Tug of War – Guess Who Wins!
You may also like: 2 Maruti Brezza vs 1 Mahindra Scorpio in Tug of War
Mahindra Thar vs Scorpio N – Tug of War
This video has been created by Arun Panwar on YouTube. In this video, the team has two new vehicles, Thar and Scorpio N. Both these have 4×4 modes and are diesel variants. In the first half of the video, the YouTuber decides to perform the event at an off-road location on mud. In that case, both SUVs experienced wheel spin causing them to dig the surface. The tyres were getting sunk in the mud due to a lack of traction. Therefore, the team decided to move to a new location with a proper tarmac road.
You may also like: Toyota Innova Crysta vs Mahindra Scorpio – Tug of War
At this location, the traction was never an issue. The team decided to conduct numerous rounds on this surface. However, the Thar was able to completely trounce the Scorpio N each time. Only in 1 round was the Scorpio N able to defeat and pull the Thar. Even the YouTuber was shocked to see the capabilities of the Thar despite being low on power and torque compared to the Scorpio N.
You may also like: Guess Who Wins Toyota Fortuner vs Mahindra Bolero 4×4 Tug of War
Specs Comparison
The Thar used in this video is a 4×4 diesel variant that comes powered by a 2.2-litre unit developing 130 hp and 300 Nm of peak power and torque. On the other hand, the Scorpio N 4×4 manual variant comes powered by a 2.2-litre diesel unit making 175 hp and 370 Nm of peak power and torque. Both these SUVs had manual transmissions. Were you also as surprised by the result as everyone else?
You may also like: Mahindra XUV700 vs Toyota Fortuner – Tug of War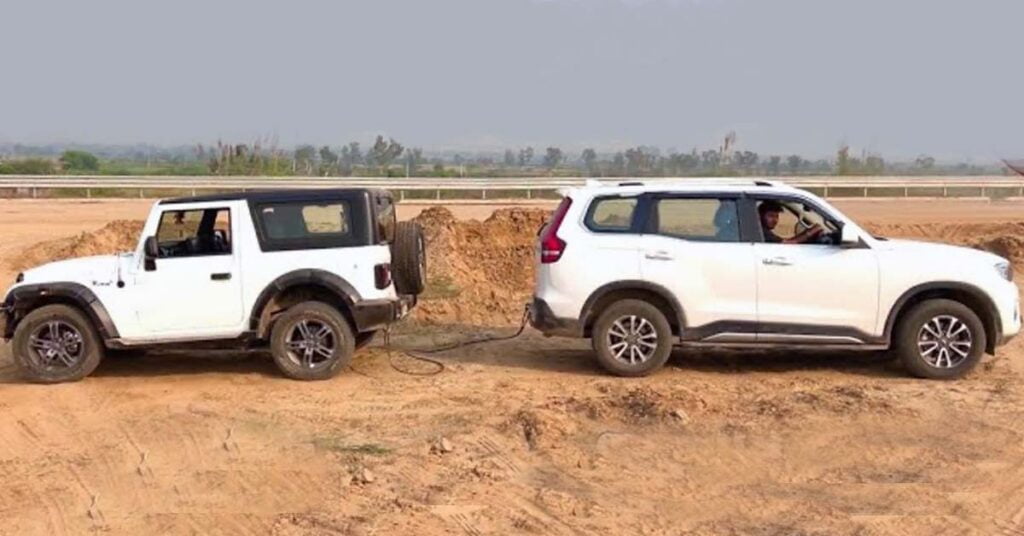 Disclaimer- The embedded videos/ external content is/are being used as a convenience and for informational purposes only; they do not constitute an endorsement or approval by Car Blog India of any of the products, services, and /or opinions of the corporation or organization or individual. Car Blog India bears no responsibility for the accuracy, legality, and/or content of the external site or for that of subsequent external videos/ external content. Contact the external publisher for answers to questions regarding its content.
Join our official telegram channel for free latest updates and follow us on Google News here.