Tug of war is a popular technique to test the power of any vehicle in comparison to the other directly. However, it might not be great for the mechanical components of a vehicle.
A tug of war was captured between a Toyota Innova Crysta and a Mahindra Scorpio. Now, these two products come from completely different segments but might be used for s similar application of carrying passengers around. Innova is the most popular MPV in the country and has been for a lot of years now. The Scorpio is geared more towards semi-urban environments due to its durability and rugged build quality but is also used as a people-carrier. What happens when these two meet, let us find out?
You may also like: Mahindra XUV700 vs Toyota Fortuner – Tug of War
You may also like: Mahindra Thar Vs Bolero Camper 4×4 Tug Of War!
Toyota Innova Crysta vs Mahindra Scorpio – Tug of War
In the tug of war, the two vehicles are tied to each other via a harness at the tow hooks at the rear. These two are RWD cars which is great for traction at the time of acceleration because the entire weight comes down to the rear wheels and more power could be put down. In the first attempt, the Innova is seen aggressive pulling the Scorpio away. It was chosen as the undisputed winner in the first case. The second time around, the drivers were changed to account for any inconsistencies due to the specific behaviour of a particular diver. However, what did not still change is the result. The Innova was able to pull the Scorpio with authority. To be honest, no one had expected such dominating performance from the MPV, especially against the rugged Scorpio.
Specs Comparison
The Innova has a 2.4-litre diesel engine that produces 148 hp and 360 Nm while the Scorpio has a 2.2-litre mHawk diesel engine that outputs 140 hp and 320 Nm of peak power and torque respectively. Both these vehicles have manual transmissions. Innova has a clear edge in terms of the specifications that translates into real-life performance too.
You may also like: Jeep Compass Annihilates Kia Seltos Totally in Tug of War – VIDEO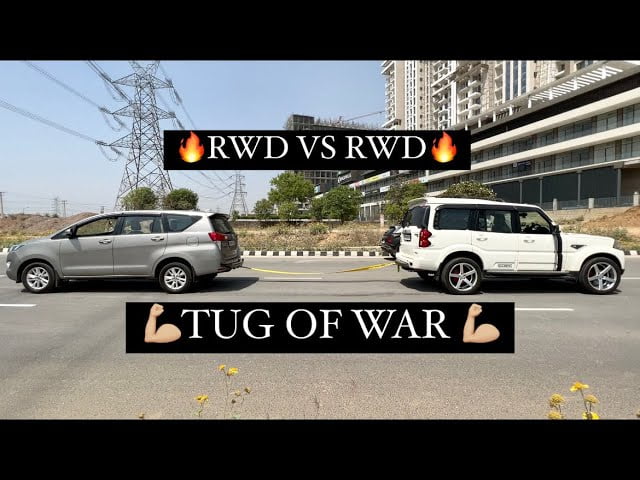 We would like to apprise our readers of the fact that such tug of war exercises are not suitable for vehicles. The cars would sustain damage to the engine or other components. The tyres are seen emitting smoke in the video clip itself. This happens due to excessive spinning without moving. Hence, you must not try this with your vehicle. Let us know how did you like this tug of war between the Innova and Scorpio.
Join us for FREE NEWS Updates on our Whatsapp Community or our official telegram channel.