Check out the real life example of build quality of 5-star safety rated Mahindra XUV300 against the Toyota Innova Crysta after an accident.
Mahindra XUV300 is the safest car in India scoring 5-star rating for adult occupation and 4-star rating for child occupants. Here is a small accident that involves a XUV300 and a Innova Crysta, which is not that severe. However, the impact of this accident on both the cars will indicate you about the build quality of both the cars.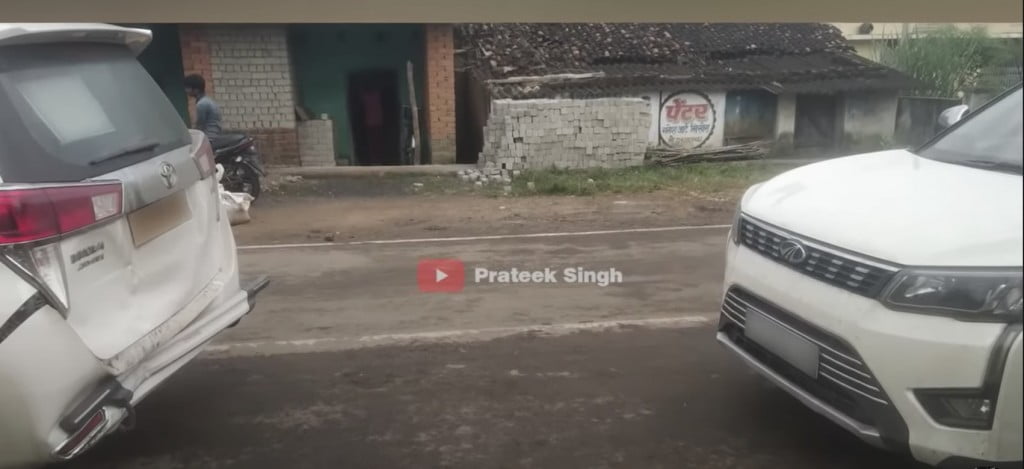 Mahindra XUV300 and this Toyota Innova Crysta both were travelling at a speed of around 50-60 km/hr, when suddenly, the Innova had to apply brakes. It saw a herd coming in front, due to which the driver had to apply brakes at full force. Following which, the driver in XUV could not apply brakes in time and ended up hitting the Innova.
Also Read: Here's How Mahindra XUV300 Managed To Beat Hyundai Venue In A Drag Race!
As seen on the Innova, the bumper and boot have been damaged, leaving both of them crumpled up. Even the bumper guard has taken some damage, but just the presence of it avoided further damage to the boot. On the other hand, you can see the XUV300 with just a couple of scratches that's it.
That scratches are only visible when you see them closely, otherwise it looks flawless. While both the cars can live with the damage easily unaffecting their daily driving, Innova still has a faulty boot. Usually in these types of accidents, the front car takes damage everytime but the other car involved does not necessarily receive an impact.
Mahindra XUV300 comes with two engine options including a 1.5 Litre turbo-diesel engine and a 1.2 Litre turbo-petrol motor. Both of them get a 6-speed manual gearbox as standard fitment while the diesel motor additionally gets a 6-speed AMT. Features onboard include front and rear parking sensors, 7 airbags, 7-inch touchscreen infotainment system, cruise control, heated ORVMs and more.
Also Read: Toyota Innova Crysta Facelift Launched; Prices Start from Rs 16.26 lakh!
Prices start at Rs 7.95 Lakhs up to Rs 12.30 Lakhs (ex-showroom), making its base-spec trim costlier than many of its competitors. On the other hand, Toyota Innova Crysta has just received a facelift which gives it new alloys, refreshed cabin theme, front parking sensors and a new touchscreen infotainment with Android Auto and Apple CarPlay.
Join our official telegram channel for free latest updates and follow us on Google News here.