A brand new Mahindra XUV700 tried to overtake at 130kmph, resulting in a major accident. The results are surprising.
The Mahindra XUV700 is one of the most popular SUVs in the country. It is also being touted as the safest car in India. Now, the car has been involved in a major high-speed accident that put the safety ratings of the SUV to test. Nikhil Rana has shared the details of the serious Mahindra XUV700 accident on his YouTube channel to raise awareness of safety standards in modern vehicles. Let's take a closer look at the aftermath of a Mahindra XUV700 accident on the highway.
Also read: Mahindra XUV700 Waiting Period Now Extends to September 2023!
As you can see, the Mahindra XUV700 was involved in a frontal collision. This incident happened in Telangana. On the day, the owner's friend was driving the SUV. As they tried to overtake a truck at 130kmph, they spotted a few people working on the road. The vehicle was turned to avoid hitting those workers and ended up hitting a tree. After which, the Mahindra XUV700 even rolled twice and stopped. however, there was very minor damage on the front. While there was damage on the pillars and roof, the cabin is mostly left intact. The build quality of the SUV shined and saved the driver.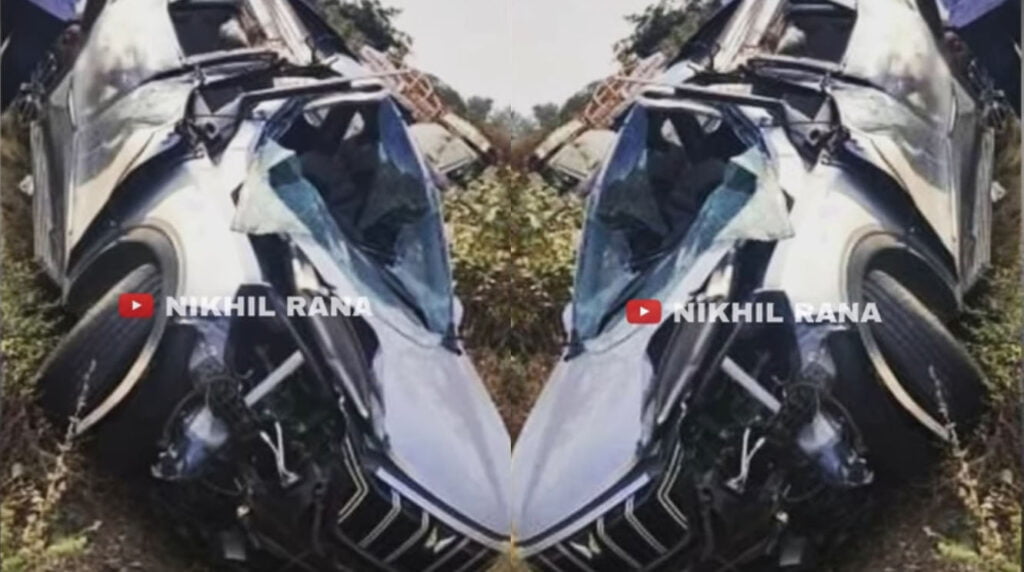 Having an SUV is especially important in a country with a ton of bad roads. You can also invest in a safe car with good build quality and safety equipment. However, nothing is an excuse for overspeeding, especially on Indian roads where anything can jump out at any time. Thousands of people lose their lives in avoidable accidents every year. In India, IN this case, the reason is clearly bad decisions and overtaking at high speed. We urge you to follow the traffic rules and report anyone driving recklessly to the authorities. Also, ensure that you don't drink and drive.
The Mahindra XUV700 is powered by a 2.0-liter turbocharged petrol unit that offers a maximum power of 200 PS and a peak torque of 380 Nm. Whereas the Diesel engine outputs 155 PS/ 360 Nm in the lower versions and 185 PS/ 420 Nm (450 Nm in automatic variant) in the higher positioned models. Both the petrol and diesel engine variants come with 6-speed manual and automatic transmission choices. Additional features on the SUV include Smart Door Handles, built-in Alexa integration, Intelligence AdrenoX, a 3D Sound System with 12 speakers, and more. Currently, the base Petrol model is available at Rs 12.96 lakh, ex-showroom. On the other hand, the top-end Diesel model now costs Rs 23.80 lakh. The Mahindra XUV700 competes with the likes of Tata Safari, MG Hector Plus, and Hyundai Alcazar. in the 7-seat configurations.
Join our official telegram channel for free latest updates and follow us on Google News here.