As waiting period for Mahindra XUV700 diesel has reached September 2023, it looks like many are buying petrol models and installing CNG kits
The Mahindra XUV700 has been the talk of the town from even before it went on sale. The high excitement for this SUV has clearly resulted into unprecedented waiting periods for an SUV of this price. Those who have booked the SUV recently have been given a tentative delivery date of September 2023, thereby resulting into a period of more than 20 months! However, the waiting period for diesel models is much higher than that for petrol models and that's something which is highly understandable as buyers generally choose the diesel engine option when it comes to SUVs of this size.
Also Read- CNG Kit Dealer Confirms Mahindra XUV700 Petrol AT's Compatibility with CNG
However, what's clear is that the running cost of petrol-powered Mahindra XUV700 is higher than that of the diesel as not only is petrol costlier than diesel but it even delivers a lower fuel efficiency. Now, however, it looks like people have come up workaround to the issue. What you see above is a Mahindra XUV700 petrol-manual video that has been fitted with a CNG kit. The petrol variant of the XUV700 comes with a 2.0-litre turbo-petrol direct-injection motor. Now, the direct injection complicate matters when installing a CNG kit. Therefore, the kit should be installed only by an expert.
Also read: This Mahindra XUV700 AX5's Interior is Plusher than AX7
An interesting thing here is that this SUV features not one but two CNG cylinders. This has been done on customer's requirement. The vlogger has even driven the car on a city road and can be seen clocking speeds of nearly 100 kmph. He says there's no problem in the pickup of the vehicle in spite of the CNG fuel as the compression ratio is on the higher end. He even says that the driving experience is exactly like it is on the petrol mode. Also, it has been revealed that the SUV has been fitted with two cylinders of 12 kg each as fitting a single cylinder of 16 kg would have resulted into a lower driving range on tank full.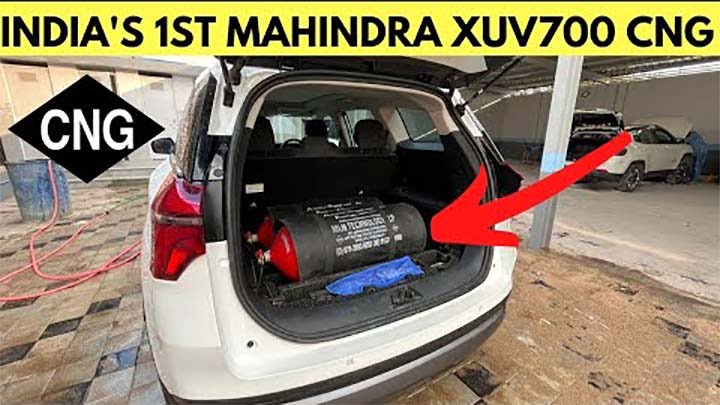 Also read: Mahindra XUV700 Pros and Cons – Is It Worth The Wait?
Next, the vlogger reveals that unlike on petrol-only mode, where the car delivers a mileage of only about 7-8 kmpl in city, this Mahindra XUV700 offers up to 25 km/kg when running on CNG. This makes the running cost of the SUV even lower than what the diesel engine model offers. Also, this results into a maximum driving range of above 500 km. The cost of the entire two-cylinder kit is Rs 1.6 lakh, which is definitely on the higher side but this cost can be recovered if your running is high. Also, the installation nullifies the warranty. However, the CNG kit comes with a 2 year warranty.
Also read: Watch Pakistanis React to Mahindra XUV700 vs Tata Safari Drag Race
Join us for FREE NEWS Updates on our Whatsapp Community or our official telegram channel.