After a long wait, a Mahindra XUV700 was delivered to a customer with mismatched paint on the boot. Fortunately, it was replaced within 24 hours.
The Mahindra XUV700 received a great response when the bookings opened. It is priced at Rs 12.49 – Rs 22.99 lakh (ex-showroom) and competes with the likes of Tata Safari, MG Hector Plus, etc. However, the SUV did not have a smooth ride since the launch. First, the waiting period lasted for several months, and then several customers faced problems in delivery. There were also many random booking cancellations. Now, in a new incident, the company delivered a Mahindra XUV700 with mismatched paint on the boot and ended up replacing it within 24 hours. The customer shared the whole experience in a Youtube video on the Arun Panwar channel.
Also read: Another Case of Mahindra XUV700 Facing Electronic Glitches Comes to Light
As you can see in the video above, after receiving the Mahindra XUV700 X7 (Petrol manual) with Red finish, the customer (Mr. Suresh Garg/ Monu) realized there was a difference in the color of the boot of the car. The boot color was darker than the body. When the showroom was contacted, he was told that since the boot is made of fibre, there might be difference in the color (clearly a bad excuse). Later, the company was contacted during a feedback call, the accepted the mistake and asked for a time of 24 hours. The next day, a matching boot was replaced on the Mahindra XUV700. It was perfectly fitted. While it is not ideal to receive a imperfect car, the Mahindra service worked very efficiently to help the customer. As per Mr. Suresh Garg, the SUV has been running smoothly during driving.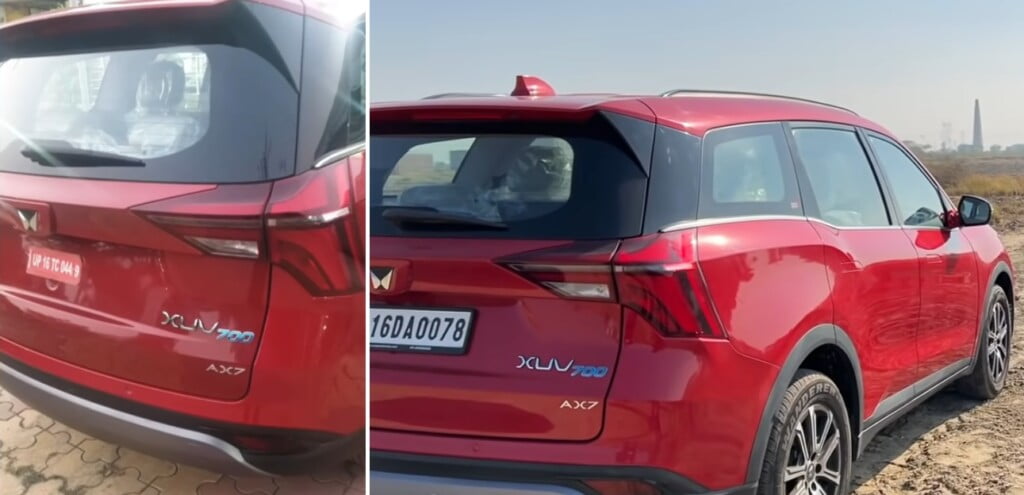 Also read: Mahindra XUV700 Pros and Cons – Is It Worth The Wait?
The Mahindra XUV700 is the highlight of the company's product portfolio. It offers many unique features to enhance the convenience of the passengers. You can choose from diesel and gasoline variants with manual and automatic options, and with 5 and 7-Seater capacity. There is also an optional All-Wheel- Drive (AWD) spec. The 2.0-liter turbocharged petrol unit offers a maximum power of 200 PS and a peak torque of 380 Nm. On the other hand, the Diesel engine offers 155 PS and 360 Nm in the base model. The higher models are touted to provide 185 PS and 420 Nm (450 Nm in automatic variant). Additional features on the SUV include Smart Door Handles, built-in Alexa integration, Intelligence AdrenoX, a 3D Sound System with 12 speakers, and more.
Also read: CNG Kit Dealer Confirms Mahindra XUV700 Petrol AT's Compatibility with CNG
Join us for FREE NEWS Updates on our Whatsapp Community or our official telegram channel.