The trend of custom modifications is growing and here is another example of it. Now while you might think that the XUV700 has everything, still you could get a ton of additional at aftermarket shops.
Here is the first-ever Mahindra XUV700 that features a custom interior. The XUV700 has become a runaway success for the Indian auto giant. The waiting periods on the SUV has already crossed the 1-year mark. In fact, some of the customers who have booked the top trims have received delivery dates of mid-2023 as well. This is quite mindboggling to have such traction for a vehicle of the mid-size SUV segment. Let us take a look at what the modifications on the customer interiors of this XUV700 look like.
Also read: Order Mahindra XUV700 Now, Get Delivery in Mid-2023!
First XUV700 With Custom Interior
This YouTuber channel specializes in modifying vehicles and is located in Delhi. They take care of the entire exterior and interior modifications of any car. This is a great example to establish the credentials of this car decor studio. The XUV700 has received minute but crucial updates on the outside. This includes things like a bumper protector which is finished in black and chrome. It is a genuine Mahindra accessory. The side profile warrants a glance at the chrome-finished rain visors. The main highlight on the side is the end-to-end sidestep that has been fitted to enhance ingress and egress which also see aluminium and chrome inserts. Contrary to popular belief, it doesn't lower the ground clearance of the SUV. The rear bumper is protected by a rail guard which is quite sturdy.
Also read: FIRST EVER Mahindra XUV700 AX7 Petrol Ownership Review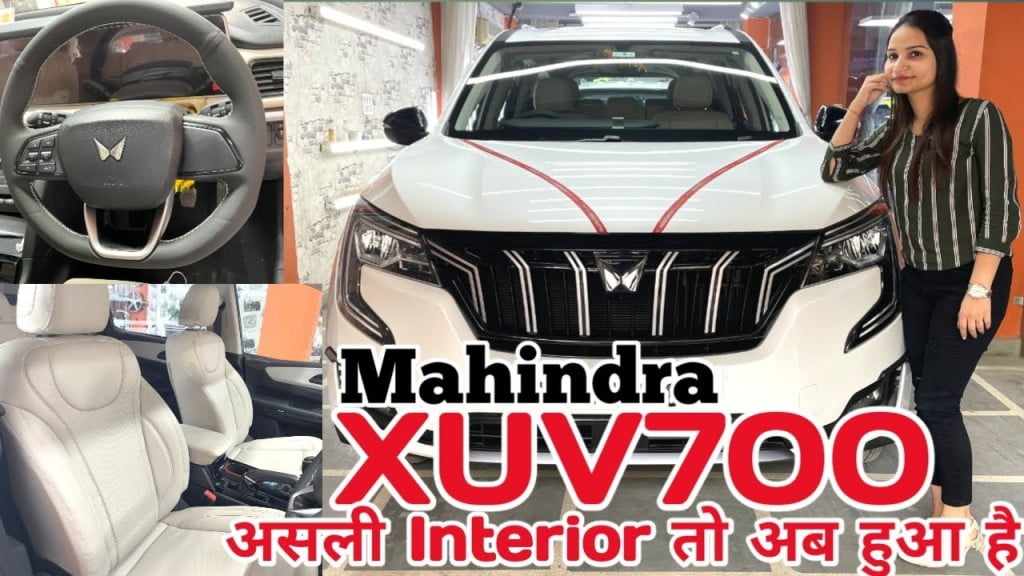 Interior
There are quite a few modifications to the interior of the XUV700. This includes things like the use of Nappa leather for seat covers. The car decor staff had taken the fabric seats out and used 17 mm foam for added comfort. They have installed the perforated seat covers finished in grey/beige colour tone. The stitching is almost invisible which makes the appearance sophisticated. The steering wheel has been wrapped in a black leather material with fine stitching. The YouTuber mentions that they have a ton of options for the type of leather as well as colour schemes. So, one could customize the seat covers with almost any colour. The fit and finish is top-notch and there is hardly any difference compared to the original accessories on the higher trims. Do let us know what you feel about the first-ever Mahindra XUV700 with custom interior modifications.
Also read: Mahindra XUV700 AX7 Smart Equipment List Leaked- 9 Features Dropped!
Join our official telegram channel for free latest updates and follow us on Google News here.