Mahindra has been planning secretly to launch the AX7 Smart variant of the XUV700 with some reduced features. Could this be the best value for money proposition?
The features list of the upcoming Mahindra XUV700 AX7 Smart trim has been leaked. The Indian carmaker has been planning to introduce a more value-for-money variant of the popular SUV. XUV700 has received some unprecedented responses in terms of bookings. It has been booked over 70,000 times within the first month of launch. This is something never heard of, especially in this segment. Mahindra now struggles with keeping the delivery times in check. Many people have been quite vocal about the frustration arising from long waiting times for the SUV ranging up to 1 year. Mahindra has hired one of the biggest global consultancies to execute resource optimization to ensure a smooth delivery process with maximum outreach. We had previously reported the launch of XUV700 with this Smart package as well. For now, let us look at what features are missing in this new AX7 Smart variant of the XUV700.
Also read: ONLY Mahindra XUV700 With 22-inch Alloy Wheels Now on Video!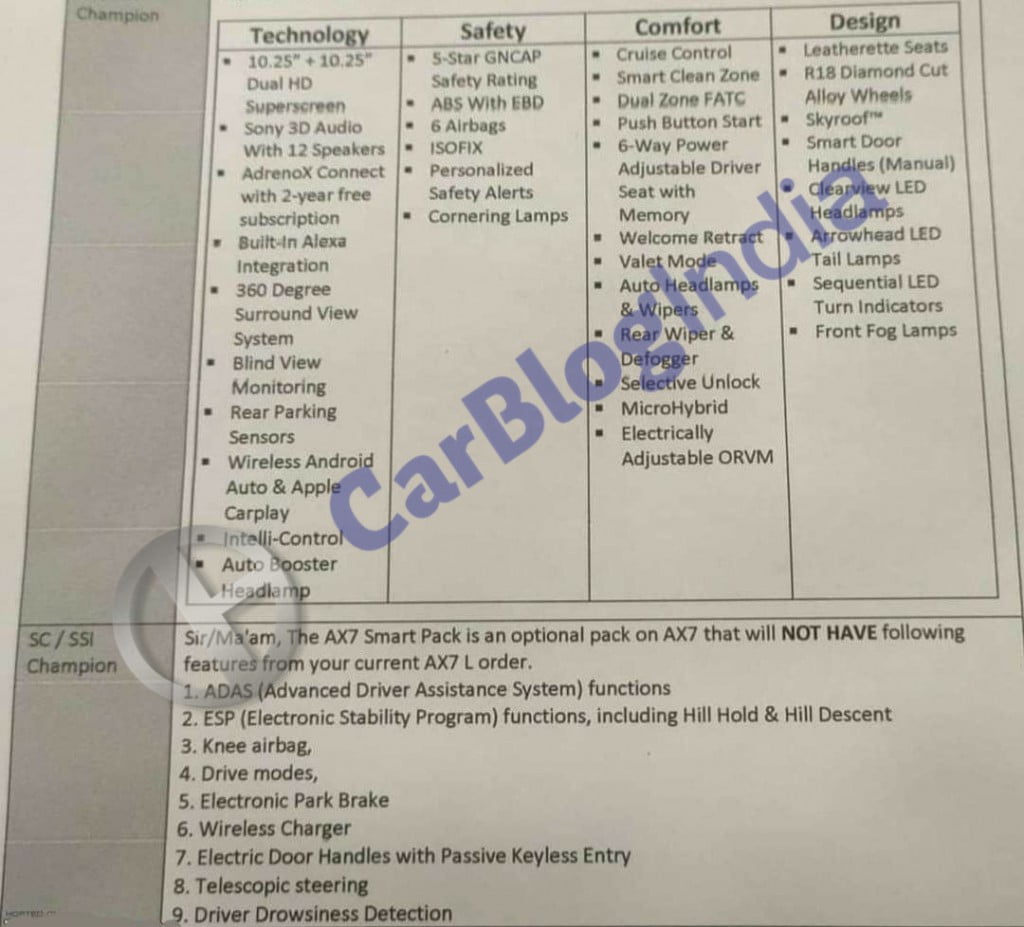 Mahindra XUV700 AX7 Smart- Dropped Features
According to this leaked brochure, the AX7 Smart pack will be placed below the AX7 Luxury pack. It will NOT have the following features.
ADAS (Advanced Driver Assistance System) Features
ESP (Electronic Stability Program) functions like Hill Hold and Hill Descent
Knee Airbag
Drive Modes
Electronic Park Brakes
Wireless Charging
Electric Door Handles with Passive Keyless Entry
Telescopic Steering
Driver Drowsiness Detection
Also read: Mahindra XUV700 First Ownership Review is OUT!
Now, these features are generally for the tech-savvy individuals who look for modern conveniences in a car. However, there are a ton of people who would be looking to buy the XUV700 for the sheer powerful engines and traditional driving styles with high safety ratings. For all those customers, an option like this would be of great value. It could also be due to the semiconductor shortage that the automobile industry is going through at the moment. A car without the ADAS features could require fewer semiconductor chips and be manufactured rather quickly.
Also read: WATCH The First Accident Video of the Mahindra XUV700 After Delivery!
Specs
The specifications will remain unchanged. This includes a 2.0-litre turbocharged unit that churns out a maximum power of 200 PS and a peak torque of 380 Nm. Meanwhile, the Diesel engine is available in multiple states of tune. The lower versions get 155 PS and 360 Nm, while the higher positioned models benefit from 185 PS and 420 Nm. In fact, the same engine will put out 450 Nm with an automatic transmission. The transmission options will include a 6-speed manual and automatic transmission gearboxes. The prices range between Rs 12.49 lakh and Rs 22.99 lakh, ex-showroom. This version will be around Rs 80,000 cheaper than the top trim. The direct competitors include the likes of Creta, Seltos, Hector, Harrier in the 5-seat configuration and Alcazar, Safari and Hector Plus in the 7-seat arrangement.
Also read: Mahindra XUV700's Delivery Algorithm ANALYZED