Were you wondering how the booking and delivery analysis of Mahindra XUV700 looks like? Well, here is a great video taking into account various parameters on which the deliveries of the SUV could be based. The XUV700 has received over 70,000 bookings to date and the potential buyers are worried that they might have to wait for months and months to get their vehicles. Many Mahindra Thar customers have already faced the frustration of waiting for more than 8 months for their cars. To avoid all that, Mahindra has reportedly hired a consultancy firm that will develop a comprehensive algorithm to ensure that the resources at Mahindra are utilised to the best of their abilities. Also, this will give the customers a sense of relief knowing that they will receive the delivery date to have an idea of when is it possible to get the XUV700.
Also read: Man Picks Mahindra XUV700 Over Fortuner- RUDE Dealer Says Delivery in 2 Yrs
XUV700 Booking Delivery Analysis
The video has been uploaded on YouTube and consists of a thorough analysis using real-world data. The YouTuber has fetched booking data from various sites and social media platforms to analyse how many people have made the bookings and other factors like fuel type, variant, colour, city, transmission option, etc. He also explains that hiring an external consultancy is generally done not to prioritise the deliveries but to ensure maximum resource utilisation at Mahindra. That could be the reason why many people are complaining about not receiving the delivery date even if someone else got the delivery date who booked the SUV after them. This could be frustrating and confusing for some. But the video provides justified explanations for that.
Also read: Watch Why This Tata Safari Owner Didn't Buy The Mahindra XUV700!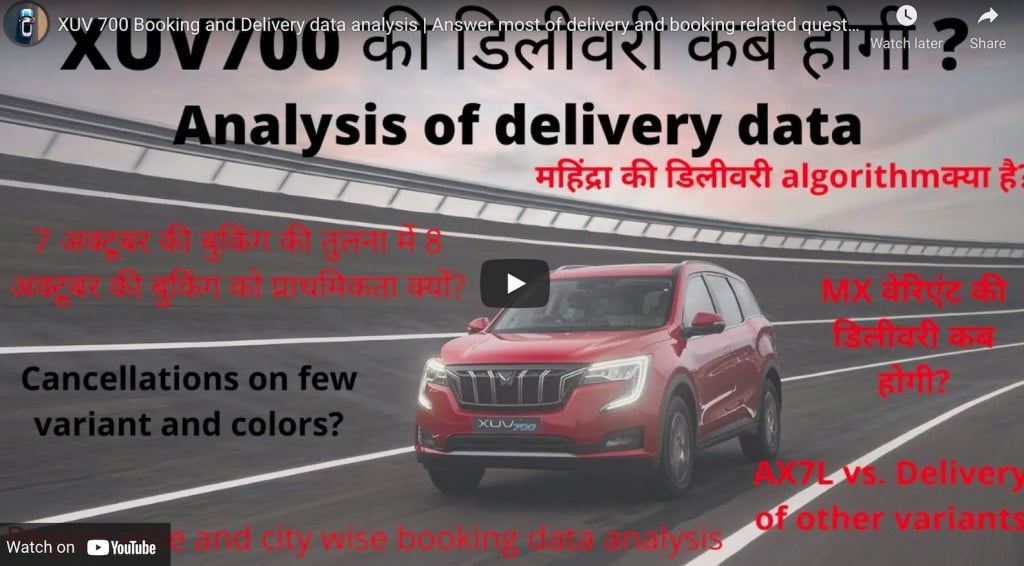 For instance, people from Mumbai have done the maximum booking. The deliveries have also commenced there. But in a state like Assam where not too many bookings have been made, Mahindra could allot that variant for Assam. In this way, Mahindra ensures that the areas where the XUV700 will start plying on roads are enhanced which is great for the potential buyers who would think that they could also book the XUV and get it soon. Similarly, if Mahindra decides to allot a certain number of cars in the AX7 variant, and some in the MX variant, it could be possible that people booking these two variants might receive cars on different dates even if they book the cars at the exact same time. So, it must be understood that the bookings could not be made on a first-come, first-served basis. Because the details of all the bookings are different. Mahindra will try to manufacture cars to maximize the profit and reach of the car.
Also read: Here Are Some Reasons to NOT Buy Mahindra XUV700!
Join our official telegram channel for free latest updates and follow us on Google News here.