Watch this video to know why this Tata Safari owner didn't buy the Mahindra XUV700. Safari and XUV700 are direct competitors to one another in the 7-seat mid-size SUV segment. People are getting attracted to both these SUVs massively. In fact, the XUV700 has already received over 65,000 bookings which are unprecedented. Safari has been a successful SUV ever since it was launched. Both these SUVs have their strengths and weaknesses. Let us, therefore, listen to this Safari owner what made him choose Tata Safari over the Mahindra XUV700.
Also read: Harassed Tata Safari Owner Faces Another Fraud Involving Dealer and HDFC
Why This Safari Owner Didn't Buy XUV700?
The name of this Safari owner is Anmol. Anmol has quite a few concrete reasons to choose the Safari over XUV700. First and foremost, he was not willing to wait for 6 months (or more) to get the XUV700. The XUV700 received the first 50,000 bookings waiting the 3 hours of bookings opening. This is the record-breaking popularity of any vehicle. Secondly, Anmol wanted a 7-seater SUV with a spacious third row. He had experienced the third row of the XUV700 earlier and was not satisfied with it. Hence, going for the Safari made complete sense. Most importantly, he is of the opinion that one should not buy a brand new car that has a completely new platform and engine. Because if there are any flaws in the car, the carmaker fixes the issues in the facelift version. Hence, directly opting for a car that is completely new is not ideal. We agree with these points that he mentions. But he also tells the YouTuber that Mahindra XUV700 is not a pushover at all. It has its own merits as well.
Also read: Tata Safari (NCAP- NA) Tests Build Quality of VW Polo (NCAP- 4 Star)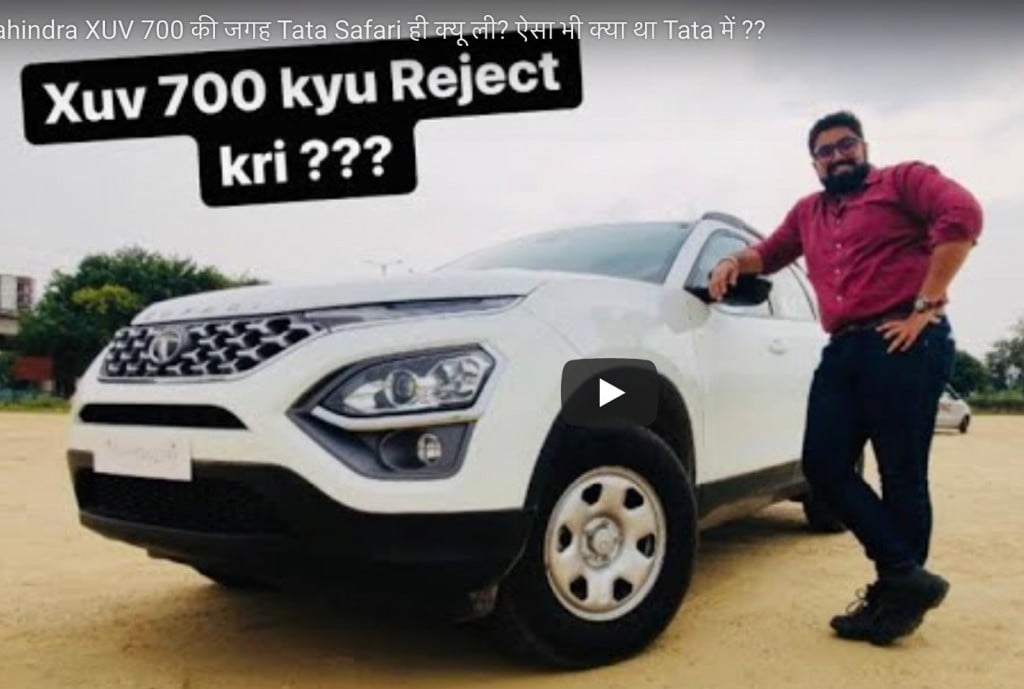 Specs

Tata Safari comes with the 2.0-litre Kryotec diesel engine making 170 PS and 350 Nm of peak power and torque respectively. There is the option of either a 6-speed manual or an automatic gearbox. The prices of the Tata Safari start at Rs 14.99 lakh and go all the way up to Rs 23.17 lakh, ex-showroom. The other options for the customers in this segment include MG Hector Plus and Hyundai Alcazar. If you are one of those people who are not impressed by either Safari or XUV700, then you can opt for the other two SUVs.
Also read: This Concept Visualizes Yet-to-be-Commissioned Tata Safari Dark Edition