This man cancels the booking of his Mahindra XUV700 which he chose over the Toyota Fortuner due to a poor dealership experience. The XUV700 is one of the most popular mid-size SUVs in the country ever since its grand launch. It has been in development for quite some time and the final product has impressed one and all. Over 65,000 bookings in a matter of a few days stand as a testament to the demand for the XUV700. The first 50,000 bookings cames within the first 3 hours of bookings opening which is something unheard of. But this is an example of how someone could get turned off by the unprofessional behaviour of the staff at the dealership. Here is why this man regrets choosing XUV700 over Fortuner due to a poor dealership experience.
Also read: UNFAIR Delivery Process of Mahindra XUV700 Leads to Booking Cancellations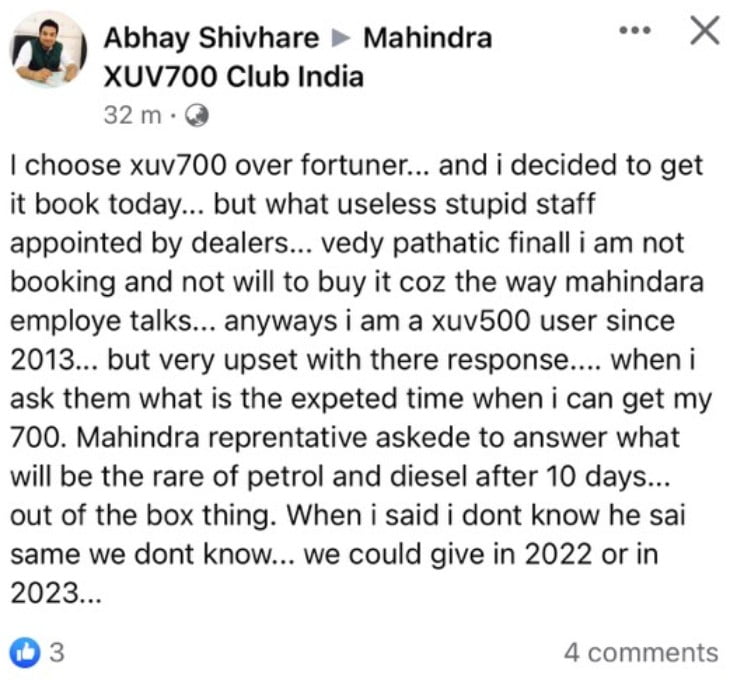 Man Cancels XUV700 Due To Poor Dealership Experience
According to this post by a certain Abhay Shivhare, he chose the Mahindra XUV700 over the Toyota Fortuner. He has shared his story via a post on the Mahindra XUV700 Club India page on Facebook. Abhay is already a Mahindra XUV500 user since 2013. That is the reason he was excited about the XUV700. However, when he went to the dealership to book the SUV, he encountered unprofessional and rude behaviour of the staff. They couldn't give him any clarity on when can a potential customer expect to receive the SUV. This erratic attitude of the customer representative at Mahindra dealership put Abhay off and he decided not to book the XUV700 altogether. This is not the first time a customer has faced such an experience at a dealership. Mahindra must look into the matter and impose penalties on such dealerships so that the customers don't have to go through such events.
Also read: Man Gets Delivery Date Confirmation For Mahindra XUV700 Even Without Booking The SUV
Specs
The Mahindra XUV700 comes with both petrol and diesel engine options. The former is a 2.0-litre turbocharged unit that churns out a maximum power of 200 PS and a peak torque of 380 Nm. Meanwhile, the Diesel engine is available in multiple states of tune. The lower versions get 155 PS and 360 Nm, while the higher positioned models benefit from 185 PS and 420 Nm. In fact, the same engine will put out 450 Nm with an automatic transmission. Speaking of the transmission options, both the petrol and Diesel engine variants will be available with 6-speed manual and automatic transmission choices. The prices range between Rs 12.49 lakh and Rs 22.99 lakh, ex-showroom. The direct competitors include the likes of Creta, Seltos, Hector, Harrier in the 5-seat configuration and Alcazar, Safari and Hector Plus in the 7-seat arrangement.
Also read: Here Are Some Reasons to NOT Buy Mahindra XUV700!