The Mahindra XUV700 has undoubtedly been a runaway success. The popularity of the new model can be gauged from the fact that the waiting period for this SUV lasts for several months. However, in spite of this, many have already booked the new model and are waiting for their turn to get the delivery of their new SUV. In all this, a rather surprising incident has come to light. One Tarun Pal has reported getting an SMS confirming the booking and even the estimated delivery date even without making any sort of booking.
Also read: FRAUD In First Mahindra XUV700 Delivery Hidden Thru False Identity!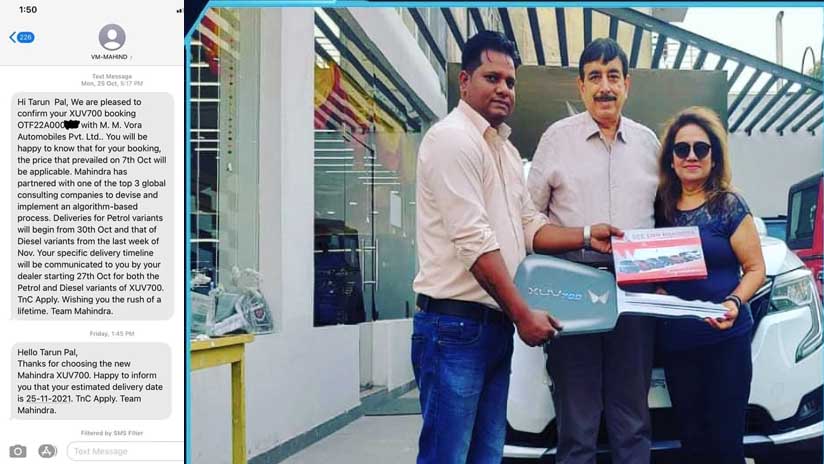 Revealing this on social media, Turun writes – "Neither i booked it, nor paid for it and will not even take delivery of it." His post has attracted many other users to comment about their experience of receiving similar messages even without booking the vehicle. One Ankit Jaiswal writes, "Exactly i booked 1 car and that too cancelled but got delivery date for two bookings on my name.." While others have opined that this could be malpractice by the dealers in order to get ahead of the queue and obtain units of the SUV that can be sold at a premium with a promise of immediate delivery.
Also read: 4 Mahindra XUV700s Travel at 170 km/h Each All Day Long- Make Record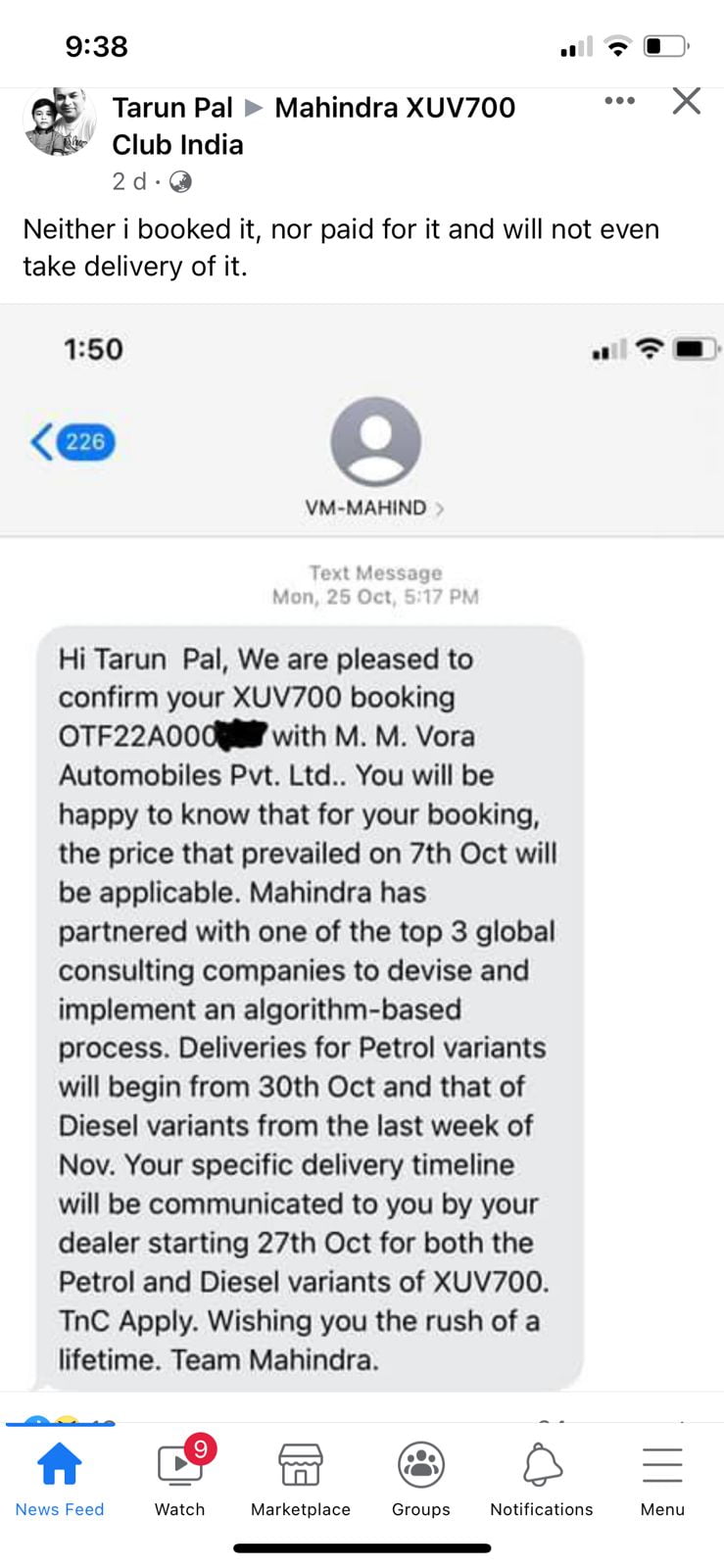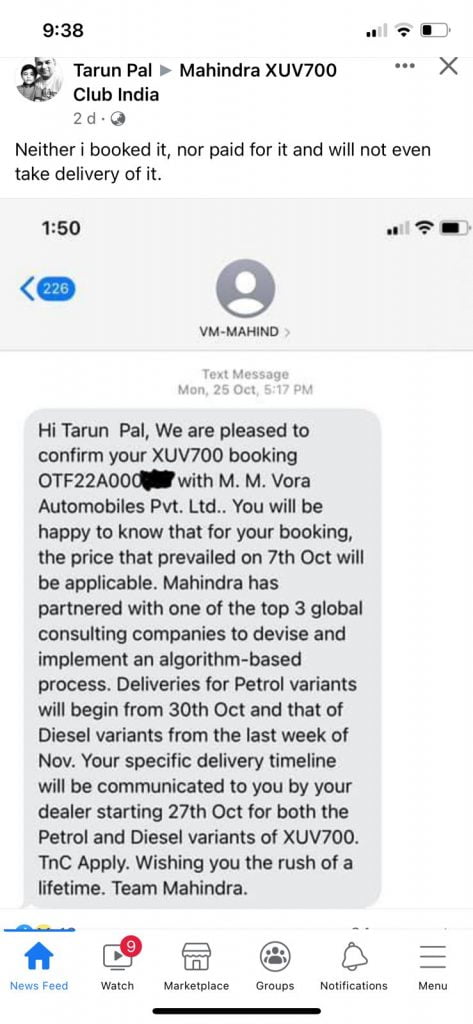 It should be noted that Mahindra has partnered with one of the top 3 global consulting companies to implement an algorithm-based process of the allotment of the SUV to those who have booked it. Deliveries of the petrol model began on October 30 while those of the diesel version will start at the last week of this month. So far, there has been a large demand for this model, which, along with the global semi-conductor shortage, has led to huge waiting periods on this SUV. A similarly high demand was witnessed for the second-ten Mahindra Thar last year and some dealers have been found to have made false bookings in order to get quicker allotment of the units that can be then sold at a premium.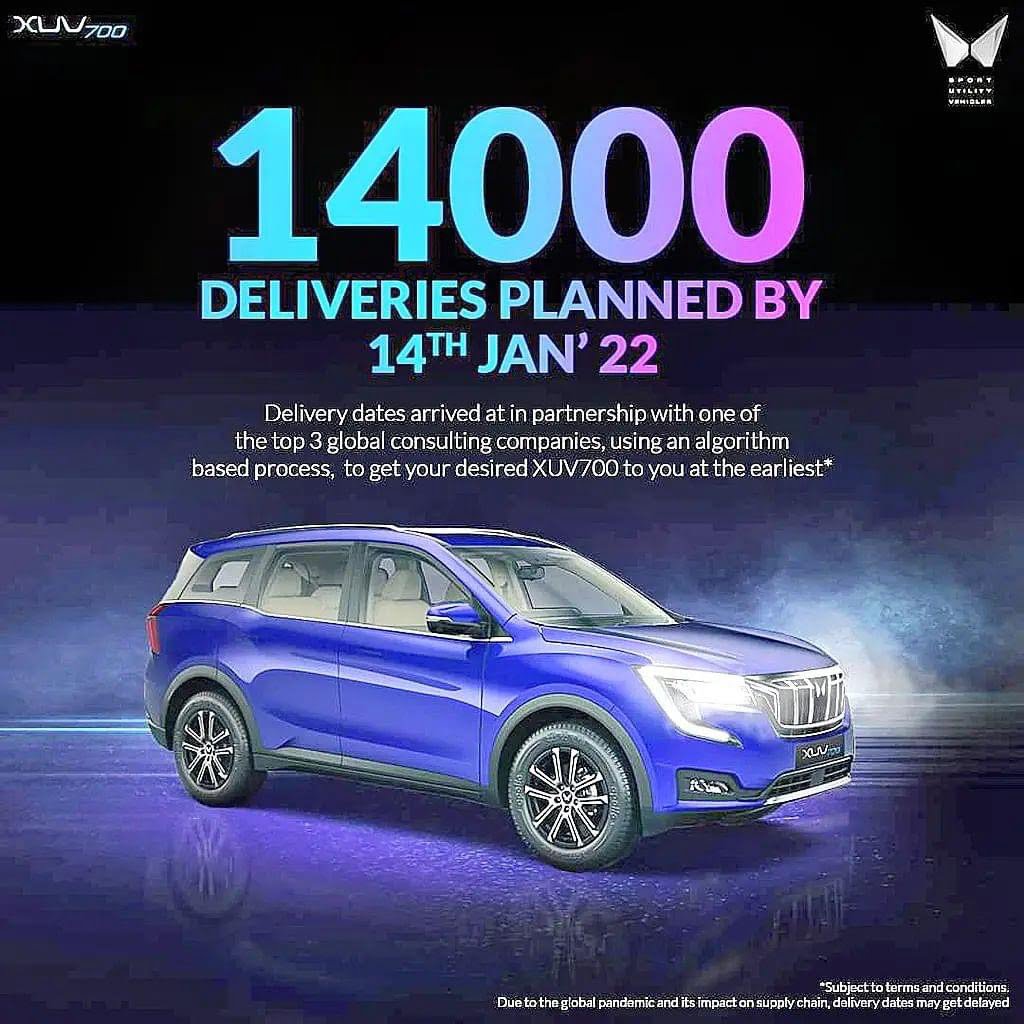 Earlier, it emerged that over 185 units of the Mahindra XUV700 will be delivered every day till 14 January 2022. The Mahindra XUV700 comes with both petrol and diesel engine options. The former is a 2.0-litre turbocharged unit that churns out a maximum power of 200 PS and a peak torque of 380 Nm. Meanwhile, the Diesel engine is available in multiple states of tune. The lower versions get 155 PS and 360 Nm, while the higher positioned models benefit from 185 PS and 420 Nm. In fact, the same engine will put out 450 Nm with an automatic transmission. Speaking of the transmission options, both the petrol and Diesel engine variants will be available with 6-speed manual and automatic transmission choices. The prices range between Rs 12.49 lakh and Rs 22.99 lakh, ex-showroom.
Also read: Mahindra XUV700 2WD Reaches Where No Indian Car Has Ever Been Before