This is one of the first videos of the ownership review of the Mahindra XUV700 along with PPF and Ceramic Coating. The popular SUV has received over 70,000 bookings within the first month which is simply unprecedented. Mahindra will have a tough time ensuring timely deliveries of the XUV700. There are many other people keen on buying the SUV but are looking for the ownership review of XUV700. This video is for them which might help them make a decision more confidently. The XUV700 in this video is the AX7 variant without the Luxury pack with a petrol engine. The on-road price for this was around Rs 23 lakh as explained by the owner. Let us take a look at the details of the ownership review and PPF and Ceramic Coating on this Mahindra XUV700.
Also read: WATCH The First Accident Video of the Mahindra XUV700 After Delivery!
Mahindra XUV700 Ownership Review – PPF & Ceramic Coating
The owner resides in NCR which is also the reason why he opted for the petrol variant. He mentions that he receives a mileage of around 9-10 km/l in the city commute. On the highways, this number is above 11 km/l which is decent for this bulky SUV. Mahindra claims a much better average on the diesel variant. The owner takes us through the journey of how he decided to buy the XUV700. He was in the market for a petrol-powered mid-size SUV and XUV700 is something he liked instantly. He was thoroughly impressed by the features and quality of the cabin the XUV700 offers. Also, he need the vehicle for family use and the 5-star safety rating gave him peace of mind on that front. The features offered on the luxury pack would cost around Rs 1.5-2 lakh more. Some of those features have been arranged by the owner from the aftermarket and he is not missing out on anything too serious.
Also read: FIRST EVER Mahindra XUV700 With 22-inch Alloy Wheels – This is it!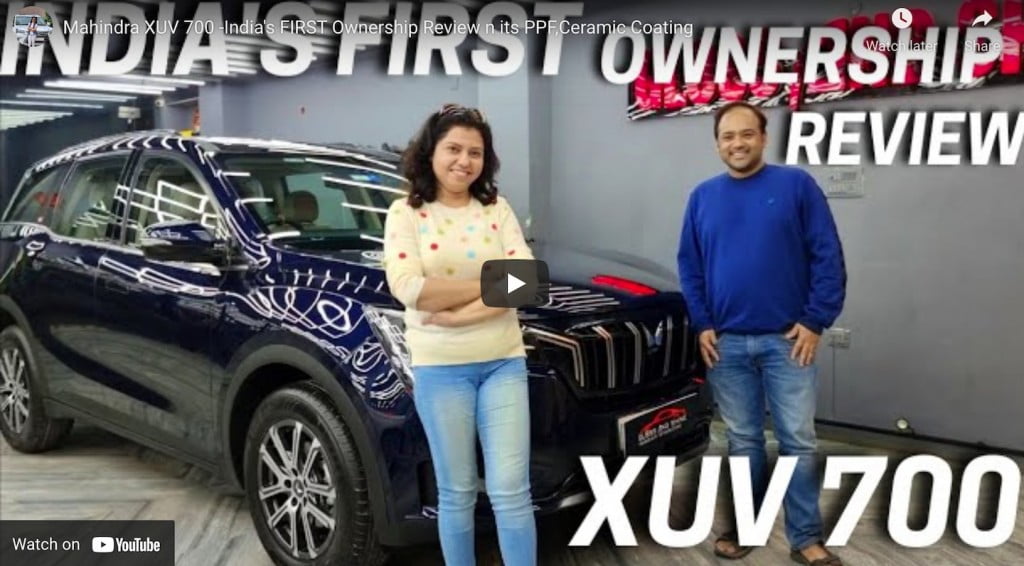 The trend of PPF and Ceramic Coating is gaining popularity these days. There are quite a few good reasons for it as well. The PPF refers to Paint Protection Film which also prevents the body of the vehicle from getting minor scratches. Obviously, the paint of the car is protected from getting faded for a long time. The car becomes easy to clean and the dust accumulation takes a longer time as well. Ceramic coating is a water repellent layer on the car as well. It mixes with the paint and doesn't allow dust to accumulate easily. Once the PPF is done, the owners get peace of mind and could take their vehicles anywhere without having to worry about the minor scratches from the pebbles on the road.
Also read: Mahindra XUV700's Delivery Algorithm ANALYZED
Join our official telegram channel for free latest updates and follow us on Google News here.